'Pet Sematary': Dee Dee Ramone Wrote the Film's Song at Stephen King's House in Under 1 Hour
Stars aligned when Stephen King and the Ramones linked up in the '80s. Pet Sematary was already one of King's bestsellers, and he helped bring the story to life on the big screen. Amid all the resurrected dead people and animals and bloody deaths, the film managed to land its own theme song courtesy of the New Jersey-bred punk band, the Ramones. But it was Dee Dee Ramone who composed the tune in the most genius and genuine way. And he did it in King's home.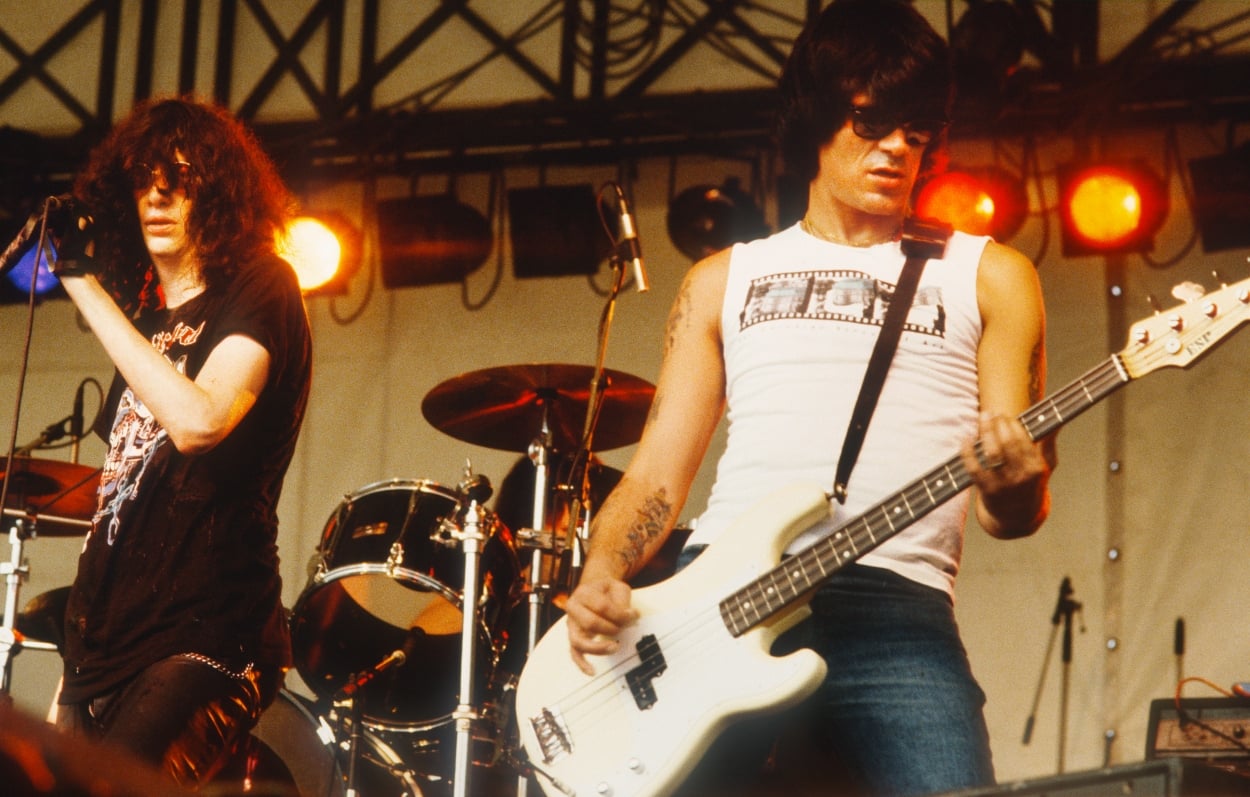 Visit to Stephen King's house sparked the Ramones 'Pet Sematary' song
The Ramones didn't seek out an opportunity to work with horror author Stephen King, but it happened that way. They learned he was a huge fan, and the admiration was mutual. During one of the band's stints in the New England region, he invited them to his home in Maine.
Marky Ramone wrote about it in his memoir, Punk Rock Blitzkrieg: My Life As A Ramone. "He was really friendly and happy to meet us. He served us a big dinner in the basement, but the real treat down there was all the props and memorabilia, mostly from sci-fi and horror movies, and not just the ones based on his books," he wrote.
As they talked about movies, music, and books, King handed a copy of Pet Sematary to Dee Dee. He left the room while everyone else chatted, which to Marky, "usually meant trouble." That wasn't the case.
"But in less than an hour, he came down the stairs, book in hand. In the other hand was a piece of paper with some words scribbled on it. Dee Dee had written a song called 'Pet Sematary.' He had condensed the book into a concise, hooky, three-minute song in which he pleaded that he didn't want to live his life again," recalled Marky.
Dee Dee Ramone meant what he said in 'Pet Sematary' lyrics
Marky remembered Dee Dee humming the melody for the band and King, who wanted to use it for the film. Pet Sematary was to begin production in a few weeks, and he enlisted the Ramones to create the title track. It was a win for the band because at the time, Dee Dee felt ready to leave the group. The topic often came up.
Marky noted that Dee Dee's life had gotten hard, and the lyrics reflected that. He took a moment to speak to him about it on King's front porch. "He wanted to be Dee Dee King the rap artist, not Dee Dee Ramone," wrote Marky. He felt John and Joey viewed him as a liability. "He wanted a life free of control by the Ramones, by Vera, by his doctors, and the medications they prescribed."
Rather than talking to Dee Dee about getting off drugs and sticking with the band, Marky lifted him in up in that moment.
"I explained to Dee Dee that he was among maybe a handful of people who could pick up a book, skim it, and write a catchy song about it in under an hour. I told him he had done for punk what Stephen King had done for fiction — create, from scratch, images, themes, and stories that drew people in because they could relate," he recounted. He reminded him of his gift and called him the Stephen King of punk rock. Dee Dee wound up sticking around to work on the next Ramones album.
The 'Pet Sematary' music video was shot in Sleepy Hollow
Upping the spook factor for the Pet Sematary music video proved to be easy. The Ramones traveled to upstate New York to film it in a Sleepy Hollow graveyard. Every bit of fog and chill fans see coming through the screen is real, as Marky said it was cold as ice.
"The temperature was twenty degrees and falling, and Joey, Dee Dee, John, and yours truly were all freezing our as–es off." They shot the video in the cold, dark night with the wind beating their faces, and had a harrowing ride when they finally left the empty cemetery. The song "Pet Semetary" would later hit #4 on the Billboard charts.