Pete Davidson Compared His Mom to 'SNL' – 'No Matter What I Do, I'm Never Asked to Leave'
Pete Davidson moved out of the house he was sharing with his mom Amy, but he joked on Weekend Update she was never going to kick him out – a lot like Saturday Night Live.
He made the crack when he appeared on the show's sketch news segment in Feb. about his intentions to finally move out of his mom's basement. "In some ways, I like the pandemic Valentine's because it's the first time being alone wasn't my fault," he quipped. "I spent the night eating chocolates and watching a movie with my mom, which is why I'm officially moving out of the house. One of us has to go."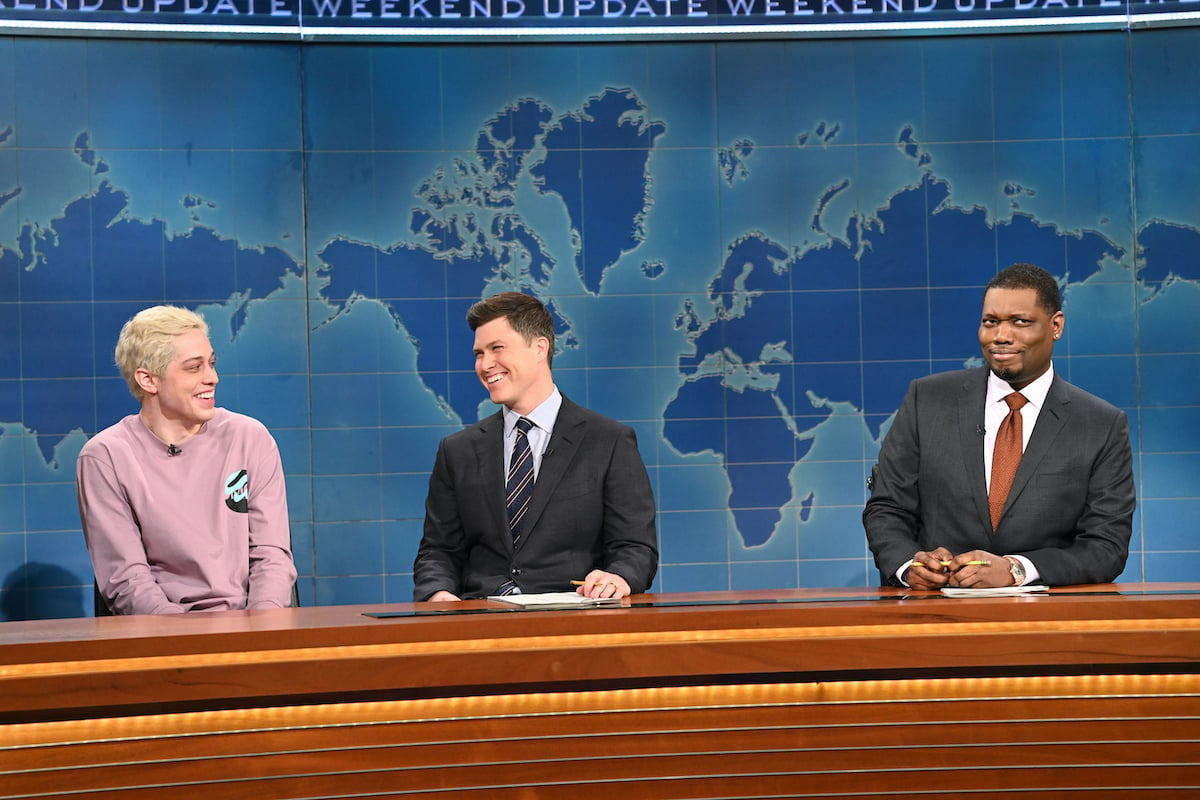 Pete Davidson compares his mom to 'SNL', both are 'old' and 'fatigued'
He recalled watching the Britney Spears documentary with his mom. But then realized his mom could take over his finances and probably has good reason to do that. "I was like, wait she could do that and hasn't?" he said. "Doesn't she love me? All Britney did was shave her head. I got a lifesized tattoo of the Tootsie Pop owl."
And while he joked about how his mom should have taken over his finances, he said he had to make the move and leave the nest because his mom was never going to make him leave. "The thing is my mom is a lot like this show," he said. "No matter what I do, I'm never asked to leave. Also, they're both really old and noticeably fatigued." 
Davidson added that he planned to remain in Staten Island. "That's the problem," he explained. "Me and my mom bought the house together. So for me to afford somewhere new, I'm gonna have to either like fight Jake Paul or like steal another one of Lorne's [Michaels] paintings."
Pete Davidson finally moves out
Davidson made good on the declaration he made around Valentine's Day on SNL. "I just moved out of my mom's house," he shared in a TikTok. "I'm fully out. I got a pad." The camera panned quickly around the bright living room and basement living is now in his past.
As promised on Weekend Update, Davidson moved close to his mom and purchased a $1.2 million abode. His new place is only about 35 minutes away from his mom's house, which they bought together four years ago for $1.3 million, Vulture reports.
And while he joked about his plans to move out in Feb., he had actually already purchased the new place. Vulture reports that Davidson closed on the new home shortly before the New Year. His new residence is on Staten Island's North Shore and has two bedrooms, 2.5 bathrooms. Instead of no view, which is what he had in his mom's basement, he has a sweet view of Manhattan.