Did Pete Davidson Ever Give Ariana Grande a Tattoo? He Drew On Real-Life Experiences In 'The King of Staten Island'
When Ariana Grande and Pete Davidson broke up, they had to deal with a lot more than just the press. Their matching tattoos and those in honor of one another were also a factor. Here's why Davidson's recent comments about his new movie The King of Staten Island may have revealed about those tattoos.
Ariana Grande and Pete Davidson's relationship timeline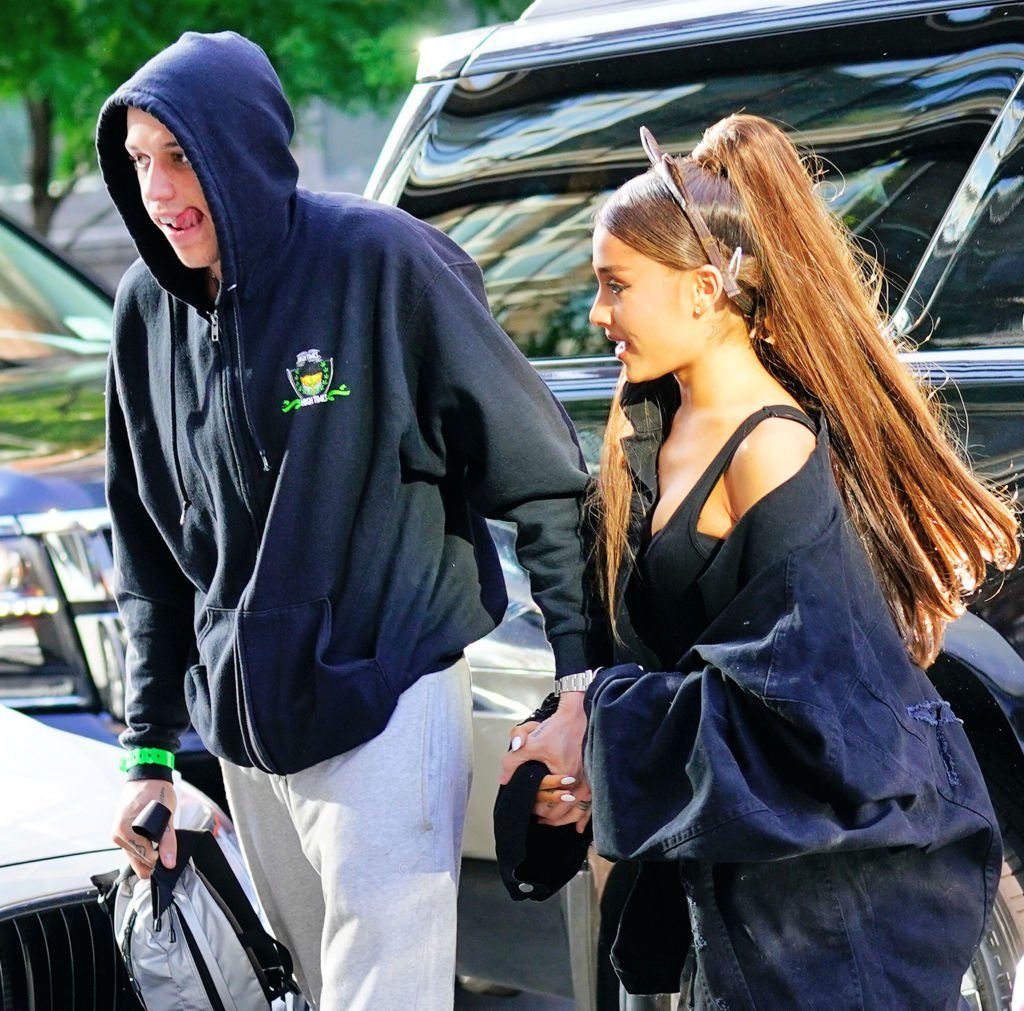 RELATED: Ariana Grande and Pete Davidson Got Engaged 2 Years Ago: Their Instagram Relationship Timeline
Though they met years before, Grande and Davidson began dating sometime in May 2018. They got serious very quickly, moving in together and getting engaged in June. They attended events like the MTV Video Music Awards that summer and everything seemed great.
That is, until September 2018. Grande's ex-boyfriend, Mac Miller, died of an assumed drug overdose, which is where things began to fall apart. By October, Davidson and Grande had broken up. The next month, she released her hit single, "Thank U, Next," in which she made it clear via song that they were truly over.
Both celebrities have many tattoos
Aside from their chosen careers, Grande and Davidson have a lot in common. One similarity is that both have many tattoos. And that didn't stop when they got together. In fact, they reportedly got a handful of matching tattoos while they were in a relationship.
The problem with that, of course, is what happens after a breakup. Both had a lot of work to do to cover up tattoos that represent the other. While Davidson had a matching tattoo covered up with the word "Cursed," Grande got the name Myron (for her dog who used to belong to Miller) over Davidson's deceased father's badge number.
Pete plays a tattoo artist in 'The King of Staten Island'
RELATED: Pete Davidson Stars in 'The King of Staten Island' — Will It Be Released in Theaters?
Speaking of Davidson's father, he pays homage to him in the semi-autobiographical comedy The King of Staten Island. As in his own life, the actor portrays a 20-something whose firefighter father was killed on the job. Like Davidson, the character lives with his mother and has a younger sister, both of whom try to help him move on after the tragedy.
However, there are some differences. The character, named Scott, is shown to have an affinity for marijuana, something Davidson has copped to in the past but has since left behind. Additionally, while the star has succeeded in becoming a well-known comedian, Scott dreams of being a tattoo artist.
He says he's given tattoos before
Though he's not an aspiring tattoo artist himself, Davidson has sat in the chair before. "I've given a couple to my friends," he said on Late Night with Seth Meyers. "Tiny tattoos with words and stuff. But nothing too crazy, because I have a shaky hand, I was told. So it's not really great for tattooing."
Do we think he gave one to Grande? With the kind of money she has, they probably went to a professional each time they got inked together. But as Davidson has admitted that he's done it before, and Grande reportedly had one done in his handwriting, it's not outside the realm of possibility.
Other real-life experiences he drew from
RELATED: 'The King of Staten Island': Pete Davidson Shares How the Movie Showed Him the Truth About His Father
Tattooing isn't the only thing Davidson has in common with his The King of State Island character. In the film, there are actual fights between Scott and his coworkers at a dining establishment, and Davidson says this was inspired by his own time working at his uncle's Italian restaurant as a teenager.