Why Pete Davidson Has a Smaller Role on 'SNL'
Some cast members take more of a backseat role on Saturday Night Live. Lately, that has been the case for Pete Davidson, although he's still a cast member. This is what he said about his smaller role on the sketch show and why he's not regularly seen.
When did Pete Davidson join 'Saturday Night Live'?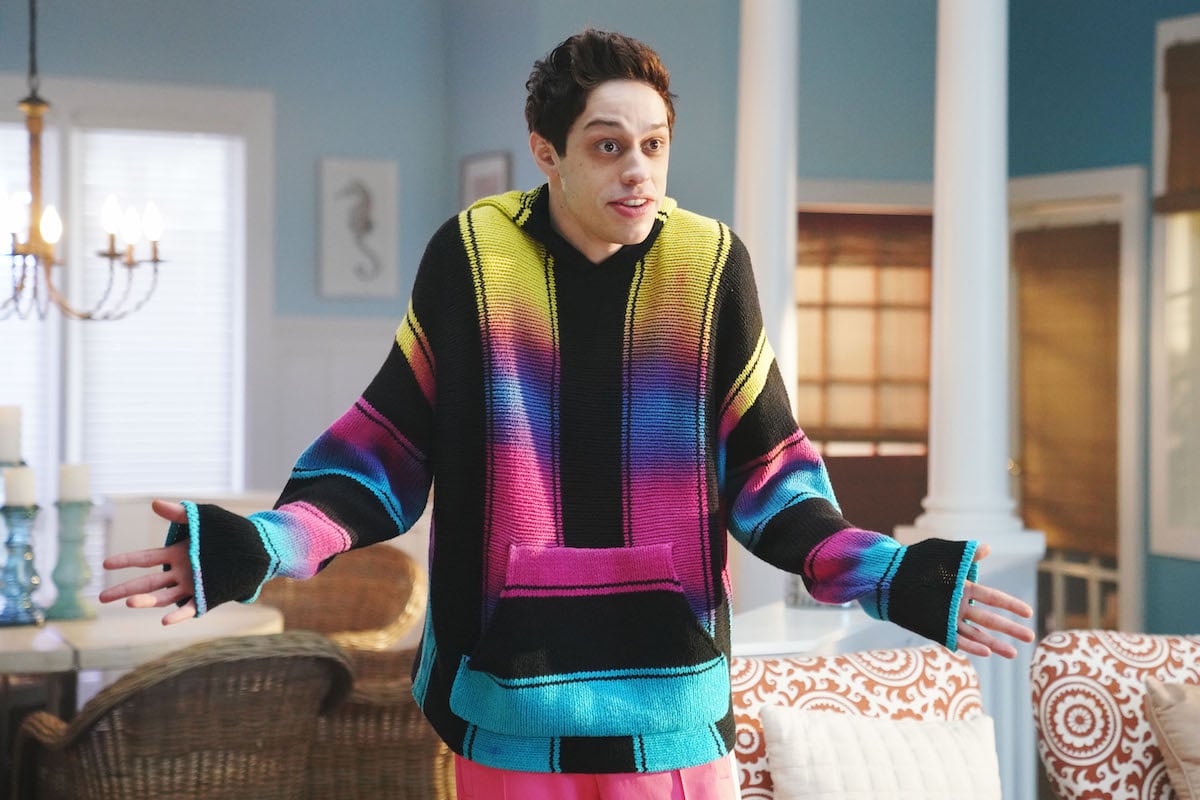 The comedian previously appeared on Guy Code and Nick Cannon Presents: Wild 'N Out. He later joined the cast of Saturday Night Live in 2014 for season 40. Davidson actually got the job because of his acting career.
"It was after Amy Schumer gave me a part in Trainwreck and I met Bill Hader on set and we talked and kind of hit it off. He called me a week later and said 'Hey, I recommended you to Lorne Michaels,"' he told People.
"And I was like, 'Why?' I was just so surprised. I didn't even know that I could audition. And the fact that I got it, I just couldn't believe it," he said.
Davidson was just 21 years old when he joined the cast. He's still going strong, but sometimes he's missing from episodes.
Why does Pete Davidson have a limited role on 'SNL'?
Davidson isn't consistently seen on the show. He wasn't in the first two episodes of season 45. But he's hardly done with being in the cast.
He was reportedly gone to film a small role in The Suicide Squad. It's possible he'll be away again because he has a role in Marmaduke and The Things They Carried.
The show isn't afraid to joke about Davidson's personal life. The comedian admitted in an interview with Charlamagne Tha God that he isn't always happy about being the butt of jokes. He also sees himself leaving one day.
"I think everybody outgrows it," he said. "And I think for what I could do on the show, which is just barely anything. And it's just Weekend Update. I feel like I've done 30 of those and I just feel like, yeah, I've done as much as I can over there. But happy to be there as long as Lorne likes me. "
He is removing his tattoos for his acting career
The actor has many tattoos that are usually hidden under his clothes on Saturday Night Live. But he is in the process of removing them.
"Yeah, yeah, I saw a picture of myself without a shirt and I look like a toddler went to prison. I look like I'm carrying a shiv, but only to poke open a Capri Sun," Davidson joked during the Weekend Update on Saturday Night Live.
Director Judd Apatow talked about Davidson removing his tattoos. "He even showed his hand, which is already done," Apatow said, according to Page Six. "He said it takes 3-4 hours in the makeup chair to cover them, so he figured 'it would be easier to get them burned off.'"
It sounds like Davidson is taking his acting career seriously to where he's removing his tattoos. He's also keeping up with his role on Saturday Night Live.