Pete Davidson Spotted With A Huge Hickey While Dining With Kim Kardashian West
Pete Davidson and Kim Kardashian West have been making headlines for their blossoming romance, and it looks like things are heating up for the unexpected couple. They were recently spotted dining out together, and Davidson wasn't trying to hide a massive hickey on his neck. 
Pete Davidson dined out with Kim Kardashian West in Santa Monica
Davidson and Kardashian West have been spending a lot of time together. They were recently spotted celebrating Davidson's birthday, which is on Nov. 16, in Palm Springs with Kardashian West's mother, Kris Jenner. 
Just a few days after their birthday trip for Davidson, the new couple was photographed dining out together. On Sunday, Nov. 21, Davidson and Kardashian West had a date at Giorgio Baldi, an Italian restaurant in Santa Monica. 
Kardashian West wore a black turtleneck, long black leather gloves, a black leather maxi skirt with a long slit up the front, a black hat, and black boots. Davidson was dressed a bit more casually in jeans, a T-shirt, and a fuzzy gray jacket. 
Pete Davidson showed off a hickey on his neck, sparking rumors it was from Kim Kardashian West
Besides his Uncle Paulie's hat, the most exciting accessory Davidson was sporting on his date with the SKIMS founder was a giant hickey on the left side of his neck. 
Based on the amount of time he's been spending hanging out with Kardashian West, it seems highly likely that the love bite was from her. Perhaps Kardashian West's turtleneck was hiding a hickey to match Davidson's?
The couple left their date night together in a Lamborghini SUV, and according to Daily Mail, they "couldn't stop giggling."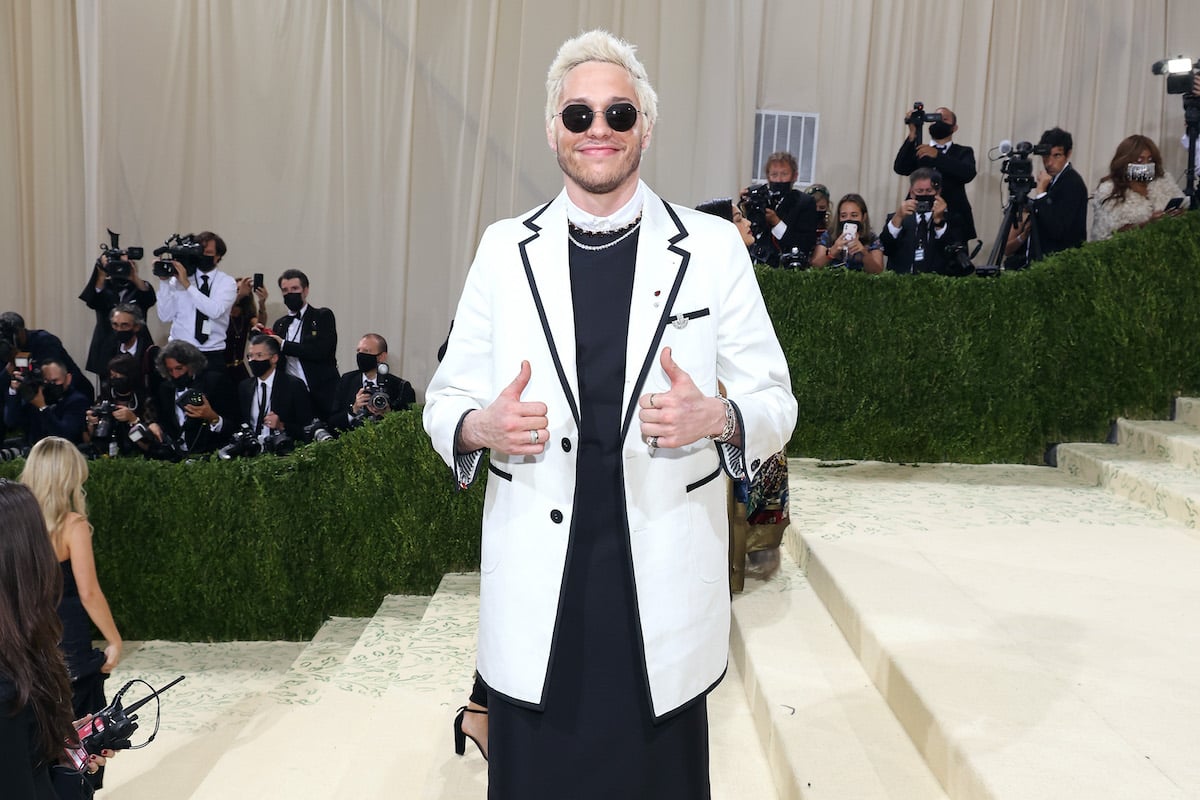 Fans think the reality star is copying her sister Kourtney Kardashian's love life
Kardashian West's older sister, Kourtney Kardashian, is also in a highly publicized relationship with Blink-182 drummer Travis Barker. 
On Oct. 17, Barker proposed to Kardashian on the beach at the Rosewood Miramar Beach hotel. The drummer led Kardashian to the center of an elaborate display of roses and candles, where he got down on one knee and presented her with a massive oval-cut diamond ring. 
Fans have noticed some similarities between Barker and Davidson. They are both lean men with lots of tattoos who work in the entertainment industry. And they are both making headlines for dating members of the famous reality TV family. 
According to Mirror, some fans think Kim is copying her sister Kourtney's love life. One person even allegedly said, "Kim Kardashian couldn't let Kourtney have all the shine so she grabbed Pete Davidson."
Well, Davidson and Kardashian West certainly have our attention, especially if they are going to continue flaunting their hickeys!