Pete Davidson Wanted Questlove to 'Really Hit' Him on 'Saturday Night Live'
Season 46 of Saturday Night Live premiered in 2020. Actor Timothée Chalamet hosted the eighth episode of the season and appeared in a viral sketch with Pete Davidson, Questlove, Ego Nwodim, and Punkie Johnson.
In the SNL sketch, Questlove stage-slapped Davidson and Chalamet. While on The Tonight Show Starring Jimmy Fallon, Davidson said that he asked Questlove to actually hit him, but Questlove refused.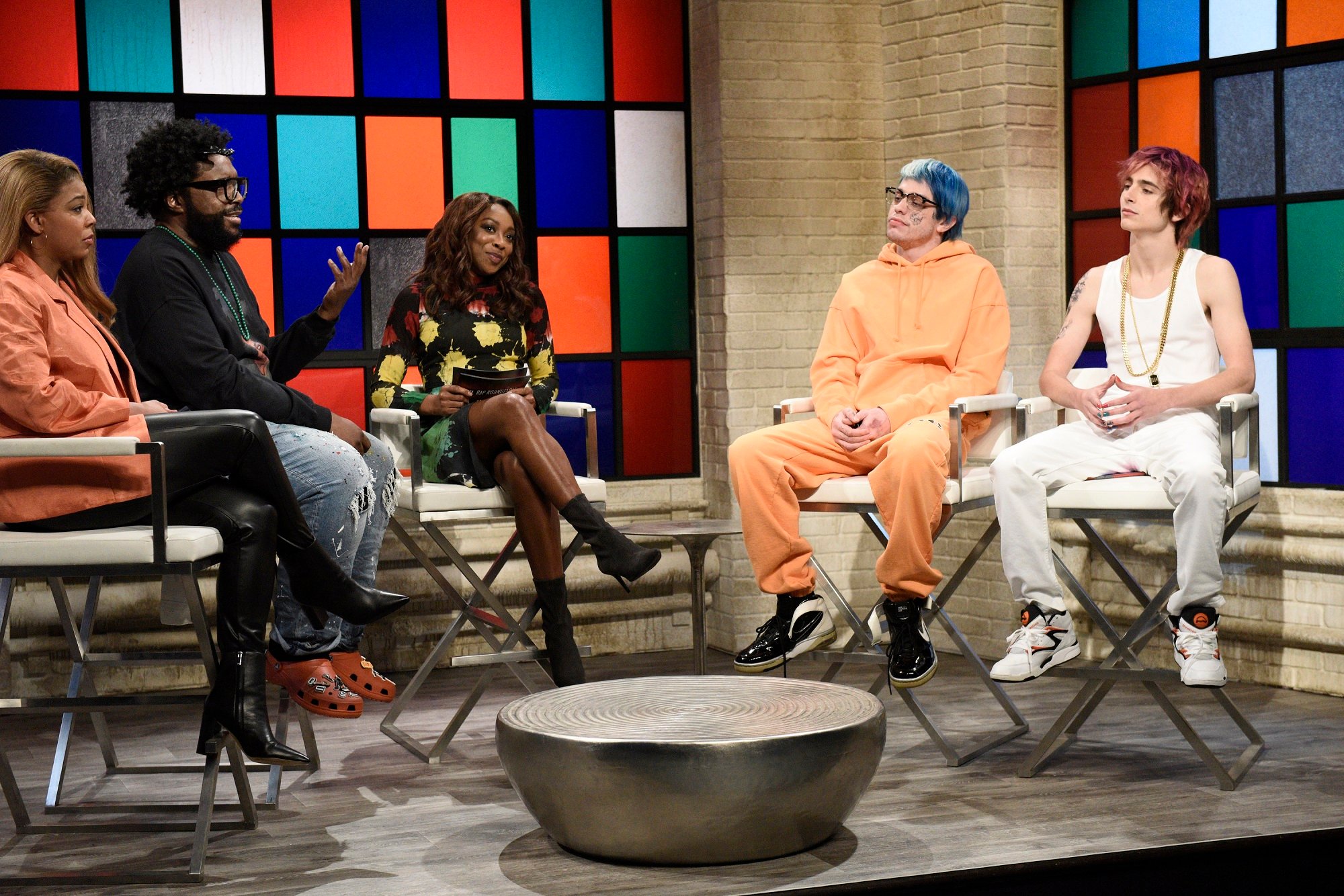 Pete Davidson and Questlove appeared together on 'SNL'
Chalamet hosted SNL on Dec. 12, 2020. One of the sketches during the episode was titled "Rap Roundtable." For the sketch, Johnson appeared as Queen Latifah, Questlove appeared as himself, and Nwodim played Nunya Business. Davidson and Chalamet portrayed a TikTok rapper duo.
Throughout the sketch, the five discussed the history of hip-hop and its influence while Davidson and Chalamet's characters repeatedly yelled out the word "yeet."
The two cited their rap inspiration as Fall Out Boy and bragged about getting billions of streams on their one song, "Yeet." At the end of the sketch, the two TikTok rappers performed "Yeet," only to be stage-slapped by Questlove.
Pete Davidson said he wanted Questlove to hit him for real
On April 6, Davidson was a guest on The Tonight Show Starring Jimmy Fallon. As a regular cast member on SNL, Davidson spent a great deal of the interview talking about his time on the show.
While discussing SNL, Davidson gave behind-the-scenes details about the "Rap Roundtable" sketch. It turns out Davidson asked Questlove to hit him for real instead of stage-slapping him.
"I asked him if he would really hit me and he said no," Davidson said.
Questlove confirmed Davidson's story, saying, "He told me to hit him for real. He's like 'I don't feel it. Hit me for real.'"
"I thought it would be cool for the sketch," Davidson said.
At this, Fallon laughed and replied, "You can't have Questlove hit you on national television."
"Yeah, but like, I don't know, you can usually tell when it's a fake hit," Davidson said. "I wanted him to punch me in the face."
Pete Davidson will appear in 'The Suicide Squad'
While on The Tonight Show, Davidson also discussed his role in the upcoming film The Suicide Squad. The movie is directed by James Gunn and stars Margot Robbie, Idris Elba, John Cena, Joel Kinnaman, Sylvester Stallone, and Viola Davis.
The Suicide Squad will be released on Aug. 6, and Davidson plays Richard Hertz/Blackguard. When asked how he became involved with the DC Extended Universe film, Davidson said that Gunn personally called him about the role.
"I love superhero movies, and I'm a huge James Gunn fan," he said. "And I got a call from James Gunn. He was like, 'There's this role for you in the movie, and you play a guy named Richard Hertz.'"