Pete Davidson's Dating History: Every Famous Woman He Has Dated, Including Kim Kardashian West, Ariana Grande, and More
Pete Davidson is making headlines for his new relationship with Kim Kardashian West. The comedian has been romantically linked to several famous women in the past, including Ariana Grande, Kate Beckinsale, and more. 
Here's a comprehensive list of every celebrity we know Davidson has dated so far.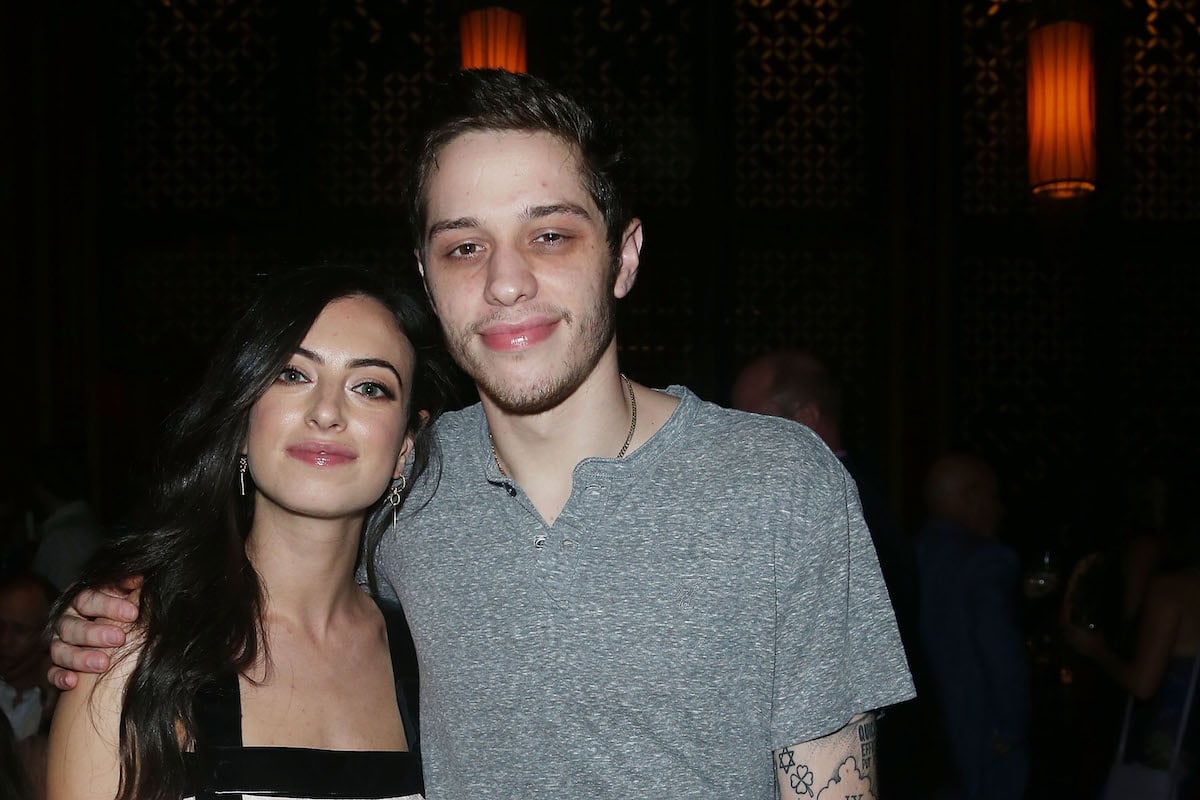 Cazzie David and Pete Davidson had a 2-year relationship
Davidson's longest relationship with a famous woman was his two-year romance with Cazzie David, Larry David's daughter. They dated from 2016-2018.
David wrote about the painful details of her breakup with Davidson, who, according to David, moved on to pop star Ariana Grande just a day after their split. She released her book No One Asked For This on Nov. 17, 2020 (notably the day after Davidson's birthday). 
She didn't mention Grande or Davidson by name, but it's pretty obvious who she was talking about. David wrote that she learned of her ex's new relationship while on an airplane with her father. 
"I scrolled through Twitter and saw that my ex of one day had a new girlfriend," David revealed (via E! Online). "I think I probably left my human body. My dad held me as I shook uncontrollably in his arms for the entire flight."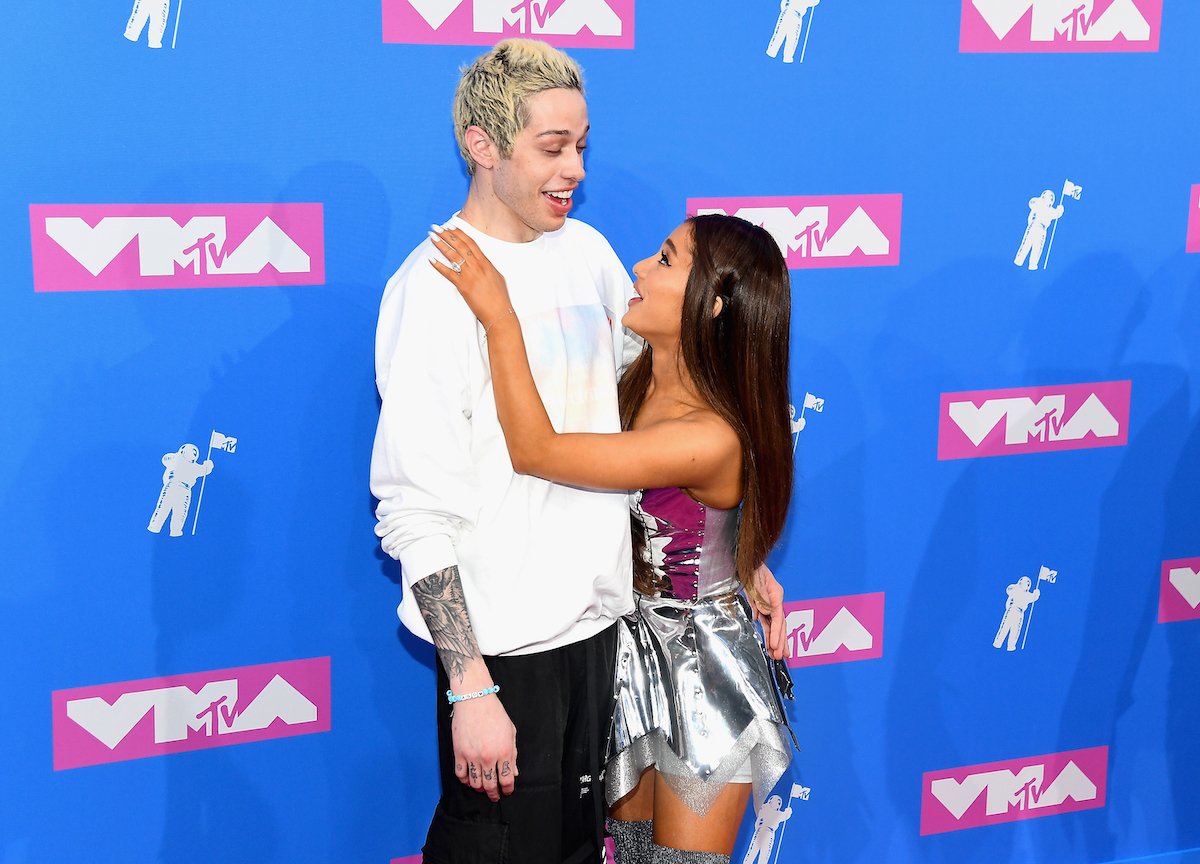 Pete Davidson was engaged to Ariana Grande
Immediately after his split from Cazzie David, Davidson started dating Ariana Grande in May 2018. They got engaged less than a month into their whirlwind romance. Like Davidson, Grande had just split from her partner of two years, rapper Mac Miller. 
Miller tragically died of an overdose on Sept. 7, 2018. By October, Grande and Davidson split up. Grande hinted that Miller's death was the reason for the breakup in her song "Ghostin" from the 2019 album Thank U, Next.
"I know that it breaks your heart when I cry again, over him," Grande croons on the track. 
Kate Beckinsale dated the 'SNL' star after Ariana Grande
Following his ill-fated romance with Grande, Davidson briefly dated actor Kate Beckinsale, who is 20 years his senior. In a March 2019 interview with the LA Times, Beckinsale spoke about her discomfort with the public interest in her relationship with the SNL star.
"I'm surprised by the interest. I've never been in this position before – never dated anybody who comes with their own bag of mischief. It's all quite shocking, and something to get used to."
The comedian was briefly linked to Margaret Qualley
By August 2019, Davidson was linked to Maid actor Margaret Qualley. Qualley's mother is the famous comedic actor Andie MacDowell. 
This relationship didn't last long, though, since Davidson had moved on to teenage model Kaia Gerber by October.
Kaia Gerber and Pete Davidson dated for 3 months
After dating Qualley, Davidson had a three-month relationship with model Kaia Gerber, the daughter of supermodel Cindy Crawford. Davidson spoke about his split from Gerber in a February 2020 video interview with Charlamagne Tha God. 
"We were dating for a few months," Davidson shared. "She's very young, and I'm f—ing going through a lot, and it was before I went to rehab.
"It's just like, she should be having fun," he explained. "She shouldn't have to worry about some dude that just has issues and s—. She should be enjoying her work.
"It just wasn't the right place or the right time at all," Davidson said. "Her parents were really helpful and stuff, so they're cool."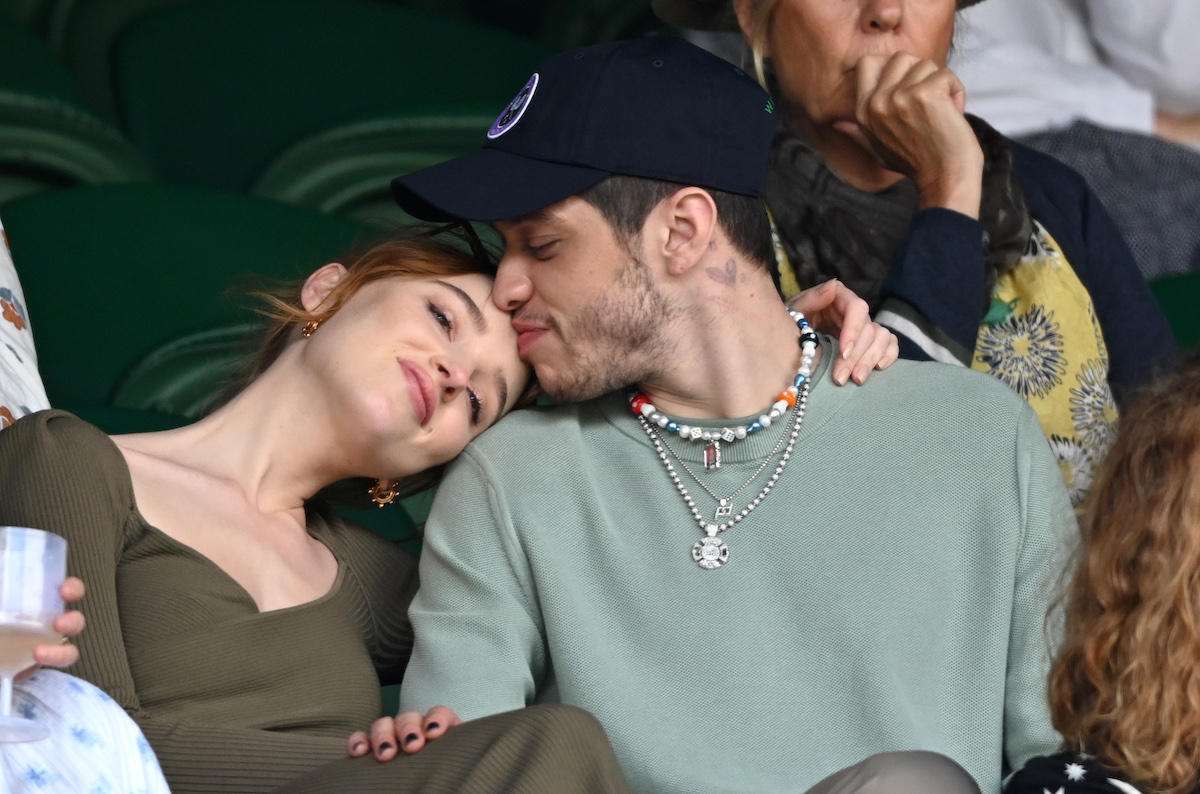 Pete Davidson dated 'Bridgerton' star Phoebe Dynevor
After his split from Gerber, Davidson apparently took a brief hiatus from dating celebrities. But by March 2021, rumors started swirling that he was in a relationship with Bridgerton star Phoebe Dynevor. 
In an April 2021 Zoom Q&A with Marquette University students, the comedian was asked to name his celebrity crush.
"I'm with my celebrity crush," Davidson said while grinning widely, according to People. In July 2021, Davidson and Dynevor were spotted cuddling and kissing at the Wimbledon Championships in London, England. 
The relationship lasted about five months, and fans speculated that their breakup was due to the long distance between them. Davidson lives and primarily works in New York, while Dynevor lives and works in England. The distance, combined with their shooting schedules, likely made it impossible for the relationship to advance.
Pete Davidson is now dating Kim Kardashian West
Rumors started swirling that the comedian was dating Kim Kardashian West when they held hands on a roller coaster at Knott's Berry Farm on Oct. 29. Their outing occurred less than a month after Kardashian West hosted Saturday Night Live, where she shared an on-screen kiss with Davidson during a skit. 
A few days after their Halloween date, the couple was seen dining together in Davidson's hometown, Staten Island. Davidson celebrated his 28th birthday in November with the SKIMS founder, and they have recently been spotted holding hands again in Palm Springs.