Pete Holmes from 'Crashing' Has a Net Worth That Proves He Doesn't Need to Couch Surf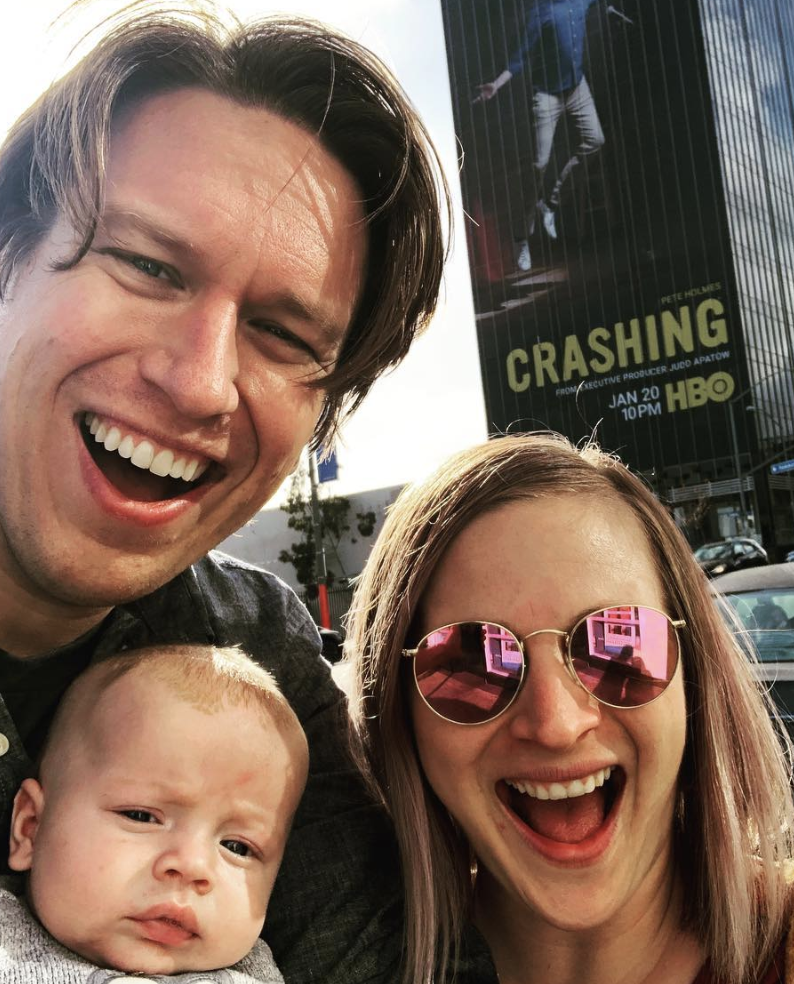 Comedian Pete Holmes is gearing up for the third season of HBO's Crashing, recently launched his second stand-up Pete Holmes: Dirty Clean on HBO and welcomed a baby with his wife. Life is looking pretty good.
Holmes' HBO series Crashing is about a down on his luck standup Christian comedian. Who was bounced from his marriage and has to "crash" on couches while trying to make it on the comedy circuit. Needless to say, he quickly ends up on some pretty "big" couches. This includes hanging at Artie Lange's pad, T.J. Miller and Sarah Silverman to name a few.
And while Holmes' character "Pete" is still trying to climb to the top, Holmes seems to have found his groove. His current net worth stands at about $3 million, according to Celebrity Net Worth. And clearly, Holmes can afford his own digs and more. So how did Holmes build his career?
Crashing is autobiographical
Early in his career, Holmes could have been a "couch crasher." He was married at a young age but divorced when his ex cheated on him. After Holmes and his wife split, all he had was comedy. While the show is based on this dark period in Holmes' life, he developed the characters to be unique to the show.
"So I don't think if my ex-wife were to see it, I don't think she'd say, "Hey, that's me!" It's more like the action of the relationship is represented in the show, but then, you know, a lot of the emotion and some of the points that she made in breaking up with me, I certainly reframed them and reworded them," Holmes told Inverse.
Holmes had his own talk show
Long before Crashing was The Pete Holmes Show on TBS. The half-hour talk show was meant to keep the laughs rolling after Conan in 2013. Although the show got canceled, Holmes was resilient.
"The show got canceled, and I didn't go on a bender," he told Inverse. "I think I found out the show got canceled on a Thursday, and then the next Wednesday we were pitching a sketch show on Comedy Central. They didn't want a sketch show, and then I had this quiet moment in my car where I was like, 'Okay, this is an interesting time.'"
This is how he pitched Crashing
Holmes recounts when he pitched the show to director Judd Apatow. "He was shooting Trainwreck," he told Vanity Fair. "and I flew in. I got up really early—I didn't want to be late—and drove to the set of Trainwreck. We talked for 10 minutes, and the last 5 minutes I told him the idea for the show, and two years later I can't believe we made it."
The show is also designed to feature a lot of the best comedians in the business. Lange is back for season three. Plus Holmes says meeting up with new comedians keeps the show fresh (and highly entertaining). "I feel like life feels like running into different people and spending time with them. It's not all of my friends all at once," Holmes said to Vanity Fair. "T.J. Miller is one of my best friends. I hadn't seen him for months before we shot, and I haven't seen him since we shot. That's one of the elements I wanted to represent in the show: When you're living with other comedians, people come into your life, and maybe they go on the road, maybe they go film a movie, maybe they go out of your life."
Check out The Cheat Sheet on Facebook!