What Is Peter Gallagher's Daughter, Kathryn Gallagher, Known For?
Actor Peter Gallagher has appeared in many projects. But many still think of him as the fan-favorite father figure he portrayed in The O.C. In real life, he's a dad to an up-and-coming star, Kathryn Gallagher. Discover what she's known for and the way she turned her father's famous role into holiday content.
Peter Gallagher starred in 'The O.C.' and 'Zoey's Extraordinary Playlist'
RELATED: 'Zoey's Extraordinary Playlist': What Brings Back Zoey's Heart Songs in Season 2?
Acting steadily in film throughout the '80s and '90s, Peter Gallagher accumulated a number of notable performances, from John Mullany in Sex, Lies, and Videotape to Buddy Kane in American Beauty. However, he broke out with his starring role in the Fox teen drama The O.C., playing public defender Sandy Cohen.
This role led to more TV work, including starring in Covert Affairs and recurring gigs on New Girl, Law & Order: SVU, and Grace and Frankie. Peter Gallagher exercised his Broadway background in 2020 when he portrayed Mitch Clarke in the popular NBC musical series Zoey's Extraordinary Playlist, later returning for a couple of appearances in the show's second season.
Kathryn Gallagher appeared in 'You' and 'The Flash'
Like her father before her, Kathryn Gallagher works in the entertainment industry. She began studying theater and writing music as a child growing up in New York and Los Angeles. Kathryn Gallagher has so released a handful of EPs. She's best known for her work on stage, specifically in the Broadway show Jagged Little Pill, which won her a Grammy.
In addition to musical theater, Kathryn Gallagher's also made her way to the small screen. Her first and most popular role came in 2018 when she recurred in the first season of the Lifetime-turned-Netflix mystery drama You as Annika. The actor also appeared in a guest role in a 2019 episode of CW's The Flash.
She gave her dad a funny Father's Day shoutout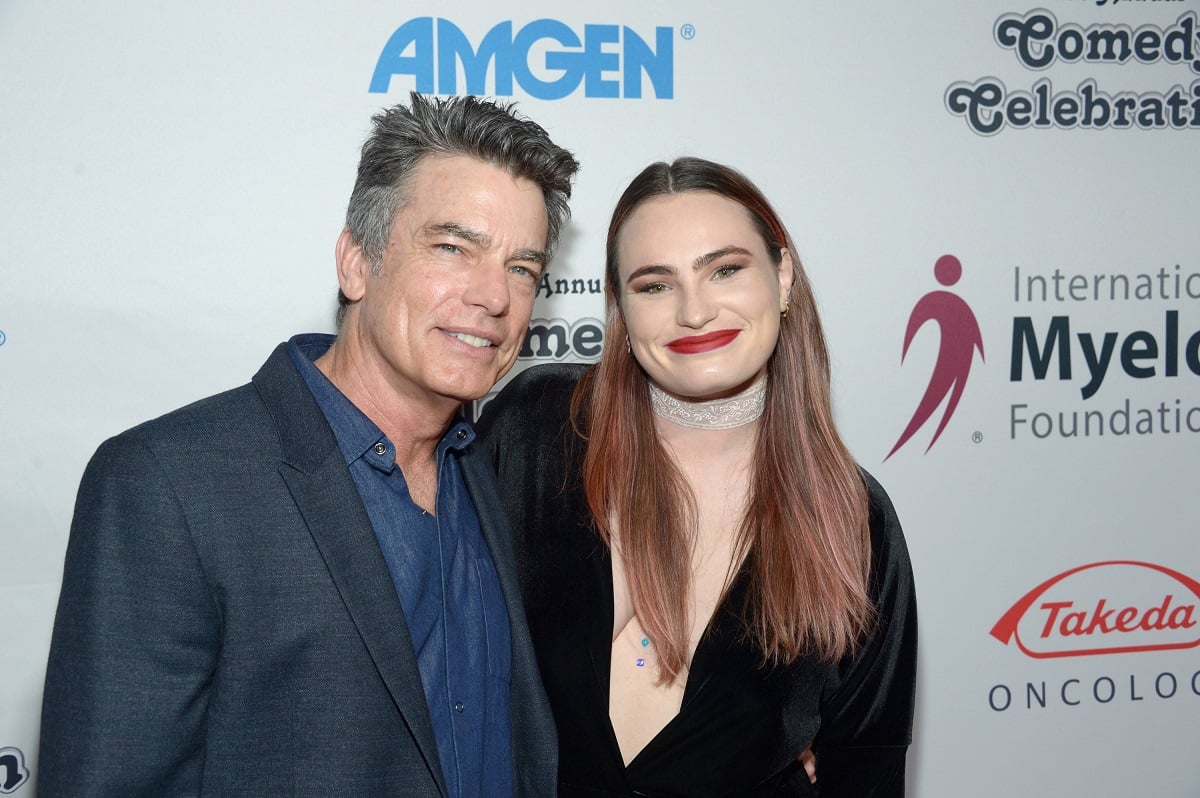 To say Peter Gallagher has a lot of fans, especially for his performance in The O.C., would be an understatement. On Father's Day 2021, one Twitter user shared a collection of photos of the actor from his time on the show, in which many found him to be the ideal dad. "happy father's day," they wrote.
Among the many who retweeted the post? Peter Gallagher's daughter, Kathryn. "weird same lol," she wrote, acknowledging that, for her, the man in the photos is actually her dad, unlike those who simply look up to him as a father figure.
Have the Gallaghers ever worked together?
Despite working in the same industry, Peter Gallagher and his daughter haven't worked together on any movies or TV shows. However, Kathryn Gallagher recently released a project that she deemed "a full family affair." And her dad wasn't the only one who helped her out with it.
Kathryn Gallagher put out a music video for her song "Take What I Can Get" on June 10, 2021. "My dad was our PA and my mom helped me fix my hair and blow up balloons," she explained. Additionally, her brother, James Gallagher, acted as the colorist of the video. "Just like when we were little kids, I looked to him for the answer to every question," she wrote.