Peter Weber Would Have Given up 'The Bachelor' for Hannah Brown
Days after the new season of The Bachelor premiered, Bachelor Nation is still fired up. Peter Weber was floored when his ex-girlfriend, Hannah Brown, showed up to the mansion on his first night as the bachelor. On Brown's season of The Bachelorette, Weber was completely blindsided after Brown made the choice to send him home before Tyler Cameron and Jed Wyatt. The two had a natural chemistry and a sweet friendship that seemed completely genuine. Brown also seemed to get along famously with Weber's family. And, who could forget the fun the two of them had in the windmill?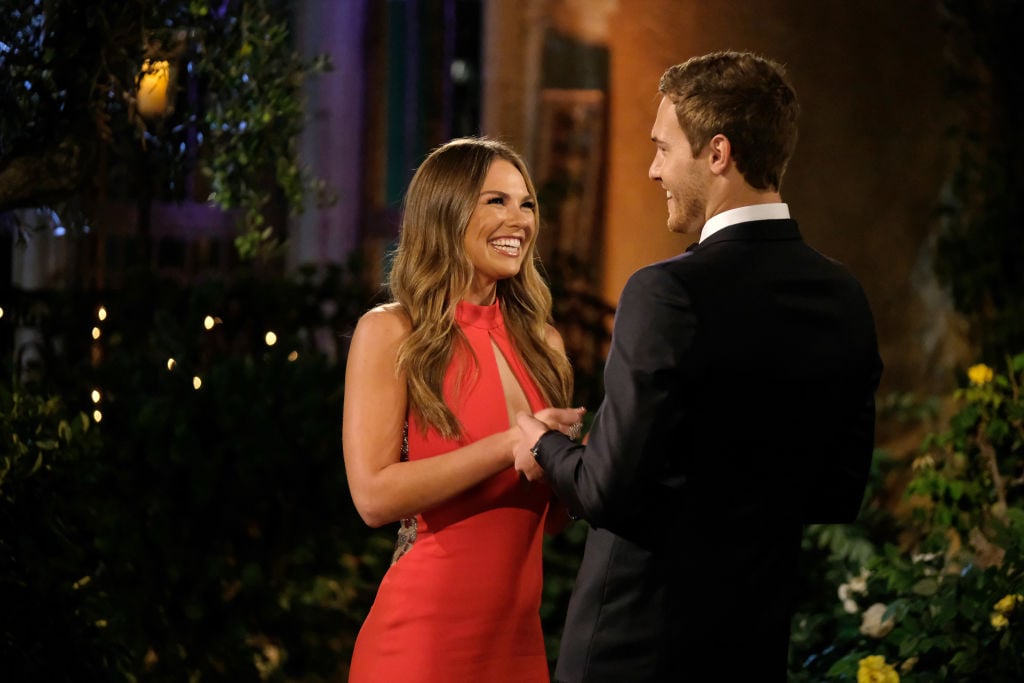 A shocking start to The Bachelor 2020
Nobody knew what to expect when Brown showed up to the mansion that night. Weber had already been introduced to thirty women who were ready and willing to compete for his heart. Later, Weber admitted that part of him hoped that she was there to stay and compete for him. Ultimately though, Brown merely returned the wings he gave her the night that they first met. The other contestants were thrilled to see the former Bachelorette take her leave. Unfortunately for them, they hadn't seen the last of her.
Peter Weber put Hannah Brown in charge of his contestants' group date
In a surprising move, Weber put Brown in charge of the second group date of the season. She opted to share the now-infamous windmill story and then revealed that Weber and his hopeful contestants would be sharing sex stories on stage for a live audience. While the women competing for Weber's heart diligently crafted stories to share, Brown and Weber had yet another heart to heart. It quickly became clear that the former couple still had very intense feelings for each other. The beauty queen admitted that she questioned her decision to send Weber home all the time. She also revealed that she always planned on introducing the current bachelor to her family.
Weber, of course, had follow up questions to Brown's confessions. He wondered why she chose to ask Cameron out rather than him. Brown revealed that it was because Cameron reached out to her and Weber didn't. She also assumed that Weber was more interested in becoming The Bachelor than pursuing a relationship with her. However, the Dancing with the Stars winner couldn't have been more wrong. In a recent interview with Glamour, Weber was asked if he would've given Brown another shot if she asked before he went on The Bachelor. He admitted that he would've given up the show to pursue things with Brown.
Weber would have given up The Bachelor for Brown
"Well, this may be an unpopular opinion, but I would have said, yes, I need to give this opportunity a try with Hannah. That's just my honest answer from the heart," the 28-year-old confessed. While we don't know what happens between the two just yet, Weber has no regrets about Brown returning and sharing her feelings with him. "I asked her questions I didn't know the answers to, so if she never would have came back, I wouldn't have known the answers. You'll see what happens going forward, but I feel like everything happened for a reason, and I'm not mad the way it happened," the bachelor revealed. We're sure Bachelor Nation can't wait to see how the rest of this journey unfolds.