Peter Weber Says He Wouldn't Have Been The Bachelor If Hannah Brown Had Asked Him Out
Peter Weber wishes Hannah Brown would have asked him out instead of Tyler Cameron. He would've given up 'The Bachelor' for her.
During the premiere of Peter Weber's season of The Bachelor, the lead had an intense heart-to-heart with former bachelorette Hannah Brown. Weber told Brown he wished she would have asked him out at "After The Final Rose" instead of Tyler Cameron. She told Weber she didn't because Cameron had been reaching out to her and he hadn't. She also thought he wanted to be the bachelor.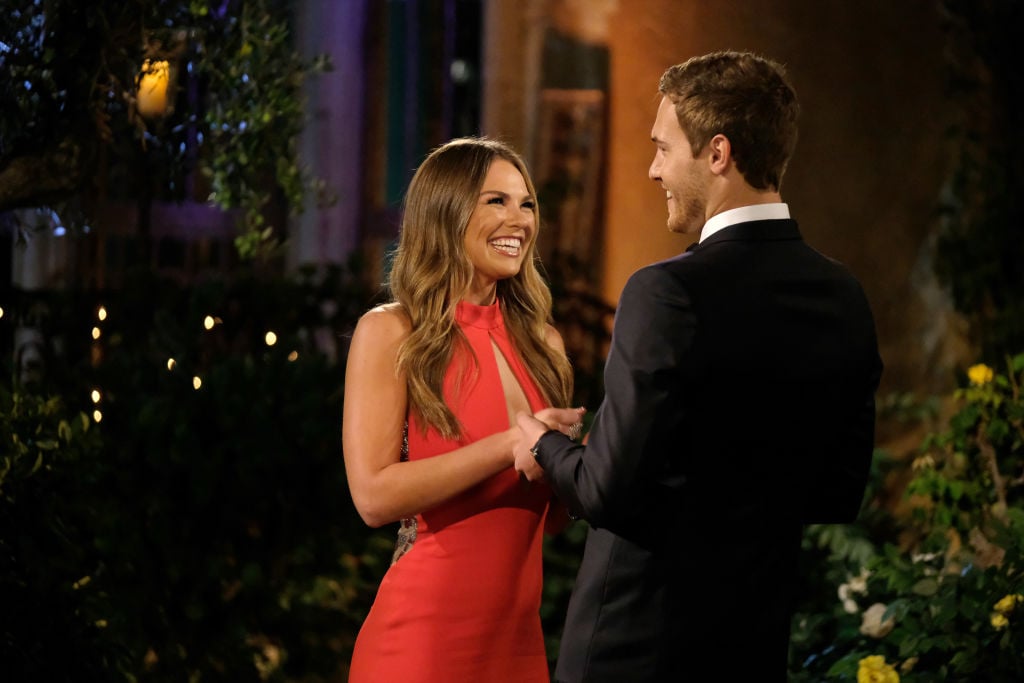 In a recent interview with Entertainment Tonight, Weber confirmed he had not reached out to Brown after her season of The Bachelorette.
"I had not messaged her at all. There was zero communication between the two of us. You know, that's just what I decided to do. And when I wanted to have an authentic talk with her on stage there, seeing her, I knew it was gonna be tough. But that's what we did. There was no communication," he said.
Peter Weber wouldn't have been the bachelor had Hannah Brown asked him out at 'After The Final Rose'
So what if Brown had asked Weber out at "After The Final Rose?" Where would he be now?
"It's weird to say but, it's weird to say. If she would have I would have said yes and I probably wouldn't have been the bachelor," he said.
When ET's Lauren Zima asked Weber if he and Brown would be together right now he said: "I mean, you never know. The world may never know now, you know? It is what it is."
Weber did reveal that he and Brown texted when the episode aired.
"Yeah just like really good support and she's been amazing. She's a huge fan of mine, I'm a huge fan of hers and I always will be," he said.
Peter Weber didn't expect to have that conversation with Hannah Brown but he's glad he did
Weber also told Zima that the conversation between him and Brown was never supposed to happen.
"That wasn't even supposed to happen, that whole discussion. The only thing I knew about that date was that she was hosting it and, yeah, I was taking a chance. Yeah, it could have been awkward. It obviously was. But we were actually supposed to have a date. It was supposed to be talks then we were gonna have an audience come in then I heard that she was having a tough time," said Weber. "I went to go check on her and then that whole discussion transpired and you guys saw what happened. But that was never planned, that was all real."
Even though his conversation with Brown ruined the second group date of the season, Weber says he's glad he got some closure.
"The last time I had seen her was, other than the first night, AFR on stage there and it was great to talk to her but that was kind of the first raw conversation. Just to kind of get that possibly closure," he said.
Read more: 'The Bachelor': Peter Weber Admits He Was Still in Love With Hannah Brown During The Premiere