Phoebe Bridgers Kicks off Gov Ball Set With a Longer Than Expected Intro of 'I Gotta Feeling' by the Black Eyed Peas
Whether she's "gotta feeling" about a good night or "that funny feeling," Phoebe Bridgers brought all of the feelings to her Saturday performance at New York City's Governors Ball Music Festival.
Here's what we know about the "Motion Sickness" singer and her performance at the Bacardí stage.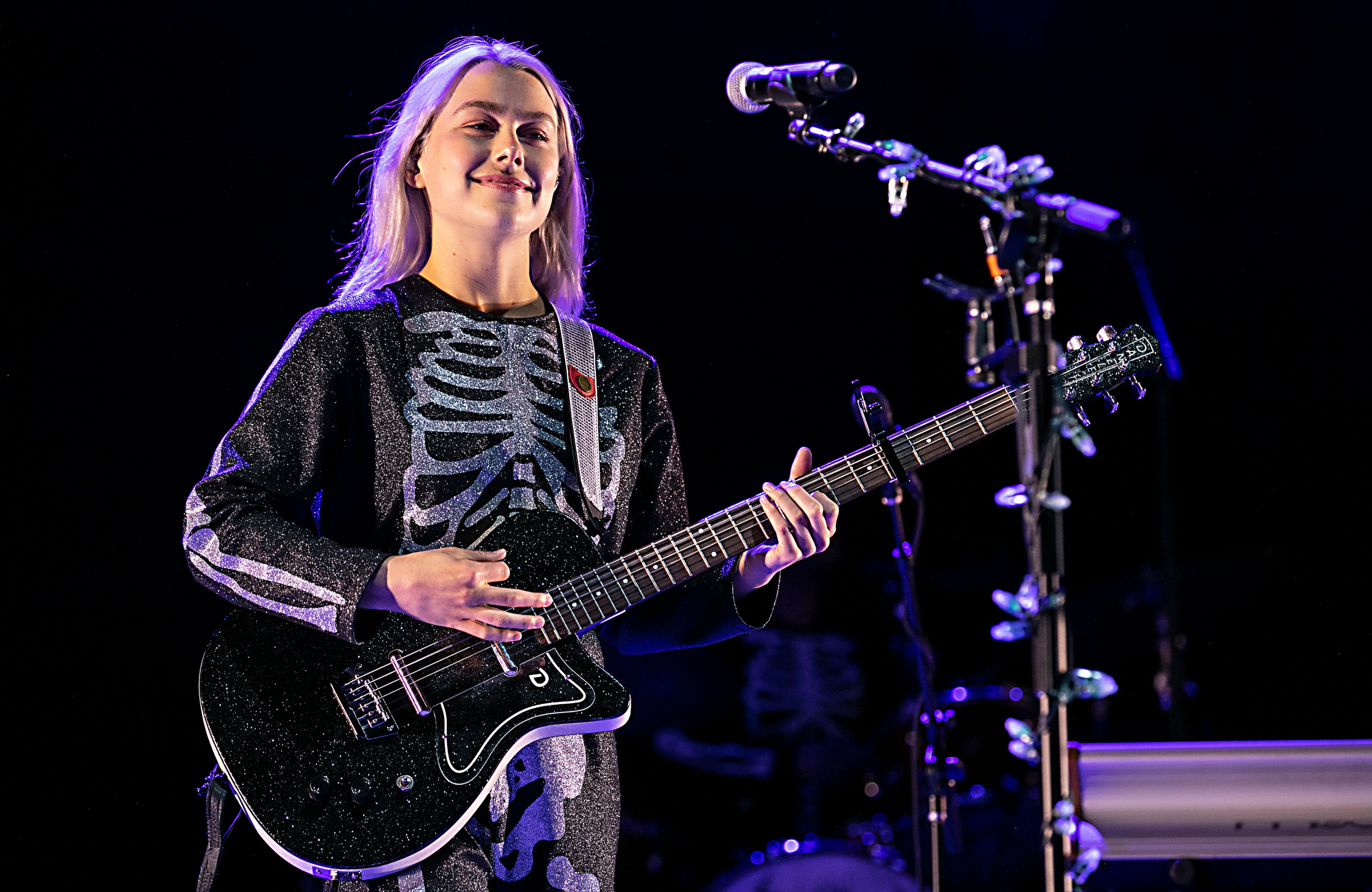 Phoebe Bridgers performed at New York City's 2021 Governors Ball Music Festival
In 2017, Bridgers released her album Stranger in the Alps. In 2020, she debuted Punisher. With live music returning to New York City in 2021, this artist became one of the performers at the Governors Ball Music Festival, taking to the Bacardí stage on Saturday, Sept. 25.
The artist performed fan-favorite songs like "DVD Menu," "Garden Song," "Chinese Satellite," and "I Know The End." She also did an acoustic cover of Bo Burnham's "That Funny Feeling," featured in the Netflix original comedy special, Inside.
Phoebe Bridgers kicked off her set with an 'I Gotta Feeling' by the Black Eyed Peas introduction
This artist is known for her love of "innocently creepy" things, including her iconic skeleton onesie. (She wore a sparkly variation of the outfit for her Governors Ball performance, matching her sparkly guitar.) She's also known for being "random," and her introduction for this music festival was no exception.
With an initial set time listed as 6:30, Bridgers took to the stage about 20 minutes later. How did fans know the performance was starting? Because "I Gotta Feeling" by the Black Eyed Peas started playing — it kept playing long after the artist appeared.
As the song continued to blast through the speakers, this artist grabbed her guitar and shook her head. Eventually, the music faded out, and Bridgers smiled into the microphone when "Motion Sickness" began.
The Black Eyes Peas is a stark contrast to Bridgers' music. But hey, this singer is known for being "so random." When she performed at a different venue on Sept. 19, a fan threw a bra on stage. Bridgers proceeded to put the bra on her head. Almost immediately, pictures of the moment earned thousands of likes on social media.
Other artists who performed New York City's Governors Ball Music Festival include Billie Eilish and Megan Thee Stallion
As one of New York's largest music festivals, Governors Ball included Grammy-nominated artists like Post Malone and Billie Eilish. 
Other artists featured in the Saturday lineup for Governors Ball included Nation of Language, Chiiild, Charlotte Lawrence, Breeland, A R I Z O N A, King Princess, Drew Lucas + Livia O, Sarah Barrios, Mike, Muna, The Brothers Macklovich, Pink Sweats, Cordae, Big Thief, Aminé, and Megan Thee Stallion.
The two headlining acts for the day included J Balvin and A$AP Rocky, both performing after Bridgers.
This artist appears throughout the United States in conjunction with her 2021 tour. Music by Bridgers is available on most major music platforms, including Spotify and Apple Music.
RELATED: ​​Portugal the Man Kicks Off Governors Ball Performance With a Special 'Beavis and Butthead' Cartoon