Phoebe Bridgers Thought It Was 'Pathetic and Funny' That People Were Mad at Her 'Saturday Night Live' Performance
Phoebe Bridgers had a guitar smashing moment on 'Saturday Night Live,' earning support from some viewers (and criticism from others).
Phoebe Bridgers smashed her guitar during her Saturday Night Live performance, even if some viewers weren't supportive of the classic rocker move. Here's what this artist said about the "so stupid" reaction to her viral moment. 
Phoebe Bridgers appeared on 'Saturday Night Live'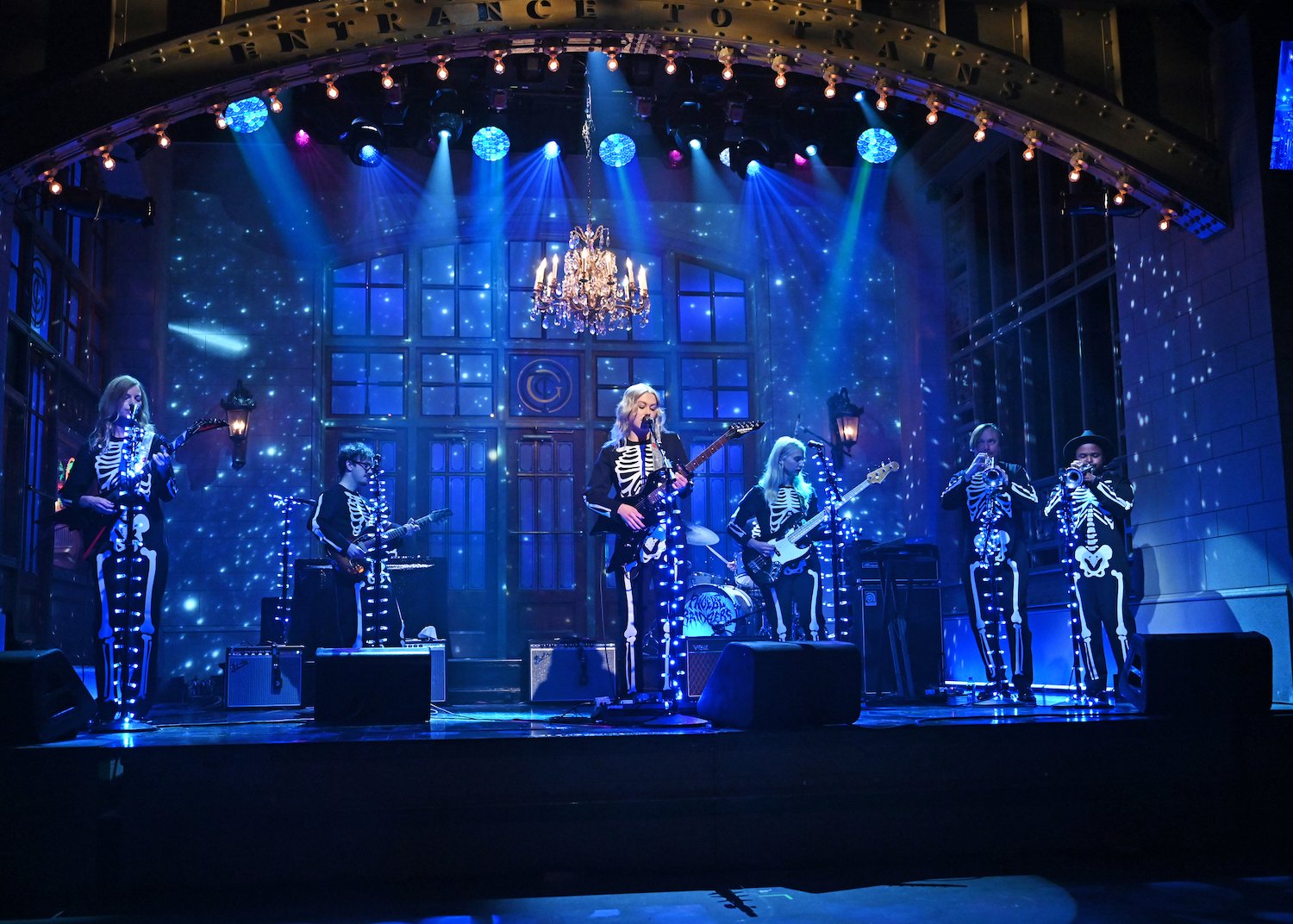 Bridgers is the artist behind "Motion Sickness," "Moon Song," and "Garden Song," releasing her single "Sidelines" in 2022. Recently, the artist performed at the Coachella Valley Music and Arts Festival and embarked on her Reunion tour.
In April 2021, Bridgers appeared as a musical guest on Saturday Night Live, showcasing "Kyoto" off of Punisher. Along with her full band, the songwriter also performed a live version of "I Know the End" from the same album.
To complete the performance, the artist broke into a scream, similar to the cathartic moment in the original recording. Then, Bridgers removed her guitar and smashed it into the (fake) stage monitor speaker. She threw down the destroyed guitar and hugged one of her bandmates. 
Phoebe Bridgers thinks it's 'so stupid' that people were mad at her 'Saturday Night Live' performance
The YouTube videos of Bridgers' performances earned thousands of views. However, this "I Know the End" performance wasn't widely accepted by SNL viewers, some who particularly had a problem with the guitar smashing moment. David Crosby of The Byrds and Crosby, Stills & Nash weighed in on the performance, tweeting that it was "pathetic."
"It's pathetic and funny," Bridgers said during an interview with Billboard. "No part of me thought it would piss anybody off. I literally went to sleep and woke up and was like, 'What the f***?' It's just so stupid. I've said this before, but at least the right people hate me. At least it's not like I stepped on something that I didn't mean to. I was just like, 'Oh, good.'"
Some fans wrote comments on the official Saturday Night Live YouTube video, supporting Bridgers and her not-so-spontaneous guitar smashing.
"For anyone still mad about this: the guitar was 85 bucks, the crew knew she was doing it beforehand, so they gave her a fake monitor to drive the guitar into, and guitar company was in full support of her smashing it, as well," one viewer wrote.
"The guitar destruction was perfect, I gasped," another YouTube user noted. "The sheer rawness of the screaming near the end of the song really meshes well with smashing the guitar on stage. It looks like she had a lot of fun doing it, too."
What guitars does Phoebe Bridgers use?
This wouldn't be the first performance where Bridgers highlighted her guitar skills. This artist typically hits the stage with this instrument, also playing the guitar during her NPR Tiny Desk Concert. 
The artist often plays a Danelectro 56 Baritone guitar, as noted on Equipboard. She used to play an Epiphone Frontier — a style of acoustic guitar.