10 Iconic Photographs of Princess Diana and the Stories Behind Them in Honor of What Would Have Been Her 58th Birthday
If she were still alive, Diana, the Princess of Wales, would be 58 years old today. Although her life came to a tragic end much too soon in 1997, we're lucky enough to have many parts of her life, especially as a member of the British royal family, captured on film.
Ahead, see 10 iconic photographs of Princess Diana and learn the stories behind them.
1. With two children at a London school in 1980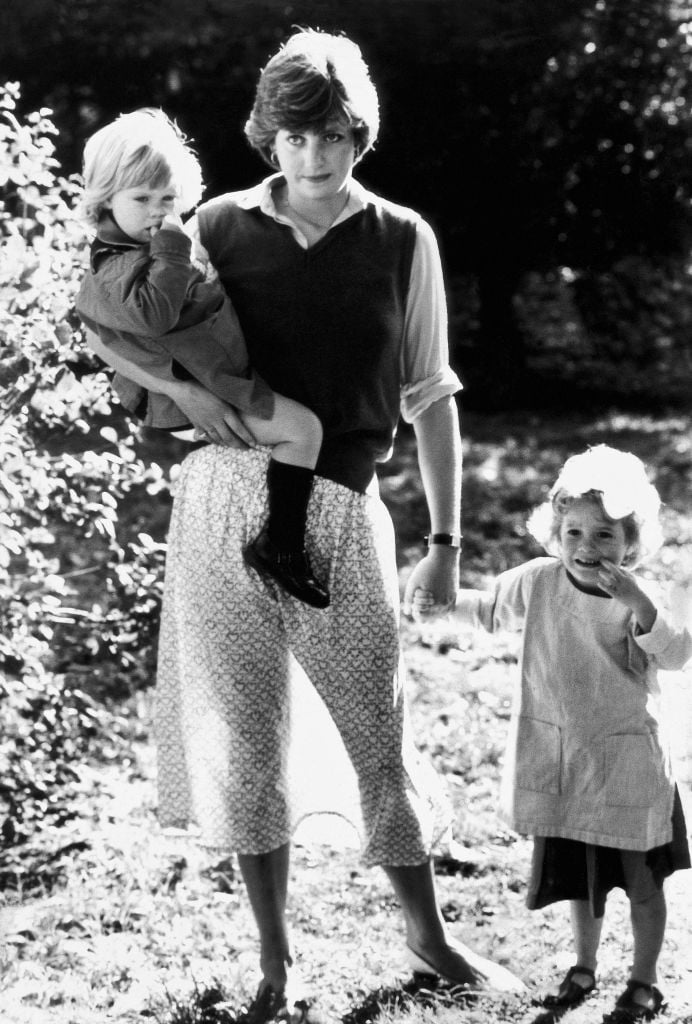 Then Lady Diana Spencer, the princess-to-be stood with two children at the Young England Kindergarten School where she worked as an assistant — it was her first job — on September 17, 1980.
The 19-year-old Diana had been dating Prince Charles and politely posed for some photographs in a nearby park when photographer, Arthur Edwards, asked.
What made the photo iconic is that the sun made it back-lit putting Diana's legs on display.
"I didn't do it on purpose, I promise. I didn't do it to embarrass her, but it was such a good picture you couldn't not publish it," Edwards later said of the picture.
"Everybody doesn't believe this but it is the gospel truth — halfway through, the sun came out and revealed those beautiful legs," Edwards added.
2. Prince Charles and Princess Diana's balcony kiss after their wedding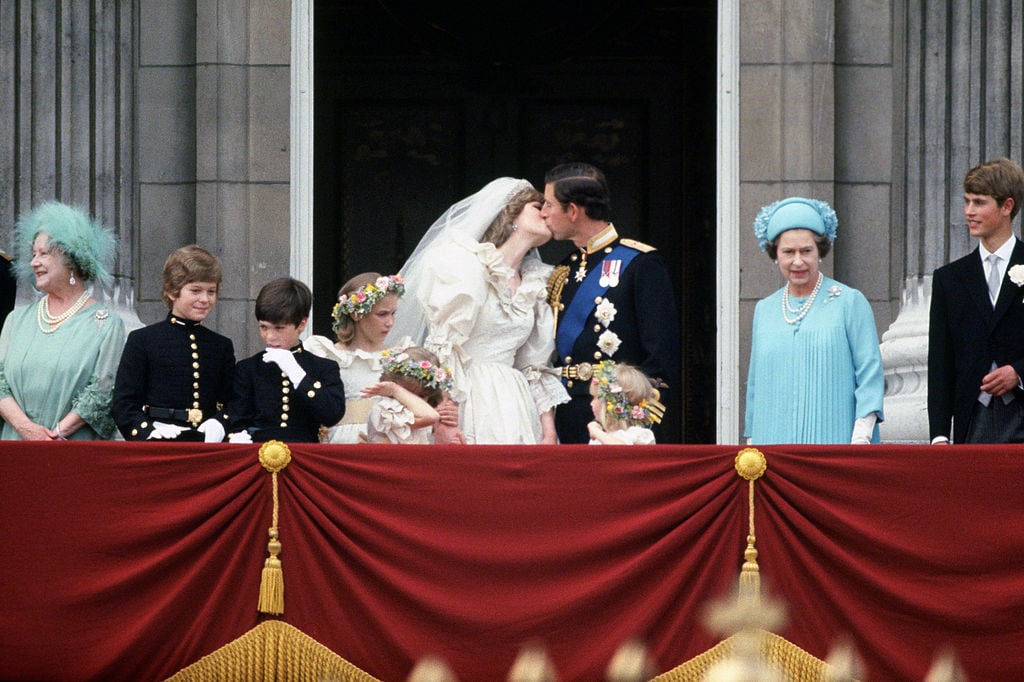 When they married on July 29, 1981, the world watched.
Maybe because of the nerves or a sign of what was to come, Prince Charles and Princess Diana forgot to kiss after exchanging vows at Westminster Abbey so they inadvertently started a new royal tradition when they kissed on the balcony of Buckingham Palace after the ceremony.
3. Princess Diana with Prince William and Prince Harry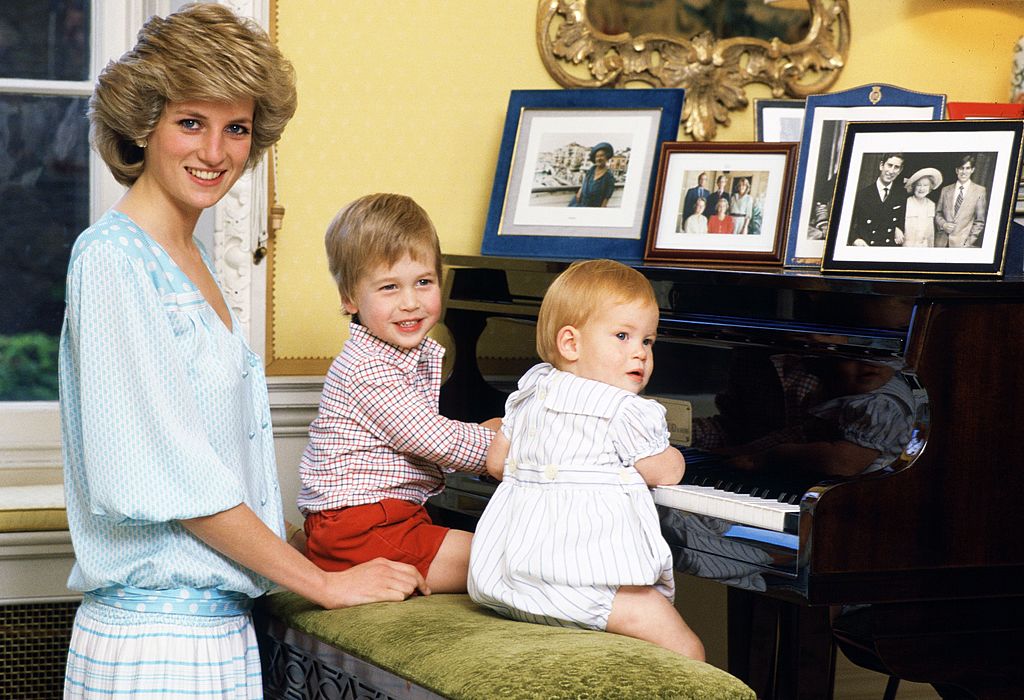 Princess Diana gave birth to her sons, Prince William and Prince Harry, in 1982 and 1984 respectively.
In the years and months following their births, Princess Diana and Prince Charles welcomed photographers into their Kensington Palace apartment — apartment no. 8 — which gave the world a glimpse inside the family's home complete with a piano and many family photos.
The Princess of Wales would live at Kensington Palace from the time she joined the royal family until her death in 1997.
4. John Travolta and Princess Diana dancing at the White House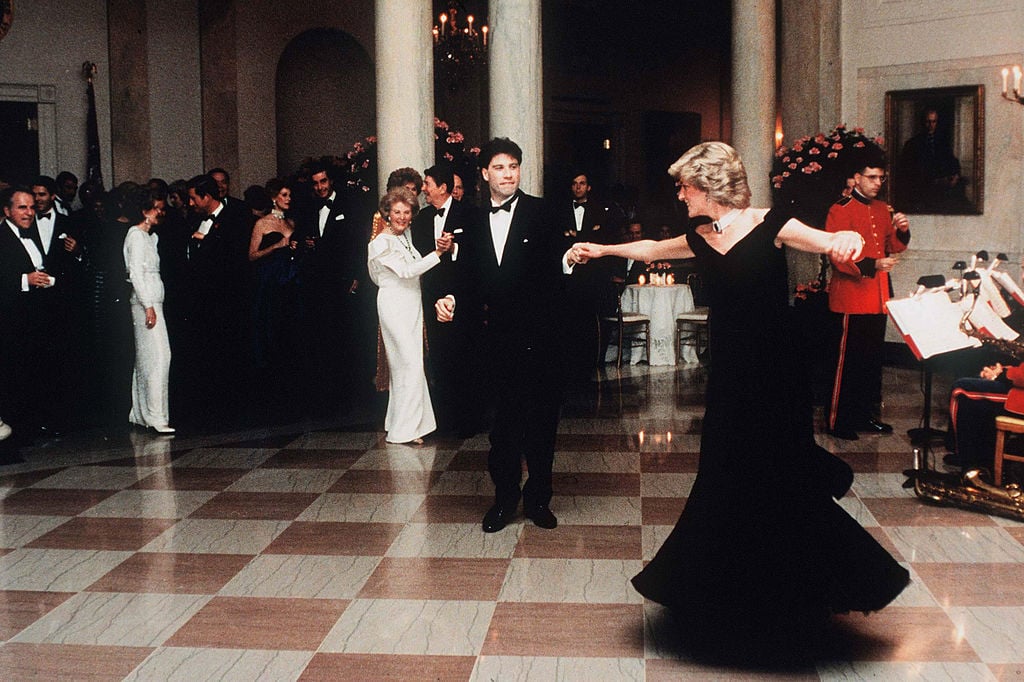 Actor, John Travolta, danced with Princess Diana to the soundtrack of his famous movie, Saturday Night Fever, at a White House dinner on November 9, 1985.
In the background, President Ronald Reagan and his wife, First Lady Nancy Reagan, can be seen watching.
From then on, Diana's Victor Edelstein dress became known as the "Travolta dress."
5. Princess Diana shaking hands with an AIDS patient
During the height of the HIV/AIDS epidemic, Princess Diana shook hands with a man living with AIDS when she visited the United Kingdom's first HIV/AIDS unit at London's Middlesex Hospital, which she helped create.
She made physical contact with the man without gloves, challenging the widely held belief — which we now know to be incorrect — that HIV/AIDS could be spread by touch, according to BBC.
6. Patrick Demarchelier's portrait of Princess Diana for 'Vogue' magazine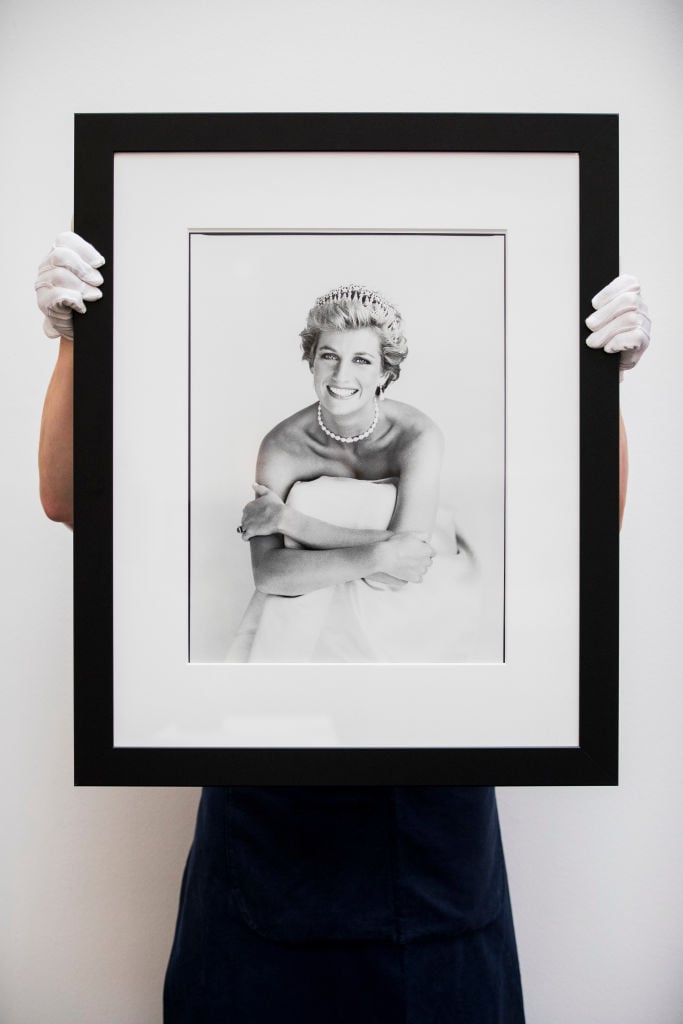 Vogue wanted to put Princess Diana on the cover of the magazine in 1990. Only knowing they were working with "someone important," hairstylist Sam McKnight, makeup artist Mary Greenwell, and photograph Patrick Demarchelier went to a studio in the London neighborhood of Shoreditch to photograph the royal.
"It was a huge surprise when she came bounding into the studio and said, I'm Diana, how are you?'" McKnight later said of the experience.
Greenwell famously changed Diana's makeup look while McKnight gave her an iconic hairstyle to go with the now iconic image of her wearing a ballgown that appeared to be a sheet or bedspread in the pages of Vogue.
7. Princess Diana sitting in front of the Taj Mahal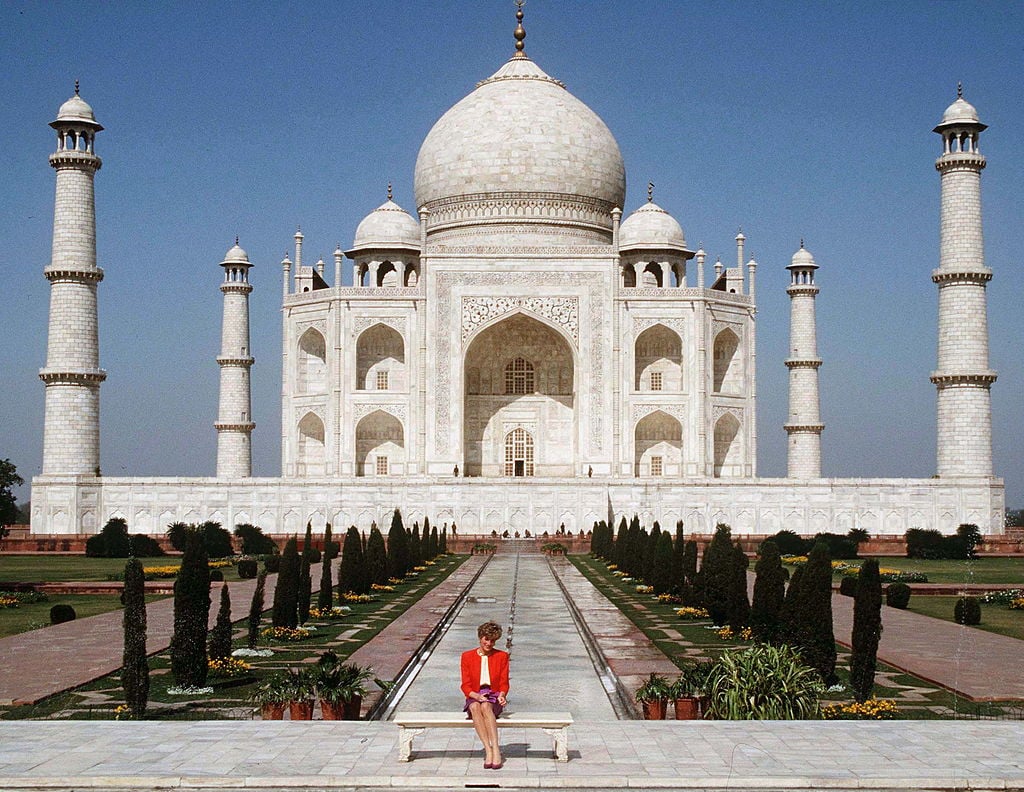 At the age of 30, Princess Diana traveled to India as part of an official royal tour in February of 1992 with Prince Charles.
While there, photographers snapped what has since become an iconic photograph of Princess Diana sitting on a bench — now called Lady Di's Chair — without Prince Charles at the Taj Mahal.
The couple spent the tour attending engagements alone but it was expected they'd show up to the Taj Mahal together. As we know, Diana made the visit alone.
A reporter asked her how she felt about the Taj Mahal, to which she said, "It was a fascinating experience – very healing."
When reporters followed up with more questions about her response, she replied, "Work it out for yourself."
Later that year, Prince Charles and Princess Diana announced their separation.
8. Wearing the 'revenge dress' in 1994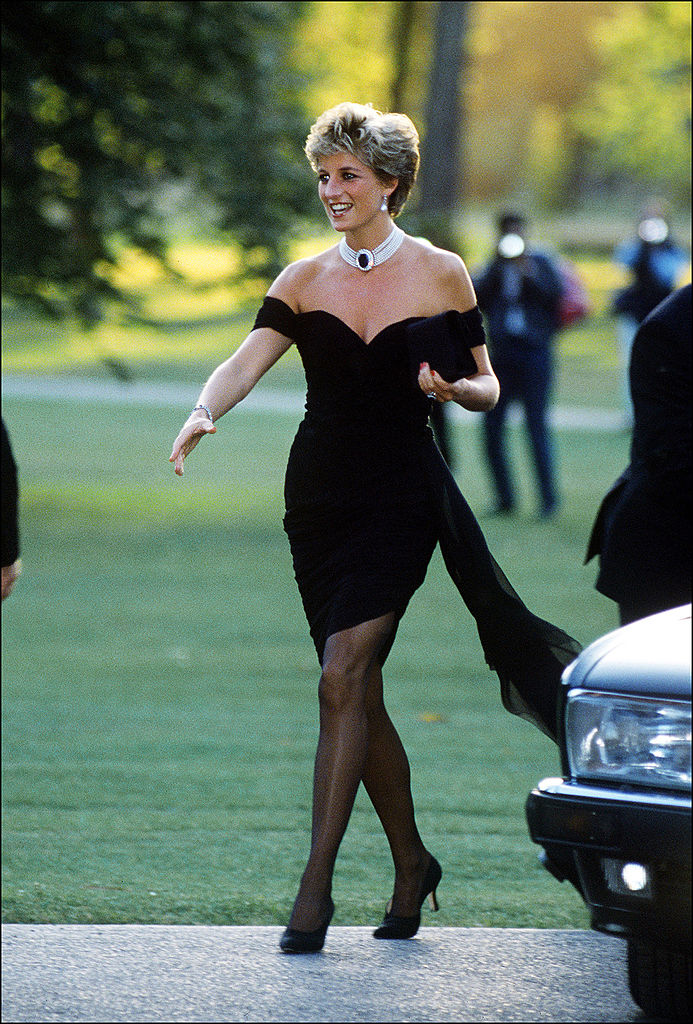 In June of 1994, Princess Diana attended a party hosted by Vanity Fair the same night the tell-all documentary about Prince Charles aired on national television, according to Reader's Digest.
The documentary was meant to make the public more sympathetic to Prince Charles but things didn't go as planned.
Prince Charles said he'd been "faithful and honorable" to Princess Diana in their marriage "Until it became irretrievably broken down, us both having tried."
So, how did Princess Diana's dress became known as the Revenge Dress?
Kerry Taylor, whose company auctioned some of Diana's most memorable dresses in 2013, explained how the dress got its name.
"We called that "The Revenge Dress"[because] she wore that the same evening Prince Charles confessed to his adultery with Camilla," she said. "While some would have been like, 'I can't face it this evening,' Diana went out in that dress looking drop dead gorgeous. She made a big statement right there."
9. Princess Diana walking through an active minefield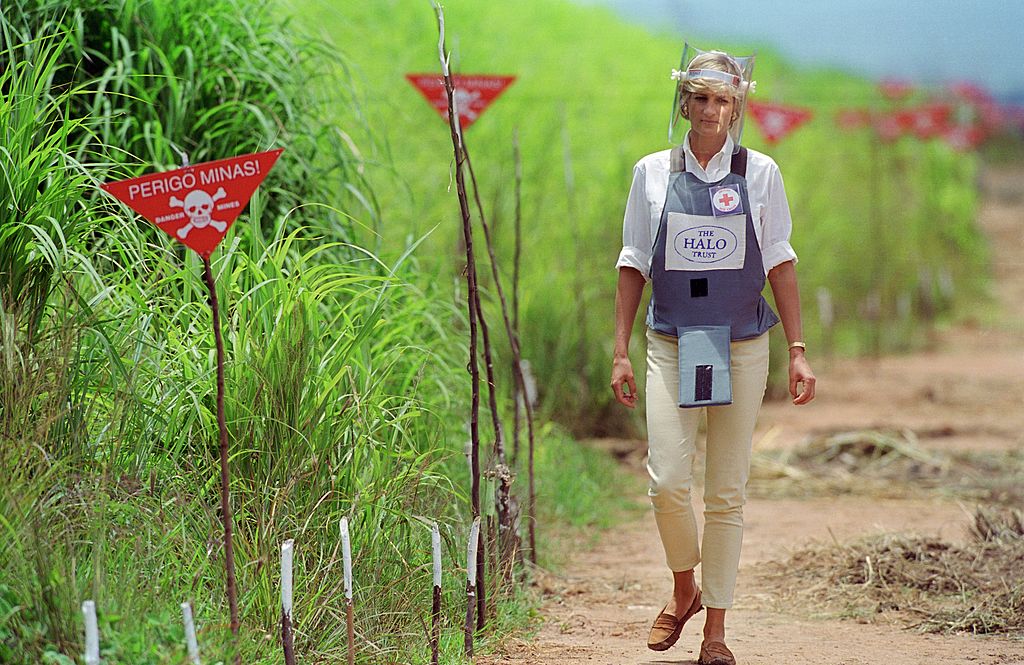 In January of 1997, Princess Diana walked through an active minefield in Huambo, Angola, to promote her message on behalf of HALO Trust, a charity she championed.
Her actions brought attention to the dangers of landmines, which were banned the same year of Diana's walk.
"I am not a political figure. As I said at the time, and I'd like to re-iterate now, my interests are humanitarian. That is why I felt drawn to this human tragedy," Princess Diana in a June 1997 speech about her trip. "How can countries which manufacture and trade in these weapons square their conscience with such human devastation?"
10. Mother Teresa and Princess Diana holding hands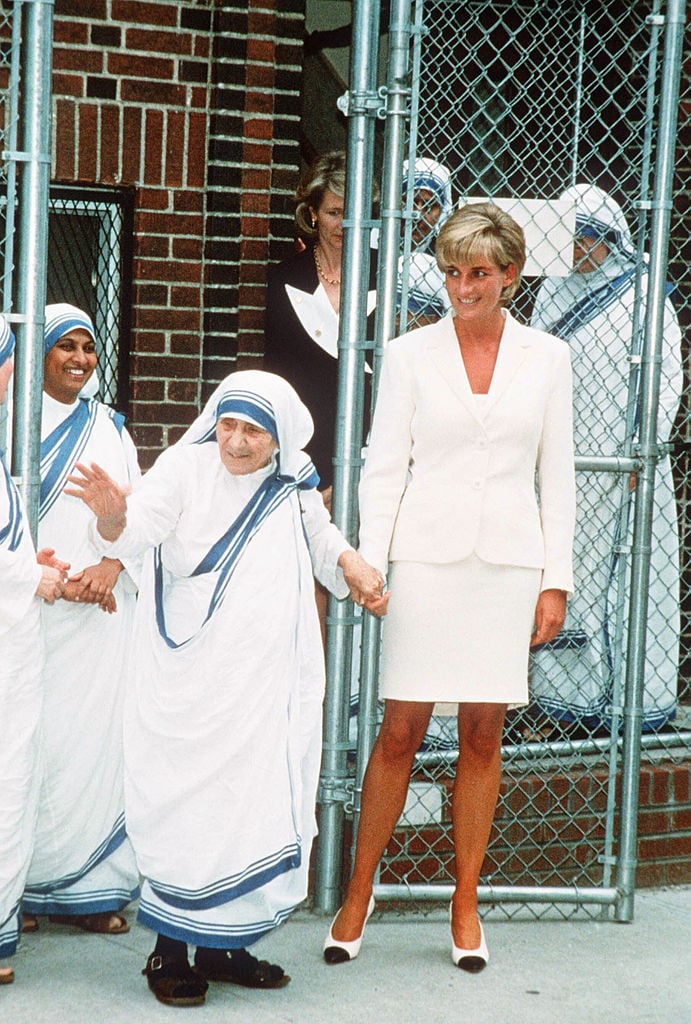 Mother Teresa and Princess Diana met on June 18, 1997, and produced what's become one of the most iconic photographs of the People's Princess.
According to her former butler, Paul Burrell, the princess tried to see Mother Teresa during February of 1992 but she had taken ill. Instead, Diana visited Mother Teresa's home in India, which moved her.
At a later date, Diana shared with Burrell a note she wrote about the experience, which read, "Today, something very profound touched my life – I went to Mother Teresa's home in Calcutta, and found the direction I've been searching for all these years," according to Express.