How Pink Floyd's David Gilmour Discovered Kate Bush
Thanks to Strange Things, a song called "Running Up That Hill" by a fairy-like English singer is reaching a new generation, but David Gilmour was Kate Bush's first fan. He discovered her music first and helped her get to be where she is today, an icon that has commanded the attention of millions of fans for four decades.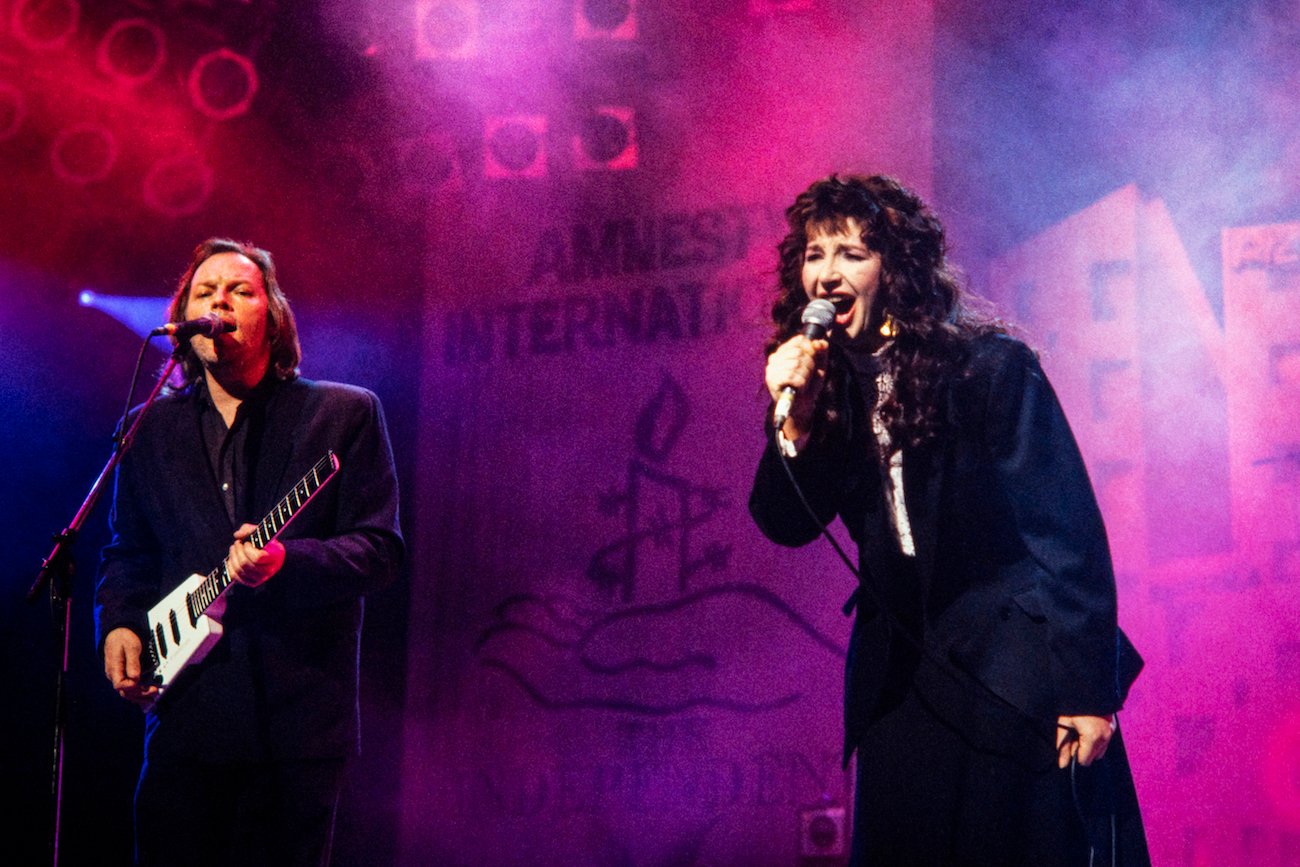 David Gilmour discovered Kate Bush through a mutual friend
Bush started writing songs when she was 11. Her family encouraged her. In an interview with Matt Everitt for BBC Radio 6 Music, Gilmour explained that he discovered Bush through a mutual friend.
"A guy I know called Ricky Hopper was a friend of Kate's brother, and he came to me one day and said, 'I've got this tape of this 15-year-old girl singing, and I think she's talented.' He played it to me, and I agreed that I did think she was very talented.
"Her unusual vocal style and sound, I thought it was unlikely that record companies, A&R people would get it. I was not convinced that they would get it instantly. So, after some various tryouts, I decided to employ a full studio in London with Geoff Emerick engineering and a friend of mine, Andrew Powell, producing and arranging.
"I chose two or three songs out of about 50 that she had, and I didn't spend a long time choosing, I just sort of thought we'll have one nice slow one, one sort of medium temperature, one like this… we'll do those to releasable level so that they weren't demos, so that they were actually properly ready-to-go tracks.
"I thought that was the best way to take her to the record companies to convince them, and the song 'The Man With the Child in His Eyes' was one of those three."
Gilmour and Powell went on to produce Bush's debut album, The Kick Inside, in 1978. Powell also produced Bush's second album, Lionheart.
RELATED: 'Stranger Things 4' Promises More Kate Bush in the Finale
Gilmour performed 'Running Up That Hill' with Bush in 1987
Now that Stranger Things has renewed interest in Bush's "Running Up That Hill," it's hard to imagine a time when it wasn't so popular. While Bush has had an enormously loyal fan base over the decades, that doesn't mean her music has been given the credit it deserves, at least until now.
Bush herself is a contributing factor. Complex writes that Bush "rarely updates her social media accounts, her latest published interview was in 2016, and her last tour was in 1979. When it comes to projects, Bush has always followed her own agenda. Her most recent album was released nine years ago and came six years after the album before that.
"In other words, being a fan of the singer-songwriter is a never-ending waiting game supplemented by diving into the 10 studio albums she's produced so far."
Bush played various charity concerts throughout the 1980s. However, her performance with Gilmour at the Secret Policeman's Third Ball in 1987 was the most memorable. They performed "Running Up That Hill," the first and only time Bush has played it live.
Now, the song is at No. 8 on the Billboard Hot 100 this week, and Rolling Stone writes, "it looks so out of place that it almost feels like a glitch or an accidental mashup with a U.K. singles chart from 37 years ago." 
RELATED: Stephen King's 'The Shining' Inspired a Kate Bush Song
The singers also performed a Pink Floyd song together
Gilmour and Bush have stayed in touch with one another over the decades. In 2002, they performed Pink Floyd's "Comfortably Numb" at the Royal Festival Hall in London. Bush sang the part of the doctor.
Then, in 2014, Gilmour attended one of Bush's Before The Dawn concerts. Gilmour commented on his glimpse of Bush's 22-night residency at London's Hammersmith Apollo during an interview with Absolute Radio.
"Yeah, I did go and see Kate Bush," Gilmour said. "She did a brilliant show. It was really well put together, quite brilliantly done. Her voice has matured, and it's really strong. She commanded that stage."
Having a mentor like David Gilmour at the start of her career wasn't too bad. However, Bush started flying solo early on and has inspired new generations of singer/songwriters for years. Hopefully, this Kate Bush renaissance stays for good.
RELATED: The Sex Pistols' Johnny Rotten Wrote an Unusual Song for Kate Bush