Pink Says 'I Could've Reached out More' to Britney Spears Back in the Day
Pink and Britney Spears have an interesting history together. Pink gave her reaction to 'Framing Britney Spears'.
Pink wasn't afraid to drop the names of other pop stars in her songs. Britney Spears was one of them since some people wanted to compare their careers. Pink shared her reaction to a recent documentary about Spears and reflected on the past.
Pink and Britney Spears were pitted against each other
Pink's early career released songs that separated her from other women and pop stars with songs like "Don't Let Me Get Me." In it, she sings the lyric, "Tired of being compared to damn Britney Spears/She's so pretty, that just ain't me."
Some fans got the impression there was a feud because of this. But the singers eventually crossed paths by being in a Pepsi commercial with Beyoncé singing "We Will Rock You" together. Pink recently talked about how people in the industry pitted the pop singers against each other.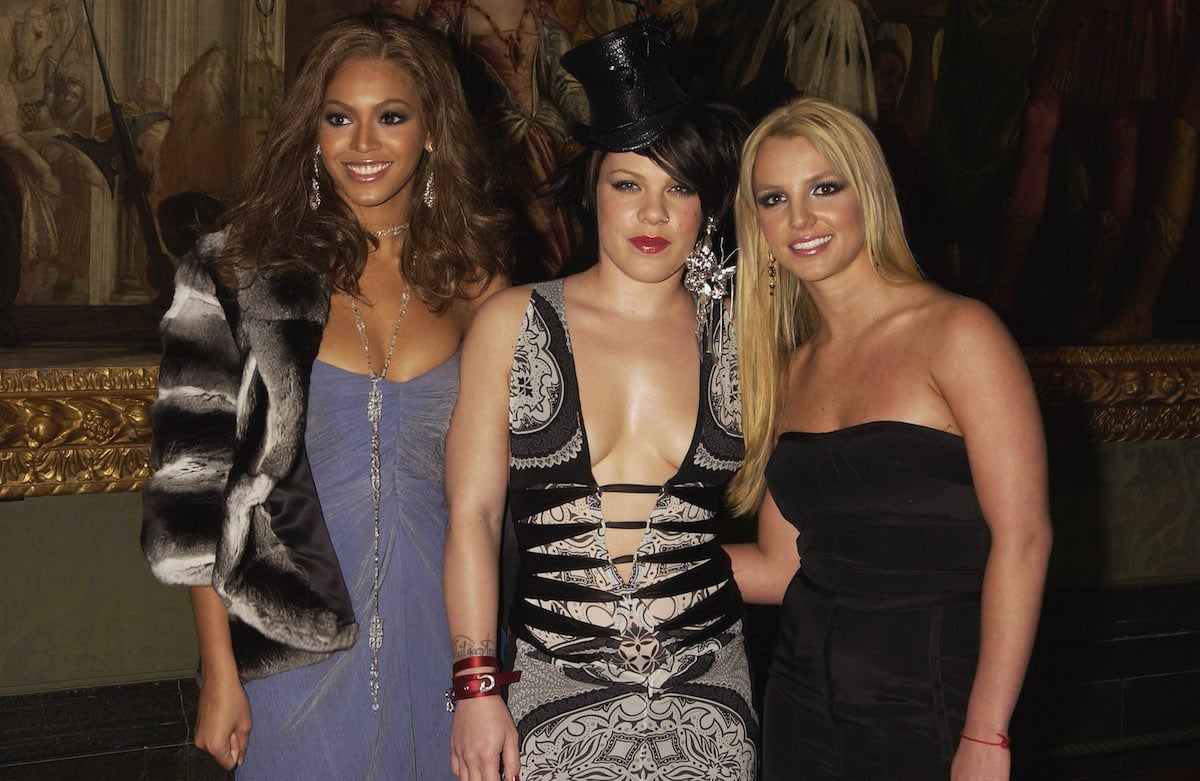 "It was so unfair to all the girls," she told People. "None of us wanted that." She revealed Spears actually supported her music at the time.
"I love Britney — she used to carry around my album," Pink said in her documentary, P!nk: All I Know So Far. "I was like, 'Dude, I'm a street punk, I just skateboard. That doesn't have to be the anti-Britney. I don't want to fight anybody.'"
Spears wasn't the only pop star that had this problem. Christina Aguilera and Jessica Simpson were other artists who were big at the time. So sometimes they were also mentioned in Pink's music.
Pink on Britney Spears, 'I could've reached out more' back in the day
Pink appeared on Watch What Happens Live with Andy Cohen. A fan asked her what she thought about Framing Britney Spears and her conservatorship.
"I love Britney, and here's the thing about all of us voyeurs, none of us know what's going on. We're not there," she answered. "I would like to. I think we all would like to. We feel this fierce protectiveness over her for good reason. She's a sweetheart."
Cohen asked if she watched the documentary. "I did. I felt sad that back then, like I didn't know. Back in the day, in the early days, I didn't know. Like I'm a strong person. I could've reached out more. I could've, I don't know. I don't like feeling helpless," she explained.
Framing Britney Spears focused on Spears' conservatorship controlled by her father, Jamie Spears. Her fans created a Free Britney movement with the goal of getting it removed. Conservatorships are usually put in place for people who are considered unable to make their own decisions or mentally incapacitated. The documentary claimed it's very unusual for someone so young to be placed under one. The episode also reflected on how the media and people in Spears' personal life treated her.