Pink Was 'Embarrassed' After She Got 'Really Hurt' During a 2010 Concert
Hollywood has seen its fair share of talented and impressive pop stars. Beyoncé, Taylor Swift, and Lady Gaga are just a few talented artists who have reputations for going above and beyond on the stage. Of course, among the sensational entertainers is the one and only Pink. The artist has come a long way since her debut album, Can't Take Me Home, over two decades ago. She remains well known for her incredible performances involving aerial work. However, one put her in danger.
Pink once fell off the stage during a concert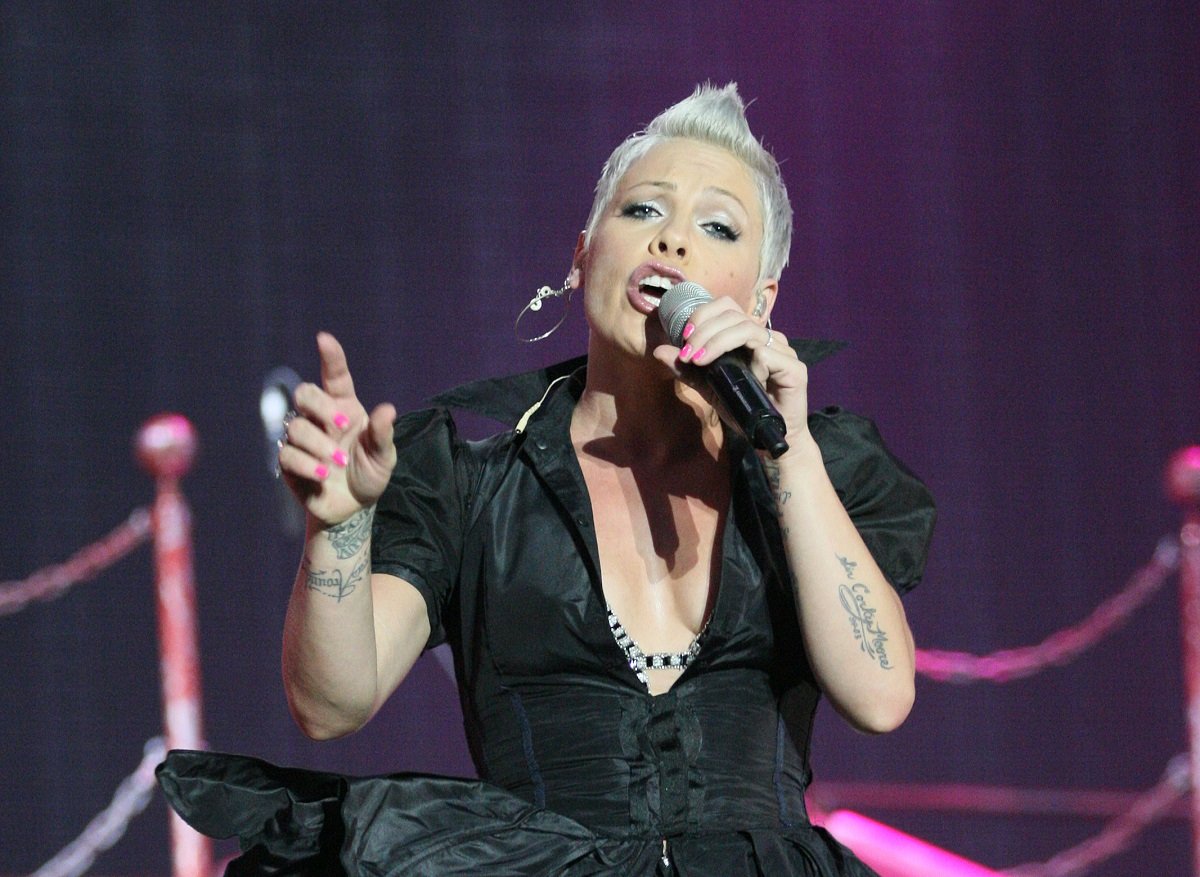 No one is perfect. And even Pink can relate to this. The powerhouse performer had a shocking slip up in 2010 while on stage. The incident took place while she was performing in Nuremberg, Germany.
During the concert, Pink was dragged off the stage and then seen falling and hitting the ground hard. This YouTube video shared firsthand footage of the accident. In the video, one of Pink's backup dancers struggles to secure the singer's harness. The mom of two seemingly gave a signal with her arms trying to pause the performance, but no one caught it. Since she was fastened in, Pink is dragged and then thrown off stage instead of being propelled into the air as planned.
Pink was embarrassed after she got 'really hurt' during a 2010 concert
BBC covered all of Pink's post-performance details. After the fall, the star left the concert to head to the hospital to get checked. Fortunately, everything checked out and Pink shared the good news with her Twitter followers. However, though her body might not have suffered any injuries, it seemed like her ego may have.
In another tweet, the 5'3″ artist admitted to feeling a tad humiliated about the matter. Pink shared, I am so so so sorry to end the show that way.I am embarassed and very sorry. I'm in ambulance now but I will b fine".
The singer found a way to play off the incident. "I hope it at least looked cool!!!" she wrote.
Pink's reputation as a risky and bold performer
Thanks to MsMojo, Pink's fans can revisit some of the singer's most memorable and unbelievable performances. Her 2003 appearance at the Billboard Music Awards made an impression. Delivering high energy at every point, Pink performed her hit "God is a DJ" while doing everything from breakdancing to backflips.
In 2009, Pink blew the audience away at the 26th MTV Music Awards as she belted "Sober" on stage while dangling upside down. In 2016, once again at the Billboard Music Awards, she shocked and impressed the crowd and viewers when her grand finale, "Just Like Fire," actually included lots of real fire. Naturally, Pink was suspended in the air in the center of the flames, never missing a beat.
Despite the performing malfunction that took place back in 2010, in 2012, at the iHeartRadio Music Festival, she executed the remarkable routine without a hitch. As MsMojo pointed out, Pink's "So What" set featuring the infamous twisting ring harness that allows the singer to flip and spin above audiences' heads dramatically has become a staple. Thankfully, she never let that 2010 accident deter her.
RELATED: A Breakdown of Pink and Christina Aguilera's Infamous Feud That Allegedly Turned Physical