'Pirates of the Caribbean': Keira Knightley Spills Who the Better On-Screen Kiss Was
Few actresses become a household name at age 18, but Keira Knightley did just that. Thanks to the Pirates of the Caribbean franchise, Knightley made a name for herself as a young adult after spending many years landing only small roles in film and television.
The Pirates films went on to become one of the most successful movie franchises in history, grossing over $4.5 billion throughout five films.
Part of what makes the Pirates franchise so compelling is its characters and the chemistry they share with one another. The films follow Captain Jack Sparrow (Johnny Depp), Will Turner (Orlando Bloom), and Elizabeth Swann (Keira Knightley) as they navigate through the story with intertwining and will-they-won't-they relationships.
Knightley even shared on-screen kisses with both Depp and Bloom — and has even shared in the past which was her favorite.
'Pirates of the Caribbean' made Keira Knightley a household name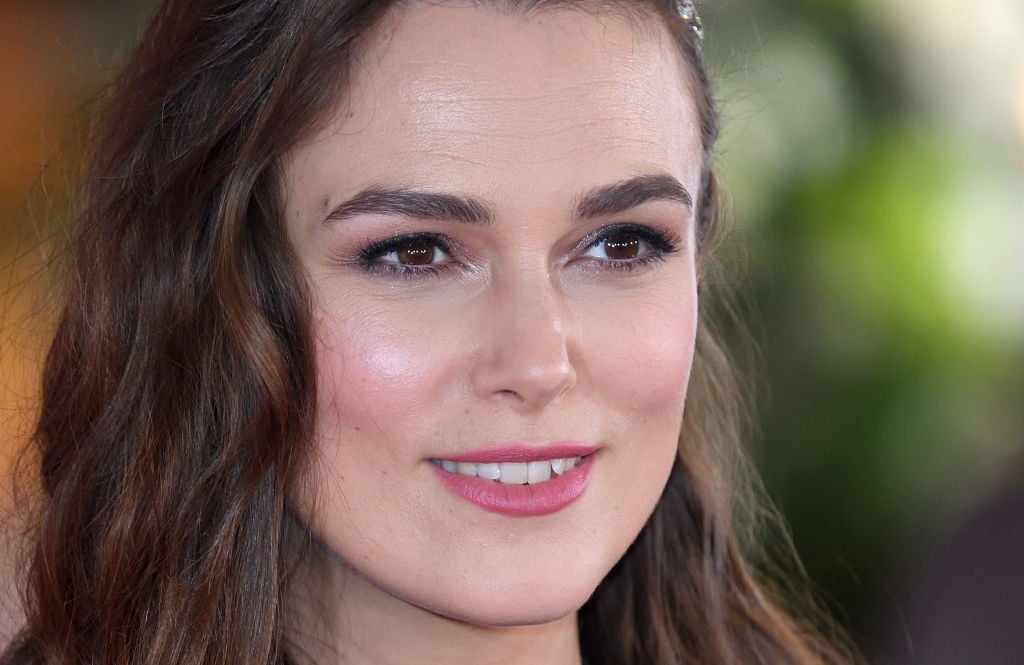 While she landed the role of Elizabeth Swann at only age 17, Knightley had been in the business for many years already. She made her acting debut in a 1993 episode of the British anthology series Screen One when she was 8 years old.
After that, Knightley had a number of small roles in television movies throughout the mid-1990s. Her first major film appearance came in 1999 when she portrayed a lookalike of Natalie Portman's character, Padmé, in Star Wars and the Phantom Menace. 
Her breakout role came with the 2002 film Bend It Like Beckham, in which Knightley held the starring role. The film was a critical success and surprised many with its popularity.
The following year, Pirates of the Caribbean: The Curse of the Black Pearl was released, cementing Knightley's fame for good. Love Actually, the popular Christmas romantic comedy was released the same year and Knightley had another starring role among the film's highly-praised ensemble cast.
It's clear that Knightley had a remarkable breakout in the early 2000s, but it has always been the outstanding popularity and success of the Pirates of the Caribbean franchise that made her into the household name she is today.
Keira Knightley had a couple of major kiss scenes in 'Pirates of the Caribbean'
While fans of the Pirates films will obviously argue that the characters Elizabeth Swann and Will Turner were meant to end up together, you can't ignore that the films tried to push Elizabeth into Jack Sparrow's arms, as well. Throughout the first three Pirates movies, the story follows along as Elizabeth and Will fall in love, but continuously put Elizabeth and Jack into flirty situations, much to Will's confusion.
Elizabeth and Will share on-screen kisses throughout the movies. Elizabeth and Jack don't share a kiss until the second film, Dead Man's Chest, during which Elizabeth uses the kiss to distract Jack as she ties him to the ship's railing, trapping him. It's clear that she is meant to end up with Will, which is confirmed in the third film, At World's End, when the two are married.
Which kiss was noteworthy? 
As the lucky actress who got to share on-screen romances with both Orlando Bloom and Johnny Depp, Knightley was naturally asked which kiss she preferred. Knightley reportedly answered with, "Johnny Depp certainly wasn't bad." 
While she didn't outrightly say so, it seems that Depp wins this round of "Who's the better kisser?" Perhaps it was the fact that Knightley had to kiss Bloom throughout the film series and Depp was a one-time thing that made it more exciting to her. Either way, it's always fun to hear about how actors feel about their on-screen romances with co-stars.