'Pistol': Maisie Williams on Filming Her Character's Opening Scene
Danny Boyle's new limited series Pistol has shed a different light on the Sex Pistols and their music, but Maisie Williams' character Jordan steals the show. The actor, best known for her portrayal of Arya Stark in Game of Thrones, has traded in Needle and armor for hairspray, tons of makeup, and punk clothing.
Here's what Williams had to say about portraying a punk fashion icon and filming her (that) opening scene.
[Warning: This article contains spoilers from Pistol.]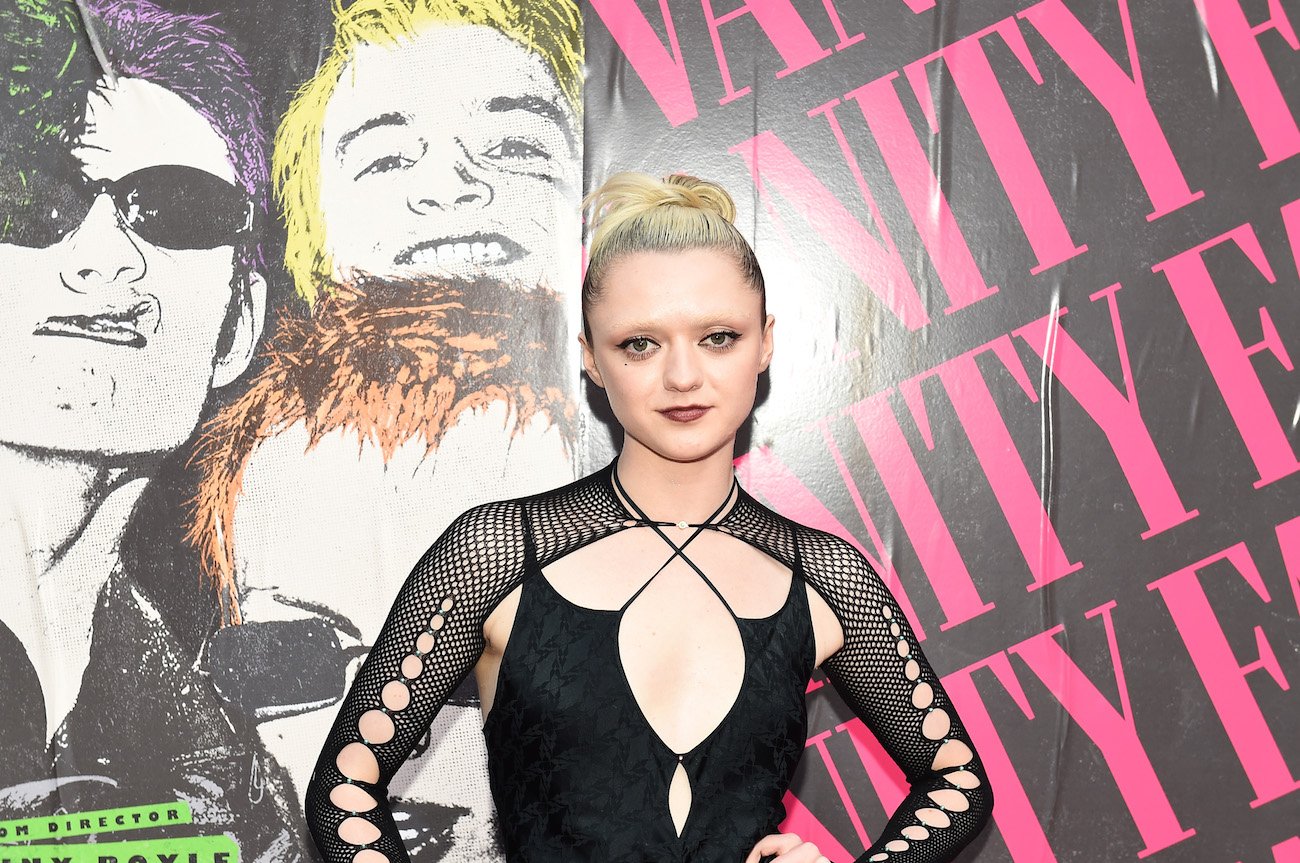 What is 'Pistol' about?
Boyle based Pistol on Sex Pistols' guitarist Steve Jones' book, Lonely Boy: Tales from a Sex Pistol.
Williams plays Jordan, a sales assistant in Vivienne Westwood, and the band's manager Malcolm McLaren's London boutique SEX. Years after the punk revolution, Jordan became a fashion icon with her spiked-up bleach blonde hair, black makeup, and outrageous punk outfits.
Meanwhile, Enola Holmes' Louis Partridge is Sid Vicious, Anson Boon is Johnny Rotten, and Toby Wallace is Jones. Jacob Slater is Paul Cook, and Christian Lees is the band's original bassist Glen Matlock. The Queen's Gambit actor Thomas Brodie-Sangster is McLaren.
Sydney Chandler plays Pretenders frontwoman Chrissie Hynde, Emma Appleton is Vicious' girlfriend, Nancy Spungen, and Talulah Riley is Westwood.
The limited series follows the punk band's rise to success, spearheading the punk scene, and recording their only album, Never Mind the Bollocks, Here's the Sex Pistols.
RELATED: How the Sex Pistols Celebrated Queen Elizabeth II's Silver Jubilee in 1977
In 'Pistol,' Maisie Williams had an interesting opening scene
In Jordan's opening scene, she rides through public transportation wearing a see-through outfit. It outrages her fellow passengers so much that a train attendant asks her to move to a vacant First Class compartment. That doesn't stop the men on the train from gawking at her, though.
The real Jordan didn't care what people thought of her and her revealing outfit, but it was harder for Williams.
"She still had a very striking image," Williams told Variety. "I was quite intimidated, really. But I don't think that that's anything new to her. But I think that she's just undeniably herself. When you are in the presence of someone who is so confident and calm it's rare. And that can be can be overwhelming."
Williams got to speak with Jordan to prepare for the role. Jordan explained what wearing the transparent PVC top on the train was like for her.
"People were really hostile to her when she wore these outfits on the train," Williams said. "She would in fact get taken into First Class, mostly because they wanted to protect her from disgruntled people. I think people didn't really understand her expression as as a work of art.
"They felt it was inappropriate, because it was linked with some kind of fetish or sex work, and for that reason, people were really awful to her. But she wasn't a confrontational person, at all. It was kind of just a storm around her, almost.
"There is an element of her style that was provocative, but it was never with the intention to harm. It was more the intention to express herself and poke fun at the contradictions of the world that she lived in."
RELATED: Sex Pistols: Johnny Rotten Got His Nickname Because His Teeth Were Green
'Pistol' gave Williams another character to connect to
Williams told Digital Spy that she thinks talking with Jordan gave her portrayal "soul." She learned that Jordan never felt lonely and that she felt proud of herself.
"I think it definitely made it easier in a way because you don't feel like you're creating something," Williams said. "Or despite this being a fictional retelling of these events, it didn't feel like you were creating someone entirely fictional. It felt like it was grounded within yourself and your own experiences and the experiences we recounted [of] the people who were really there."
Williams told Variety that she and Jordan had a connection. She grew up in the spotlight, so it was easy for her to connect to Jordan, who had "weaponized" how people looked at her.
"There was a lot of liberation in making people avert their attention," Williams continued. "For most of my life, all I've done is sit on trains and have people take pictures and videos of me. It was kind of nice to have the opposite effect in this Jordan get-up."
Pistol taught Williams a lot, but what she learned talking with Jordan truly changed her. She found out she's not alone, and that's what the punk movement was all about. Unfortunately, Jordan died before Pistol premiered. However, fans will forever remember her and her contribution to a revolution.
RELATED: Sex Pistols: John Lydon Wrote 'Holidays in the Sun' After Officials Barred the Band From Entering the Channel Islands