'Pistol': Steve Jones Didn't Steal David Bowie's Lipstick-Covered Microphone, but He Wishes He Did
Danny Boyle's new limited series Pistol has a slight inaccuracy; Steve Jones did steal David Bowie's touring equipment, but he didn't manage to steal Bowie's lipstick-covered microphone. Although, the Sex Pistols guitarist wishes he had. Can you imagine making music with any of David Bowie's gear?
[Warning: This article contains spoilers from Pistol.]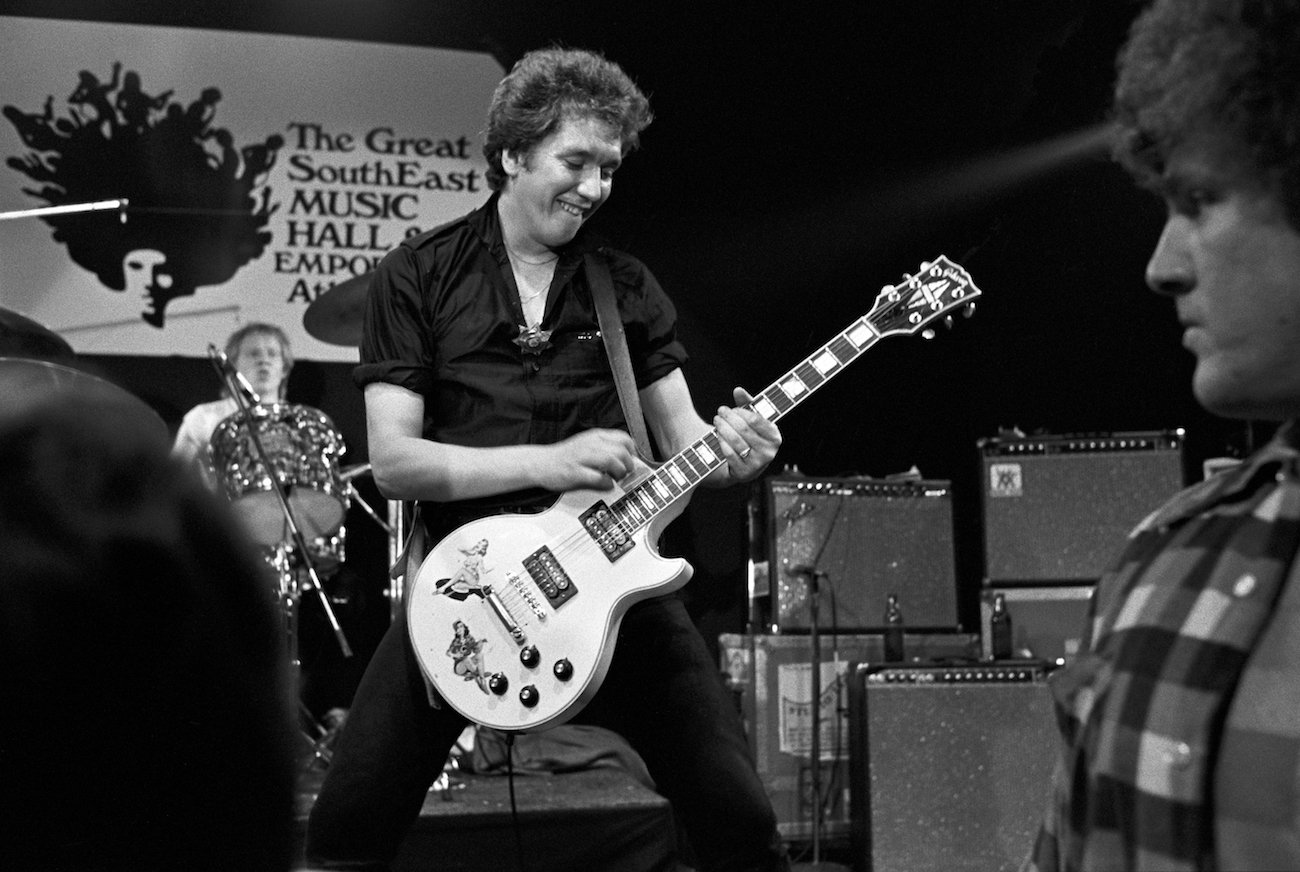 Sex Pistols' Steve Jones stole David Bowie's touring gear in 1973
In 1973, Steve Jones started a band called The Strand with Paul Cook (which later evolved into the Sex Pistols). They needed gear but didn't have much money. However, they did have something, an opportunity. They lived near a popular music venue.
Cook told Loudwire (per Ultimate Classic Rock), "We lived in Hammersmith, and so many bands played in Hammersmith Odeon. So we got a full range of equipment before we could even play, really – including the PA.
"There's a famous story about Steve when David Bowie was doing his final shows of the Ziggy Stardust tour. Between shows, they'd leave all the equipment standing overnight. It was a big mistake, especially with us around."
Jones managed to steal most of Bowie's equipment from the Ziggy Stardust and the Spiders from Mars tour. However, he regrets not taking something of Bowie's that night.
RELATED: Sex Pistols: Johnny Rotten Got His Nickname Because His Teeth Were Green
'Pistol' shows Jones stealing Bowie's gear
In the opening scene of Pistol, Jones sneaks into the Hammersmith Odeon. He finds his way to the stage and pretends he's Bowie, singing to hundreds of fans. Jones clips the wire to the microphone and gets the rest of the gear just as he wakes up the security guard. He also spots a shiny red convertible as he's driving away, which he also steals.
In the next scene, Jones drives the red convertible and tells the story to Cook. The drummer holds up the microphone Jones stole and says, "It still has Bowie's lipstick on it. The Phantom of the Odeon strikes again."
Later, in Pistol's first episode, Jones bonds with musician Chrissie Hynde over Bowie. She says she saw the legend perform in Cleveland, Ohio, and gave him a ride home in her mother's car. Jones is amazed. Then, Hynde asks him if he really stole Bowie's gear. "And was there really lipstick on his mic?" she asks.
"I bet there was lipstick on his mic in Cleveland, an' all," Jones replies. "Oh, I don't know. I never saw his mic," Hynde responds.
However, based on what Jones told Rolling Stone in 2017, he didn't steal Bowie's lipstick-covered microphone. "I wish I had that little one, though, with his lipstick on it," he said.
RELATED: How the Sex Pistols Celebrated Queen Elizabeth II's Silver Jubilee in 1977
Jones made amends for his thievery
The Sex Pistols guitarist told Rolling Stone that he made amends with Spiders from Mars drummer Woody Woodmansey.
"I was a complete fan and what's funny was I had [producer] Tony Visconti and the drummer, Woody Woodmansey, on my radio show and I made amends with Woody for stealing his cymbals," Jones said.
"He was kind of taken aback. I looked at him and said, 'What do you want?' And he said, 'Well, nothing. I said, 'Well, say something.' So he said, 'Give me a hundred bucks.' So I gave him 200 bucks, and he was chuffed."
It didn't bother Jones that he'd ripped off his idols. "Yeah, it's weird. It was just a way of being closer to the idols, I suppose," he said.
When Jones met Bowie later on, the guitarist suspected the legend knew it was him who stole his band's gear. "I think he knew in some way or another that it was me," Jones continued. Bowie always knew.
However, it's interesting to see that Boyle and the creators of Pistol chose to change things. Jones didn't have Bowie's lipstick-covered microphone, but he wishes he did.
RELATED: Sex Pistols: John Lydon Said 'Anarchy in the U.K.' Isn't About 'Spitefully Wanting to Wreck Everything for No Reason'