The Police's Stewart Copeland Said Taylor Hawkins Was '50 Years Old Going on Eight'
The Police's drummer Stewart Copeland and Foo Fighters drummer Taylor Hawkins were very good friends. Copeland was one of the reasons why Hawkins started playing music. Hawkins was never afraid to show his idols how much he loved them. Copeland experienced that love the first time they met and every day until Hawkins died on March 25.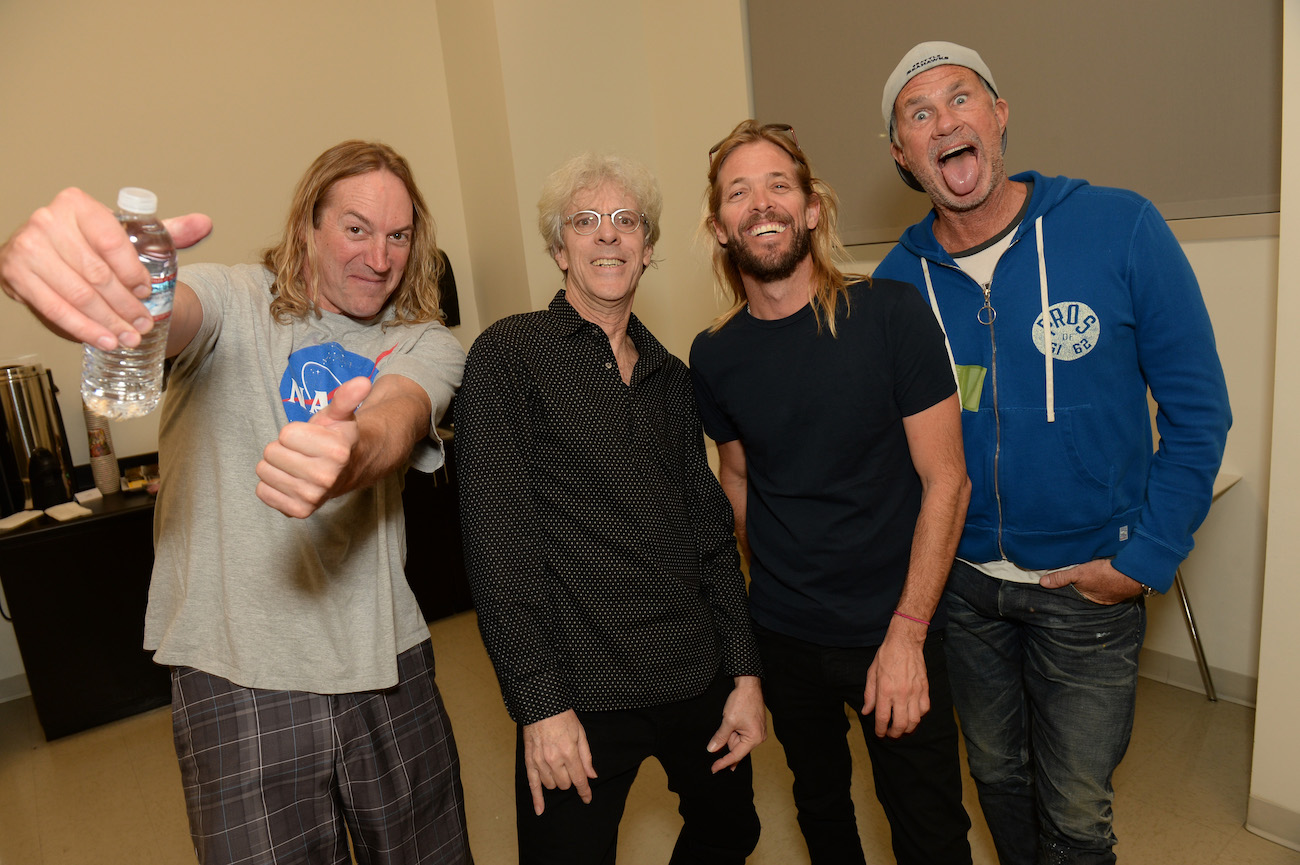 Stewart Copeland remembers meeting Taylor Hawkins
Hawkins worshipped The Police, along with Queen and Led Zeppelin. In 2019, Hawkins told the BBC about the first time he heard Copeland and The Police.
"My brother handed me a copy of 'Zenyatta Mondatta,'" Hawkins said. "This was 1982. He goes, 'If you want to be good, you have to play it like this guy.' My two first major inspirations — probably the two guys that shaped a lot of what I do when I play drums in a rock band — are Roger Taylor and Stewart Copeland."
Copeland inspired many drummers, but none of them loved him as much as Hawkins. When Hawkins first met his idol in 2005, he could hardly contain his excitement. Copeland never forgot the moment.
"I was thinking about when we met," Copeland told Rolling Stone. "I got a strange invitation out of the blue from the Foo Fighters to join them on their jet up to San Francisco to play a show [in 2005], and then straight to New York where they did 24 Hours of Foo on MTV."
Copeland continued, "I think that's the first time I met those guys. What really impressed me about all of them was that not only were they the headlining act, but they all had side bands that were the supporting acts. Hardworking, those young musicians."
RELATED: Pearl Jam's Matt Cameron and Red Hot Chili Peppers' Chad Smith Say Rolling Stone Misquoted Them in Taylor Hawkins Article
Copeland said Hawkins was '50 years old going on eight'
After meeting, Copeland and Hawkins began a long friendship. They liked to jam at Copeland's home studio, the Sacred Grove, and phoned each other frequently. Copeland even gave Hawkins parenting advice.
"Taylor was a great hang, and there's a big hole where a lot of laughs used to live," Copeland said. "When we weren't goofing off with each other, we were on the phone talking crackpot theories, get-rich-quick schemes, and just general hang bulls***. He was just indefatigably cheerful. He was emotional as well, but that just gave spice to his cheerfulness."
Copeland continued, "He was always Mister Fanboy, but that was part of his shtick. 'OK, OK, Taylor, calm down!' One of his social tricks was that whenever we were hanging out, he'd select a Police T-shirt from his extensive collection. When he hung out with Neil [Peart], he'd have his Rush T-shirt on. He was 50 years old going on eight.
"He was a fan of everybody, a real enthusiast. Even though he was a star, he was very interested in all the other people, how they got there and what they do. He knew it all — all the different things that everybody could do. Every flammadiddle and rattamacue as played by his heroes." 
RELATED: Why Dave Grohl and Taylor Hawkins Weren't Allowed Entry Into Pantera's Strip Club
The Police drummer recalled how he found out about Hawkins' death
Copeland said the last time he saw Hawkins was at Rush drummer Neil Peart's memorial before the pandemic started. Then, he got a text about Hawkins' death after a gig.
"I had just finished playing a show with the Nashville Symphony [when I found out he died]," Copeland said. "It was just an amazing show. Came offstage, the hotel was a block and a half away, so I was in the shower before the audience was out of the building, with endorphins pumping out of every pore.
"I was heading down to the bar, and just as I'm walking out of my hotel room door, I get the text. 'Oh, for f***'s sake, you're kidding.' I get down to the bar, which is full of a throng of happy cheerful people all saying 'Good show.'"
"The natural endorphins are still going strong, and at the same time just overwhelmed with disbelief and shock. Like I said, Neil saw his train coming and he had a first-class ticket. Nobody saw Taylor coming. He was just a force of life that seemed unstoppable. He was a living thing, not a thing that will ever die. So the suddenness was profound."
Copeland said Hawkins was "very much in the drum tribe." They were "brothers of the stick."
RELATED: Foo Fighters Were Terrified Replacing Korn at Ozzfest in 1998