Pop Duo Aly & AJ Finally Set the Record Straight on Which of Their Earlier Songs Is About Joe Jonas
If you grew up in the late 2000s and were obsessed with all things Disney Channel, chances are you've found yourself jamming out to pop duo Aly & AJ's hit track "Potential Breakup Song" more times than once.
The single rose to popularity soon after its release in 2007, and while it created a ton of buzz amongst fans back in the day, it's once again sparked a frenzy.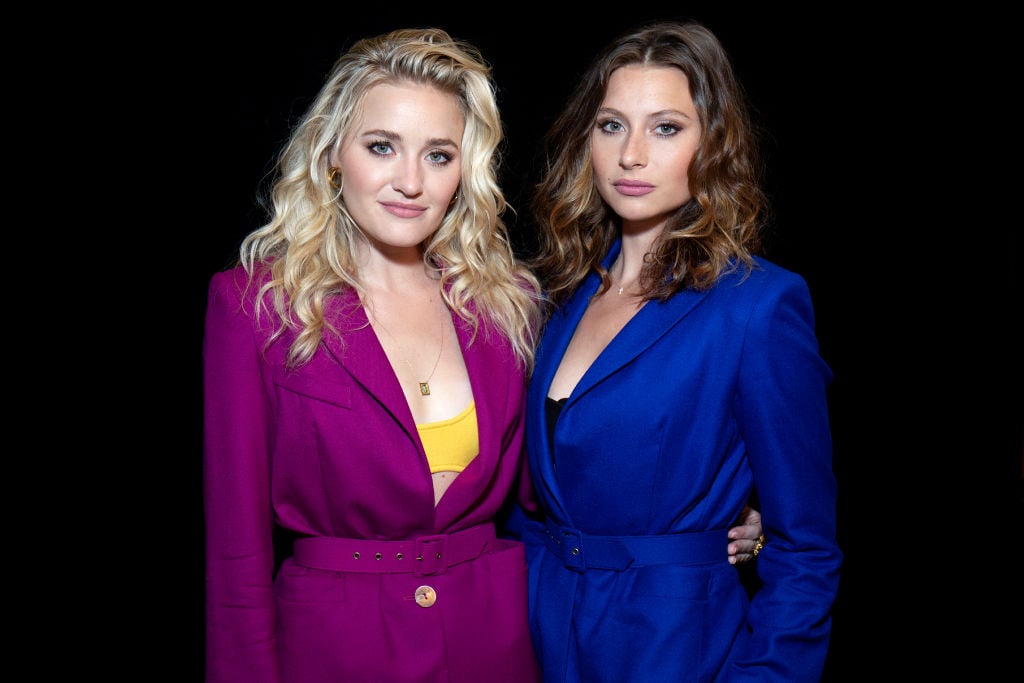 For years, it was believed that the song was inspired by Joe Jonas, who had briefly dated AJ Michalka during their Disney heydays.
But now, the pop duo's setting the record straight as they've revealed which one of their songs actually is about Jonas — and it's one that fans weren't suspecting at all.
The sisters had everyone convinced that their hit track was about Jonas
This has to be the best-kept secret we've heard in years!
After more than a decade of believing that Aly & AJ's hit track "Potential Breakup Song" was all about Jonas, it turns out that we've been wrong this entire time.
Though the lyrics to the song reference a tween romance — which AJ Michalka had with Jonas before the track's release — the hit single actually isn't about the Jonas Brothers' singer at all.
However, there is one song off of the pop duo's 2007 album, Insomniatic, that is, and it's one no one suspected.
On April 2, YouTuber Elle Mills took to Twitter to share a throwback photo of Jonas and Michalka posing together, reminding everyone that they were a couple once upon a time.
In the caption, Mills wrote, "ok so you're telling me that I went 13 years not knowing that one of the greatest songs ever written was about joE JONAS THIS ENTIRE TIME," referencing "Potential Breakup Song."
It wasn't long before the tweet went viral — with many people agreeing with Mills that this was new information to them.
With the tweet quickly spreading online, Buzzfeed launched into an investigation to get to the bottom of whether or not "Potential Breakup Song" was about Jonas.
Though the outlet came up with some pretty solid evidence that the song was inspired by the JoBro, it wasn't until April 9 that fans finally got an answer to their burning question.
After coming across the viral tweet, Aly & AJ set the record straight on this ongoing speculation with a simple reply.
"Flattery not Potential," the pop duo tweeted, confirming that the underrated bop from their Insomniatic album was inspired by Jonas rather than the record's lead single.
Why did fans believe that "Potential Breakup Song" was inspired by Jonas?
Though "Potential Breakup Song" was confirmed not to be about Jonas, you can't blame us for thinking it was.
After rocking out to this track for much of the late 2000s, many of us have come accustomed to the lyrics — which seemed to reference Michalka's romance with the singer.
In the first line of the song, the pop duo sings, "It took too long for you to call back / And normally I would just forget that / Except for the fact it was my birthday."
Those veteran Tiger Beat readers out there would know that Michalka once mailed Jonas a piece of birthday cake when they were dating.
The singer even confirmed this a while back on Reddit, telling a fan that when she was 16 years old, she sent Jonas a piece of her birthday cake to make him feel bad.
"That's a true story, oh the joys of being young and in love," she wrote during an Ask Me Anything discussion in March 2018.
While it's hard for us to believe that "Potential Breakup Song" actually wasn't inspired by Jonas, the lyrics of "Flattery" seems to take a jab at the singer for breaking Michalka's heart.
In the song, the sisters sing, "I can forgive it, I can't forget it/ You left me here with all these scars/ And you can't deny the hardest part/I'm not in your arms."
With this debate finally being settled, we can now sleep easy at night knowing which Aly & AJ song is actually about Joe Jonas.
Now, if you'll excuse us, we'll be listening to "Flattery" on loop for the remainder of this quarantine.