Which 'Pose' Star Has the Highest Net Worth?
Created by Ryan Murphy, Brad Falchuk, and Steven Canals, the FX drama television series, Pose is set in the 1980s and '90s in New York City. The show follows the African-American and Latino gay, transgender, and gender non-conforming underground glamorous ballroom culture along with the incurable disease prevalent in their community.
Pose has received several Golden Globe nominations and critics, as well as the general public, gave the show very positive reviews. It also has the largest cast of transgender actors ever for a scripted network series. Which Pose star has the highest net worth?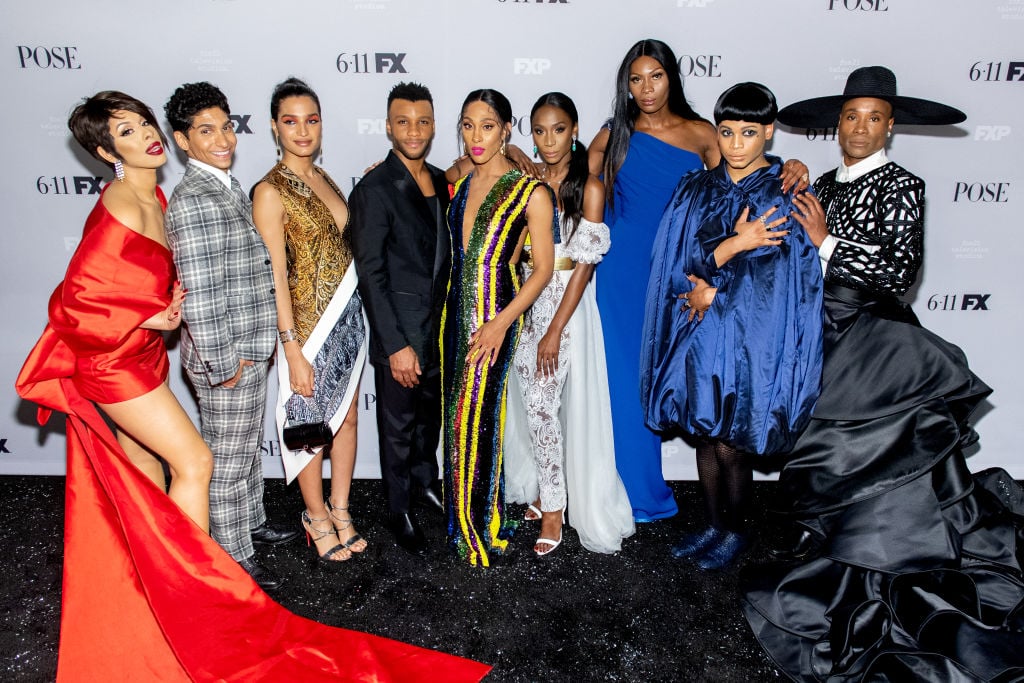 "Blanca" – Mj Rodriguez
Mj Rodriguez plays Blanca Rodriguez in Pose, the caring mother of the House of Evangelista. After being diagnosed with HIV, Blanca formed her own house and then selected youth to be a part of it who were rejected by their birth family.
Rodriguez is most known for portraying Angel in the 2011 Off-Broadway revival of Rent. She also won a Clive Barnes Award for her performance. Her net worth is about $800,000.
"Angel Evangelista" – Indya Moore
Angel was a working prostitute before Blanca took her off the streets and provided her with a place to stay. She can be immature; however, she is determined to succeed in a world that continually rejects her.

Moore is an actress, writer, director, model, social activist, and also the founder of the production company, Beetlefruit Media. Her money comes from acting and modeling full time as well as brand endorsements and cover shoots. Moore's net worth is an estimated $3 million.
"Elektra" – Dominique Jackson
Elektra is the reigning queen of the ballroom community in Pose, but fell on hard times and had to join the House of Evangelista and then House of Ferocity. Now, she is the determined, but selfish, mother of House of Wintour.
Jackson has modeled for Vogue Espana and walked in the Mercedes-Benz Fashion Week. She also appeared in documentaries and received a GLAAD Media Award nomination. Additionally, she wrote an autobiography and has worked for numerous nonprofit organizations that help the LGBTQ+ community. Jackson's net worth is estimated at $2 million.
"Pray Tell" – Billy Porter
Pray Tell is an emcee of the Ball scene in Pose and provides advice to the children who compete in the balls. He is also a support system for Blanca and the House of Evangelista and has recently gotten into activism.

Porter is halfway to an EGOT and initially rose to fame during his Broadway career. He has won Tony Awards and became a fashion icon because of his gender non-conforming outfits. Porter is a vocal coach, has dropped four albums, and also starred in several television shows and movies. His net worth is an estimated $4 million.

"Candy Ferocity" – Angelica Ross
Formerly in the House of Abundance, she is now co-mother of House of Ferocity with her best friend, Lulu. She competes in several categories at the Ball, however, Pray Tell reads her when she doesn't execute the look correctly. Candy always argues back.

Ross is an employee at TransTech and earns an average salary of $103,830. She is also the CEO and President of Miss Ross, Inc. Ross' net worth is estimated to be over $1 million.
With a net worth of $4 million, Billy Porter has the highest of any of the other stars. Watch Pose Tuesdays at 10 P.M. EST on FX!