Post Malone Explains the Significance of His Colossal Collection of Tattoos
While he is absolutely adored by fans and radio stations alike for his laconic mumble rap vocal style and melancholic, introspective lyrics, Post Malone may actually be known best for his serious collection of body art, especially his easily distinctive collection of face tattoos. The rapper has sported an impressive collection of tattoos ranging in size and style from small, minimalistic doodles to larger detailed portraits of fellow musicians and artists, like singer-songwriter icon, Bob Dylan.
Tattoos and other forms of body modification aren't entirely unheard of in the rap industry. As a matter of fact, they're a big part of rap culture. Recently, Post Malone gave fans a "Tattoo Tour" of his body with GQ Magazine, breaking down the significance of his tattoos and revealing why his body art is so important to him.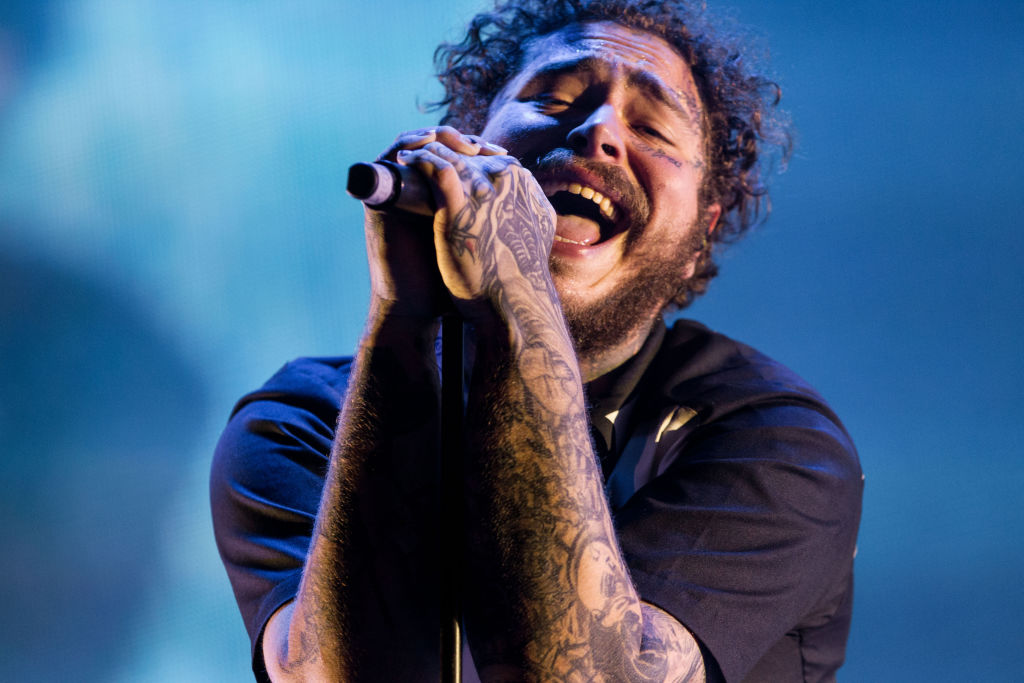 Post Malone has at least 43 tattoos 
From the barbed wire tattoo beneath his hairline to the Aqua Teen Hunger Force character tattooed on his torso, Post Malone currently has a total of 43 tattoos (that we know of so far). "It's interesting to look back at the photos from when I had no tattoos," he said in an interview with GQ. "It's just bizarre to see. It becomes such a part of you that you don't even notice."
Last week, Post Malone appeared on GQ's "Tattoo Tour" for a second time to show off the new body art that he has acquired over the years. During his first appearance on the show in 2016, Malone had mentioned that he was planning to get a sword tattooed on his face. Four years later, he proved to be a man of his word, flaunting a claymore sword tattoo on the right side of his face. "Swords are f*cking awesome, and I've been into them since I was a little kid," Malone said.
One of Malone's most famous tattoos is the trail of barbed wire across his forehead right beneath his hairline. "I just think barbed wire is cool!" Malone said. Many of his tattoo designs are chosen simply because the "Circles" singer likes how they look, not necessarily because of some deeper meaning or symbolism. Malone himself admits that it only takes him two hours to commit to a new tattoo concept. "[The barbed wire] was a cool idea… I'm going to regret it when I start balding," Malone adds.
Another one of Malone's most particularly iconic designs is the "Always Tired" tattoo, aptly placed with one word beneath each eye. "Always touring, always working, not taking care of myself the way I need to," Malone explains, "I felt that it was very fitting for how I felt." According to Malone, this design was the only one of his face tattoos that actually hurt.
Malone has also memorialized the lives of those dear to him with his body art. He was good friends with Lil Peep, a rapper who passed away in November 2017. Malone has the late rapper's face tattooed on his left arm.
He also has a series of portrait tattoos in honor of his favorite artists, Elvis Presley, Kurt Cobain, Dimebag Darrel, John Lennon, Stevie Ray Vaughan, George Harrison, and Bankroll Fresh. He cites each artist as his inspiration, telling GQ that he "wouldn't be making music without them."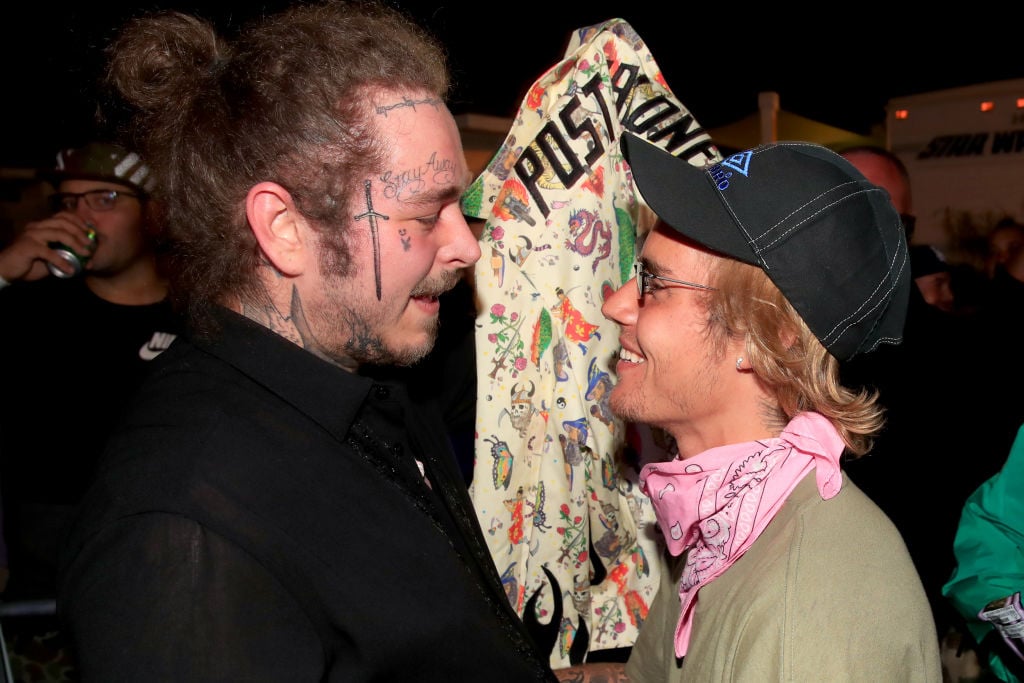 Malone got his first tattoo as a playful jab against Justin Bieber
Believe it or not, Post Malone was once afraid of getting tattoos.
It wasn't until Malone started working with Justin Bieber on his debut studio album, Stoney that he decided it was time to face his fears. Malone told the whole story during his guest appearance on The Tonight Show. "We had a tattoo artist come through, and then I was just like, 'You know what? Justin Bieber's got some tats. And, I love you, but I know I'm way tougher than you,'" he said. Malone's first tattoo was the Playboy bunny on his forearm. Bieber didn't let Malone's jab go unanswered, though.
"I got [the tattoo] when recording Stoney," Malone explained to GQ, "and me and Justin were playing basketball and he f*cked it up." At some point during the game, Bieber got a little too rough and "knocked the whole [tattoo] off" leaving Malone and his new tattoo a bloody mess. "It looks like molten hot magma," said Malone.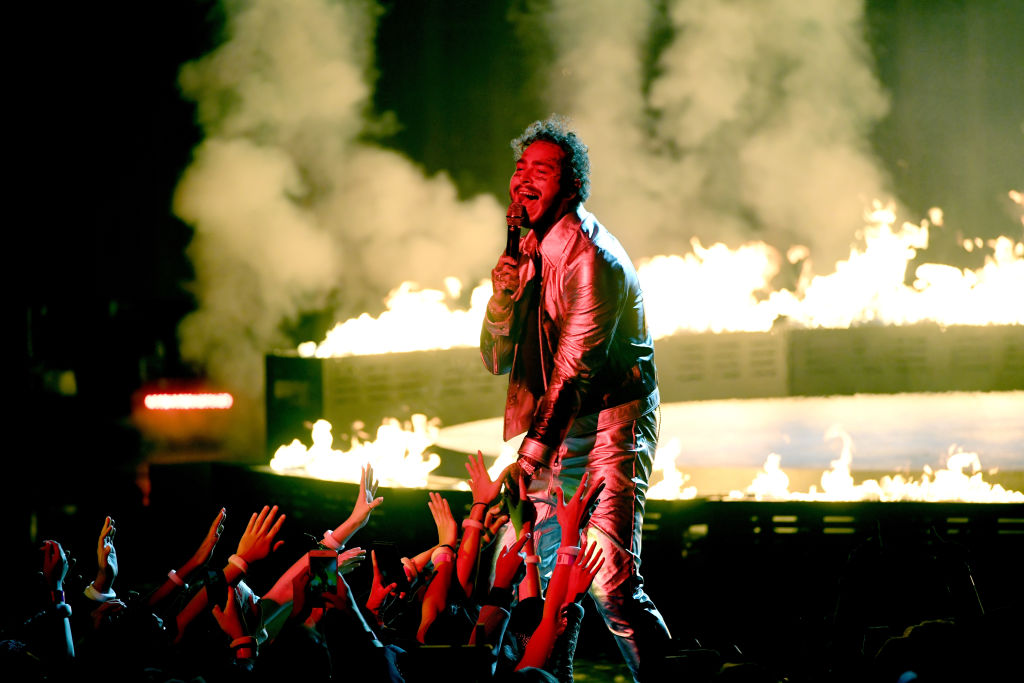 Post Malone opened up about the reason he has so many face tattoos 
Malone's latest addition to his many face tattoos is a bloodied buzz saw on his left cheek. The design is likely meant to symbolize Malone's second studio album, beerbongs & bentleys as the cover art reflects a similar industrial style. The rapper showed off his new tattoo less than two months after presenting a sizable gauntlet and flail tattoo on the right side of his face that runs from his hairline to his jawline. In an interview with GQ Magazine, Malone revealed his reason for collecting so many tattoos on his face. Before, the rapper cited a desire to annoy his mother, but his explanation for GQ resonated as something that's especially relatable and authentic among many: insecurity. "I'm a ugly-ass motherf*cker," he explained.
Malone's tattoos serve as a means for the rapper to feel more secure and confident in his appearance. "It does maybe come from a place of insecurity, to where I don't like how I look, so I'm going to put something cool on there so I can look at myself and say, 'You look cool, kid,' and have a modicum of self-confidence, when it comes to my appearance," Malone said.
He also mentioned seeking treatment and clarity when it comes to his mental health and wellbeing. Reflecting on the losses of two of his musical peers and friends, Lil Peep and Mac Miller, Malone admitted, "That could have been me." Malone adds that he is trying to get help, but finds difficulty in opening up and speaking his truth. "Through my songs, I can talk about whatever I want. But sitting here, face-to-face, it's difficult," he says.
Recently, fans expressed collective concern for the "rockstar" singer when a viral video of his concert performance showed Malone behaving erratically, falling over on stage and rolling his eyes. Malone addressed the concerns of fans in an attempt to reassure them, saying "I'm not on drugs, I feel the best I've ever f*cking felt in my life."
And we've got a feeling Malone's tattoo collection will continue to grow to reflect that.