Is Post Malone Friends With BTS?
There are a few surprising celebrities that are fans of BTS, John Cena and Ansel Elgort included. One artist who spent time with BTS last New Year's Eve was "Circles" singer, Post Malone. Is Post Malone friends with this chart-topping K-pop group? Have they met before? Here's what we know and BTS and Post Malone.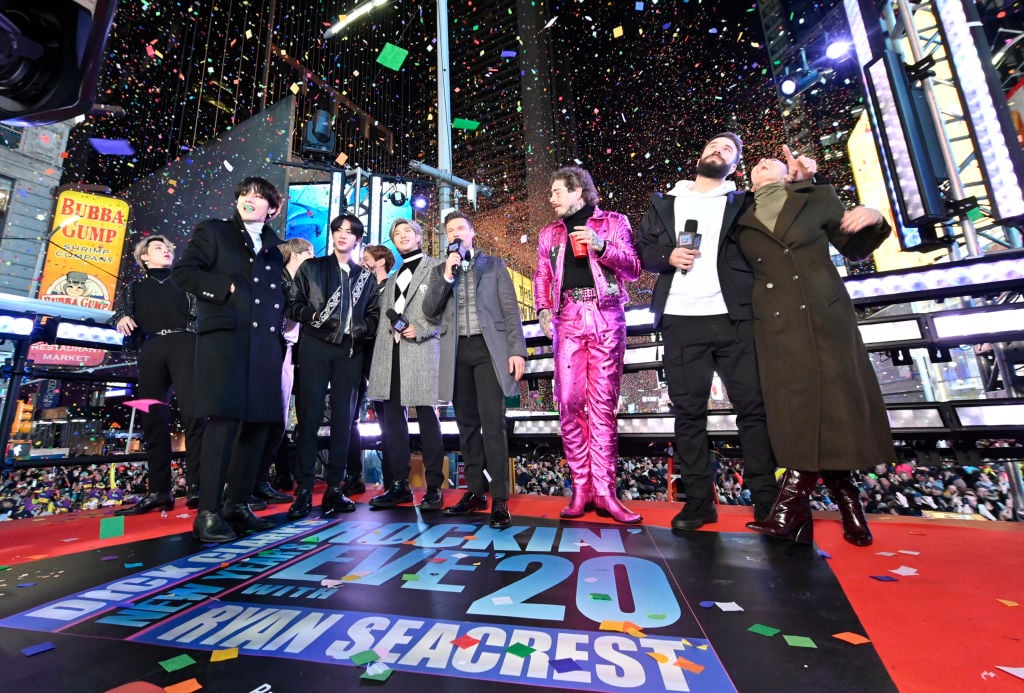 BTS hang out with Post Malone on 'Dick Clark's New Year's Rockin' Eve'
The last time fans officially saw Post Malone and BTS spending time together was the television special, Dick Clark's New Year's Rockin Eve. There, BTS performed songs "Make It Right" and "Boy With Luv."
Post Malone appeared in his pink suit, performing songs "Circles" and "Congratulations." The groups didn't perform together. Still, they stood alongside each other while counting down to the new decade.
This wouldn't be the first time BTS and Post Malone met each other. In 2017, J-Hope posted a video to Twitter with the artist. A few months after their New Year's Eve hang out, BTS discussed their experience on The Late Late Show with James Corden.
BTS jammed out to 'Circles' by Post Malone on 'Carpool Karaoke'
BTS is definitely fans of Post Malone's music. Probably the best example of that is when the group paid a visit to The Late Late Show with James Corden and the host's segment, Carpool Karaoke.
When James Corden asked Jin who was his favorite celebrity to meet, he was quick to respond with Post Malone. The host then asked how that experience was for the rest of the band members — what was Post Malone like?
"He smokes too many cigarettes," Suga said with a laugh, according to a translation on the video.
The band members then sang along to Post Malone's chart-topping song, "Circles." Of course, it prompted many fans to wonder if they would collaborate in the future. As of March 2020, there's no word regarding the future of music by Post Malone or BTS.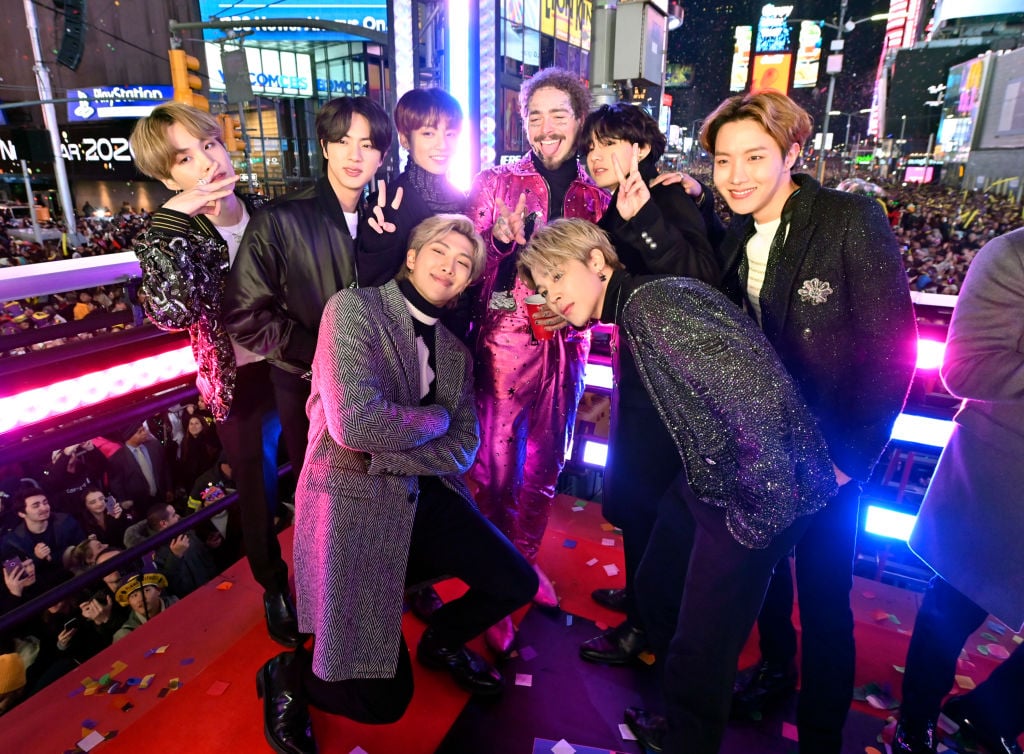 Will BTS collaborate with Post Malone in the future?
The list of fan-requested BTS collaborations is miles long. Some speculated the K-pop artists could perform with Billie Eilish, although she has since come forward to say she prefers to write music with her brother.
BTS did perform live with Lil Nas X during the Grammy Awards, becoming the first K-pop group to grace the Grammy stage. In the past, however, they've recorded songs with artists like Charli XCX, Halsey, Lauv, and even Sia.
Fans will just have to wait and see what the next album, and new music, brings for BTS. Post Malone is still a possibility. For one interview with Ellen in 2017, V singled out Post Malone as an artist he wanted to collaborate with.
"Please call me, please," he said.
Music by BTS, including their recently released album, Map of the Soul: 7, is available on most major streaming platforms.