Post Malone Kicked off the New Year With Another Crazy Move
Post Malone first came onto the scene in 2015 with his hit song "White Iverson." Since then, he has become known for his unique musical style that incorporates elements of hip-hop, rap, pop, rock, and R&B.
Aside from making a splash in the music industry, Post Malone has also gained a reputation for his daring looks. He often sports long hair, grills, and a large number of tattoos.
It comes as no surprise, then, that the rapper decided to ring in 2020 with a very crazy move.
Post Malone got a new face tattoo for New Year's Eve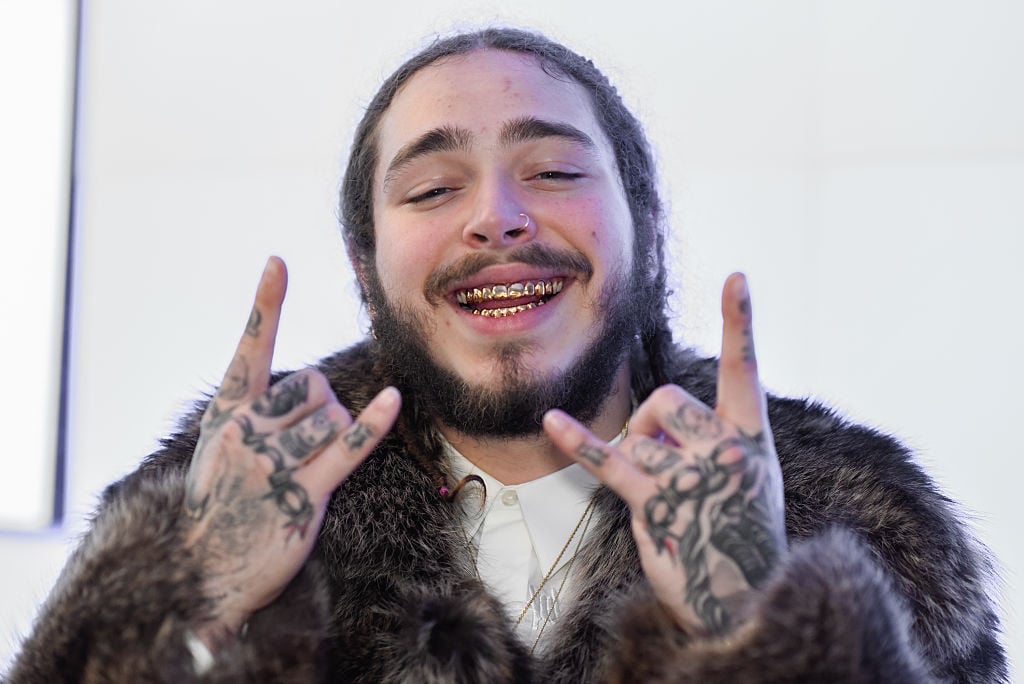 On December 31, Post Malone took to Instagram to share a photo of a face tattoo that he recently got. It is a picture of a medieval gauntlet holding a flail, and the ink can be seen on the right side of his face along his jawline.
"Have a good a** new year," Post Malone said in the caption.
The artist responsible for Post Malone's New Year tattoo is Kyle Hedinger, who also uploaded a shot of the new ink onto his Instagram account. Hedinger shared with followers that it was his "last tattoo of 2019."
Post Malone has more than 50 tattoos
According to Body Art Guru, Post Malone has more than 50 tattoos on various parts of his body.
Ten of them are located on his face, including a barbed wire on his forehead, a Playboy bunny logo on his right cheek, and a dagger tattoo on the right side of his face.
He also has tattoos dedicated to people he admires on different parts of his body, such as John F. Kennedy, Johnny Cash, Kurt Cobain, and Lil Peep.
Post Malone once shared that a reason why he enjoys getting so many tattoos, especially on his face, is "to piss [his] mom off."
Post Malone spent New Year's Eve performing in New York City
Aside from getting a new tattoo, Post Malone kicked off the new year by being one of several performers featured on the popular New Year's Eve show, Dick Clark's New Year's Rockin' Eve with Ryan Seacrest. The rapper performed in Times Square close to the midnight hour.
He entertained the audience in New York City with his 2019 hit "Circle" as well as one of his most popular singles, "Congratulations." Other performers in Times Square that night included BTS, Alanis Morissette, and Sam Hunt. The show also broadcast performances from Hollywood, New Orleans, and Miami to give fans more artists, such as Green Day, Usher, Paula Abdul, Dua Lipa, and the Jonas Brothers.
Post Malone has been nominated for two Grammy Awards
Post Malone seems to have a lot to look forward to in 2020. Later this month, there will be the much-anticipated Grammy Awards, and Post Malone has been nominated in two categories for his song "Sunflower" with Swae Lee: Record of the Year and Best Pop Duo/Group Performance.
Post Malone was nominated for four awards last year, but he did not win any. However, he did make an impact by performing on stage with the Red Hot Chili Peppers.
"Sunflower" has been a big hit around the world since it came from the popular movie Spider-Man: Into the Spider-Verse, so there is a chance that Post Malone could take home an award this year.
The talented singer recently spoke to TMZ about other things that he has planned for 2020. According to the rapper, fans can definitely expect to see more tattoos this year. He is also looking to release more music as well as further his acting career.