'Power': Alleged Leak of the Prequel Series Centers Around Ghost, Tommy, and Angela in High School
In an alleged leak of the 'Power' prequel series, it depicts main characters Ghost, Tommy, and Angela as teenagers in high school. Keep reading.
After the alleged leak of Ghost's shooter, Power has had full episodes leak as well as released videos that seemingly depict James "Ghost" St. Patrick, Tommy Egan, and Angela Valdes as teenagers. It's unclear if the prequel will actually revolve around those characters in high school or if it's a flashback scene.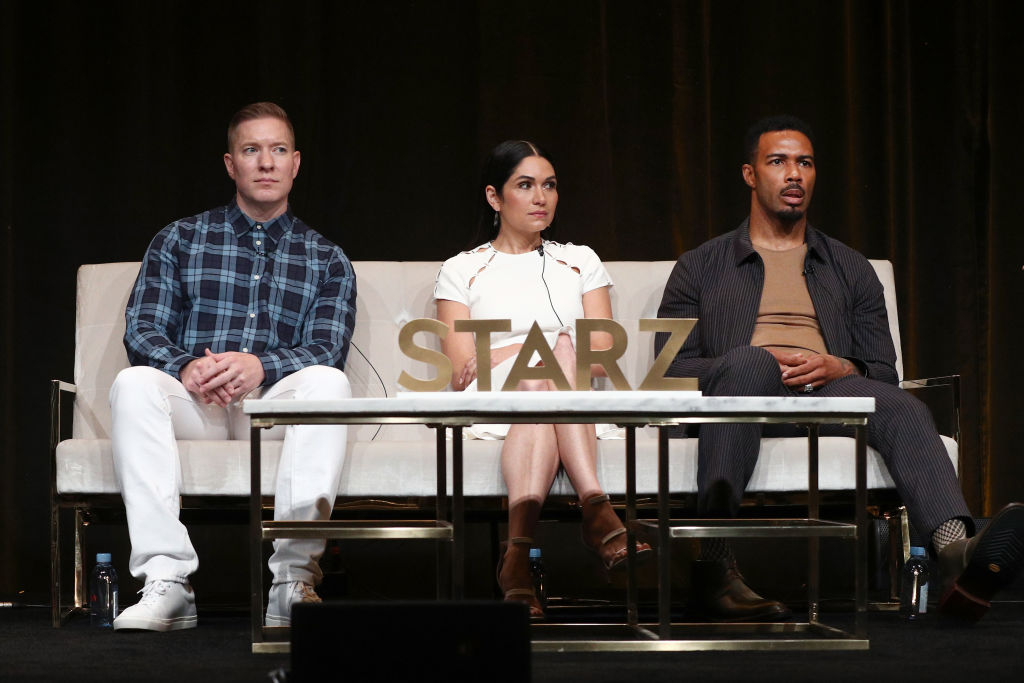 Ghost, Tommy, and Angela were all main characters in 'Power'
Power centered around drug dealer and businessman James "Ghost" St. Patrick, who also fathered three children with his wife, Tasha. However, one night he saw Angela Valdes, his high school love who moved with her family, in his nightclub, and wanted to make things work with her again.
Even though the criminal lifestyle he shared with life-long friend Tommy Egan should have posed a threat to his new relationship, they continued to date. Mistakenly believing Angela turned on him, he met her at their old high school to confront her.
Tommy followed them, overheard everything they told each other, and attempted to shoot Ghost. However, Angela pushed him out of the way and took the bullet in her chest, killing the assistant district attorney.
After her death, Ghost tried to kill Tommy a few times until they called a truce to help his son, Tariq. Ghost eventually moved on and began a romantic relationship with a political strategist, Ramona Garrity, until someone shot and killed him.
'Power' executives released information about the sequel
After the midseason finale, which ended with one of seven suspects shooting Ghost, executive producer Courtney Kemp revealed there would be at least two spin-offs following Power.
She teased, "one of the spin-offs takes place in the future a little bit, and one of them takes place in the past a little bit." For the sequel, it will star singer Mary J. Blige as Monet, a smart and street-savvy businesswoman from Queens. Blige also reunites with rapper Method Man, who stars in the sequel as a lawyer curious about the criminal world.
Additionally, the series includes "some of the show's most controversial characters." According to 50 Cent, the sequel is "female orientated" and begins "48 hours after the finale."
In October 2018, the rapper and producer posted a photo on Instagram of himself with a vintage police car. He captioned it, "My Power spin-off is so crazy I'm doing the prequel. Wait till you see this s**t, TGE [The Golden Era] influence. Southside, we outside, 1988."
The Southside is also known as South Jamaica, Queens, where Ghost, Tommy, and Angela went to high school.
An alleged leak of the prequel centers around Ghost, Tommy, and Angela in high school
In the supposed leak of the prequel, it begins in 1996 with school letting out and The Notorious B.I.G.'s "Juicy" playing in the background. Teenage versions of Tommy with braids, played by Ethan Cutkosky of Shameless fame, and Ghost walked out with Tommy warning his friend they needed to hurry up and go somewhere.
As soon as he saw Angela, Ghost told Tommy to wait and ran over to his girl. He noticed she had a pamphlet on top of her books and asked her about it.
Angie answered it was for Choate, a school in Connecticut, and asked Ghost if he ever thought about "leaving Queens." Right after he admitted he did, Tommy walked in between the couple and yelled, "f**k this" back at his friend before angrily walking away.
Then, Angie asked why he liked Tommy to which Ghost changed the subject and wanted to hear more about the school. The minute clip ends with Angie explaining the program to Ghost while the camera panned out.
Ethan Cutkosky used to have the same braids in Season 6 of Shameless but recently posted a photo of him rocking the same hair-do in New York, New York. It's unclear if this is a leak from the prequel or if it is merely a flashback scene that Ghost sees when his life flashed before his eyes.
Watch Power Sundays at 8 p.m. EST on Starz.