'Power Book II: Ghost' Episode 3 Recap: Tasha Can't Fool Anyone
Power Book II continues to set up the landscape for Tariq and Tasha. Now that Ghost is in the ground and Tasha is heading to trial, the chips are up in the air. Where will they land?
Episode 3 builds on Tariq's intention to hustle for his and his family's survival. It's a slow rock, but a certain crime family's interest is piqued. Tasha is doing what she knows best and we wonder if she'll make it out of season 1 alive. Here's a recap of "Play the Game."
[Spoiler alert: This article contains spoilers from Power Book II: Ghost Episode 3: "Play the Game"]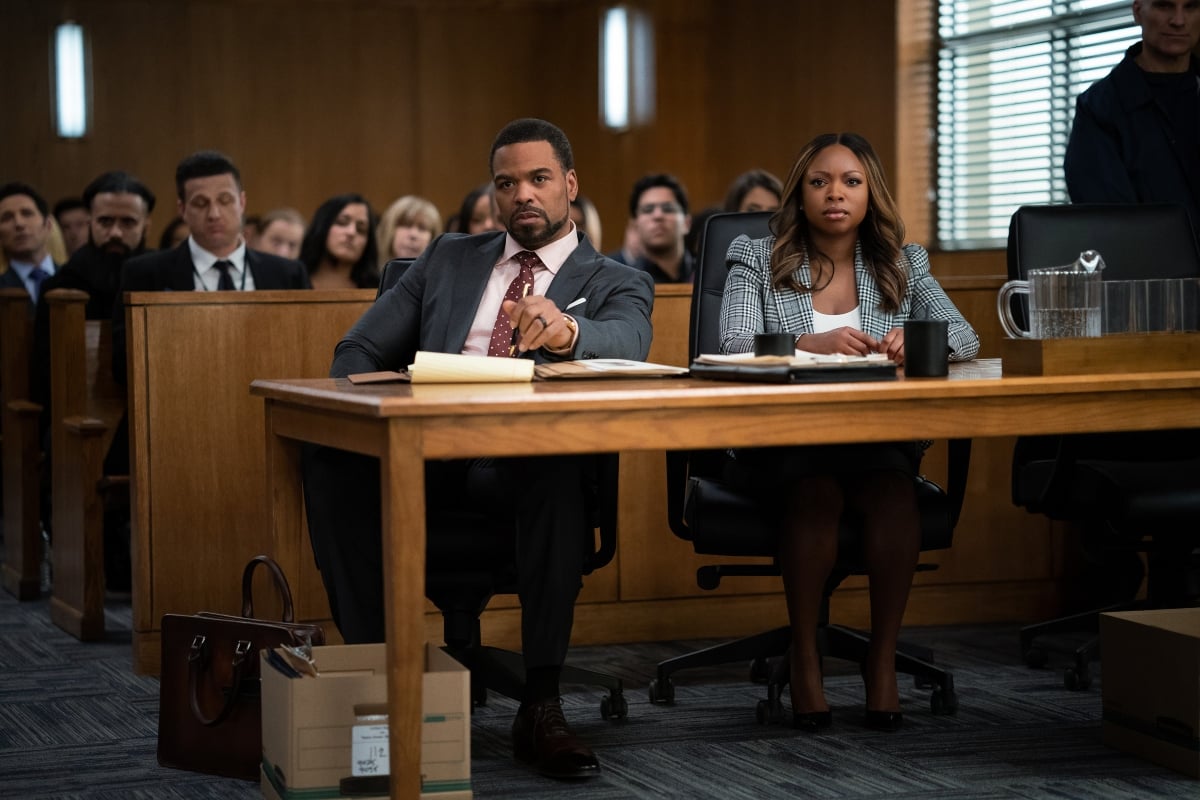 Trouble brews for the Tejadas and Tasha
After Dru and Cane return home following their pickups, they learn that one of their young distributors — GTG gang — is being too flashy on social media. Mama Monet isn't having it.
Tariq texts Diana for a meeting with her mom but family business forces her to curb him. She suggests they link at Zeke's game.
McLean is still furious at Tasha for withholding information and giving the prosecution the upper hand. She wants to get on the stand herself and he's against it. Then McLean decides to play along with Tasha's request even though Paula thinks it's a bad idea. He has something up his sleeve.
Tariq talks Socrates' arrogance
Tariq arrives late for class again and Simmons is teaching, so he calls him out. They get into a disagreement about the reading assignment: Socrates. Because Tariq thinks Socrates was stupid for not defending himself in court, the professor thinks Tariq is dumb and puts him down.
Tariq counters that Socrates' ego is what got him killed and the fact that he mocked and condescended to the court. He sees no virtue in that. Obviously, viewers are supposed to pick up on how this relates to his real life.
Simmons can't stand Tariq's take, but Professor Reynolds is in the corner enjoying the verbal spat. After class, Lauren gives him a pep talk about conforming to Simmons standards. She advises him to play the game.
Back at the jail meal hall, Tasha passes the pill to the inmate she wants protection from. Some maintenance worker is peeping their conversation and starts to snap photos of their interaction. He leaves and heads over to the men's jail to report to Lorenzo Tejada.
Tejada sends him away when he receives a call from Monet about the GTG problem. She wants to destroy them but Lorenzo is against it because GTG leader Little Guap's father saved his life. Lorenzo wants Dru to handle the situation.
Monet assembles the family and they're all shocked their Dad wants Dru to deal with it. After he leaves the room, Monet tells Cane to back his brother up from the shadows.
Tariq and Tasha want to call the shots
At school, Zeke gives Tariq a last minute assignment and Tariq is pissed. "I owe you," Zeke says. Tariq uses that to ask for another dinner with Monet. He claims it's so he can ask Diana out, but Zeke says Monet doesn't let her date. It's a no.
Tasha is escorted to a court appearance. They stop in a glam squad room to prepare her for the jury. She enters the courtroom and learns it's a mock trial. She's not happy but McLean tells her she's paying them by the hour and it's expensive.
Meanwhile, Tariq meets up with Brayden who just stole some prescription notes. They strategize and Tariq sets up a distraction for Scott, the dealer from the frat party.
In court, Tasha tells the story of how she and James met, the kids, and their early life. She then spins a tale about having to hide a gun in her maternity dress during a traffic stop at James' command. She cries. Tasha admits that she knew about some of his illegal activities but insists James made her do it. She sits back and looks smug.
Monet and Diana arrive on campus for the game and Diana tries to convince her mom to let her go to school and play ball. Monet says women ballers don't make enough money and that gig doesn't help the family.
Diana wants to be independent from the family but Monet says her brothers need her to run the business. Diana says Lorenzo wants the boys to handle it but Monet disagrees. Thus, the family conflict.
The topic switches to Tariq and Monet tells Diana, "Anybody who's around that boy for too long either ends up dead or locked up." She only wants him around for Zeke.
Tariq then approaches them at the gate and is trying to squeeze inside for a chat. Monet ignores him but Diana explains she's just mad about the GTG stuff and is taking it out on her. Tariq walks off and when Monet isn't looking, Diana calls her dad from a hidden burner phone.
Tariq's scheme against Scott is in motion. A stripper arrives at the guy's place and she playfully puts some handcuffs on him. He's out of the way.
The Tejadas do things behind each other's backs, Tasha loses
Dru visits Little Guap but he's too nice and it doesn't go well. Cane rolls in and threatens everyone, then shoots into the air. They run out and cops pull up. One is Ramirez, and the rookie he's with runs after Dru and Cane. It's a close call but Ramirez throws the officer off the trail before Cane shoots him.
Ramirez visits Monet later and warns her about her sons and GTG. He says they've been watching the gang because they keep posting on the internet. They make out until Monet gets a text from Lorenzo to come see him for a conjugal visit the next day.
That morning, Tariq and Brayden count their cash and Tariq plots his next move to help his mom. Speaking of Tasha, she's escorted back to court for more fake proceedings. She undergoes cross examination from Tameika. It's brutal.
The affair with Terry Silver is brought up, as is Raina's death, James' cheating with Angela, Ramona, and Tommy's loyalty. Whew! Tameika broke her down. The jury unanimously finds her guilty. As she cries, Paula advises her to start telling them the truth.
McLean offers Tameika a spot on the defense team and she turns it down. He lets her know they're aware she signed on to represent Saxe, which means he was in trouble for something. Tameika is firm in her decision to leave Tasha's case alone. Paula wants to jump ship too. McLean reads it as Saxe is a dirty agent and wants to dig deeper.
Tariq gets his way again
Lorenzo and Monet argue about the family and he says Dru should be in charge while Diana goes to school. That sets her off, but he wants her to trust him. She realizes Diana talked to him.
At Stansfield, Tariq receives no credit for his paper and confronts Reynolds (Jabari) about his grade. He lectures him about not playing games and tells Tariq to back up his own original thoughts.
Monet storms in on her kids and goes off about Little Guap. She chastises Dru for not pulling a gun, and scolds Cane for shooting the place up, telling them she doesn't want to keep taking favors from Ramirez for covering for them. The boys leave and she digs into Diana about calling Lorenzo behind her back. Diana lies but Monet knows better.
Back at the dorm, Tariq confronts Zeke about being lazy. He informs him he'll have to start doing some of his own work or they'll both flunk out. Then Tariq asks for a Monet-related favor. She arrives at the dorm because Zeke tricked her into a 5-minute conversation.
Tariq tosses her a bag of money and offers to be her campus connect. She warns him that his assumptions are unfounded, and he doesn't know her. He flips things by saying that if he fails school while trying to take care of his family, Zeke's future could be jeopardized.
She's hesitant but gives in and says Tariq has to move out of Zeke's room in order for this to work. Monet leaves when Tasha calls. Mom begs Tariq to give Davis whatever he wants.
Monet calls Lorenzo about Tariq, and they use Tasha as leverage. Lorenzo hits her on the jail burner to issue a simple threat. Tasha needs to ensure Tariq does his drug dealing job or he dies.