'Power Book II: Ghost': Why Ramona Wasn't at Ghost's Funeral
'Power' showrunner/creator Courtney Kemp explains why Ramona didn't come to that big funeral.
Power Book II finally laid Ghost/James St. Patrick to rest in episode 2 with a funeral that brought out his friends, family, and enemies. Different branches of law enforcement were on hand for security or surveillance reasons, and viewers also got to see a few old faces from the original Power.
Though Tate the slickster, Ott the fixer, and Saxe the trickster were all on the scene, fans noticed one person was visibly absent from the service: Ramona Garrity. What's up with that?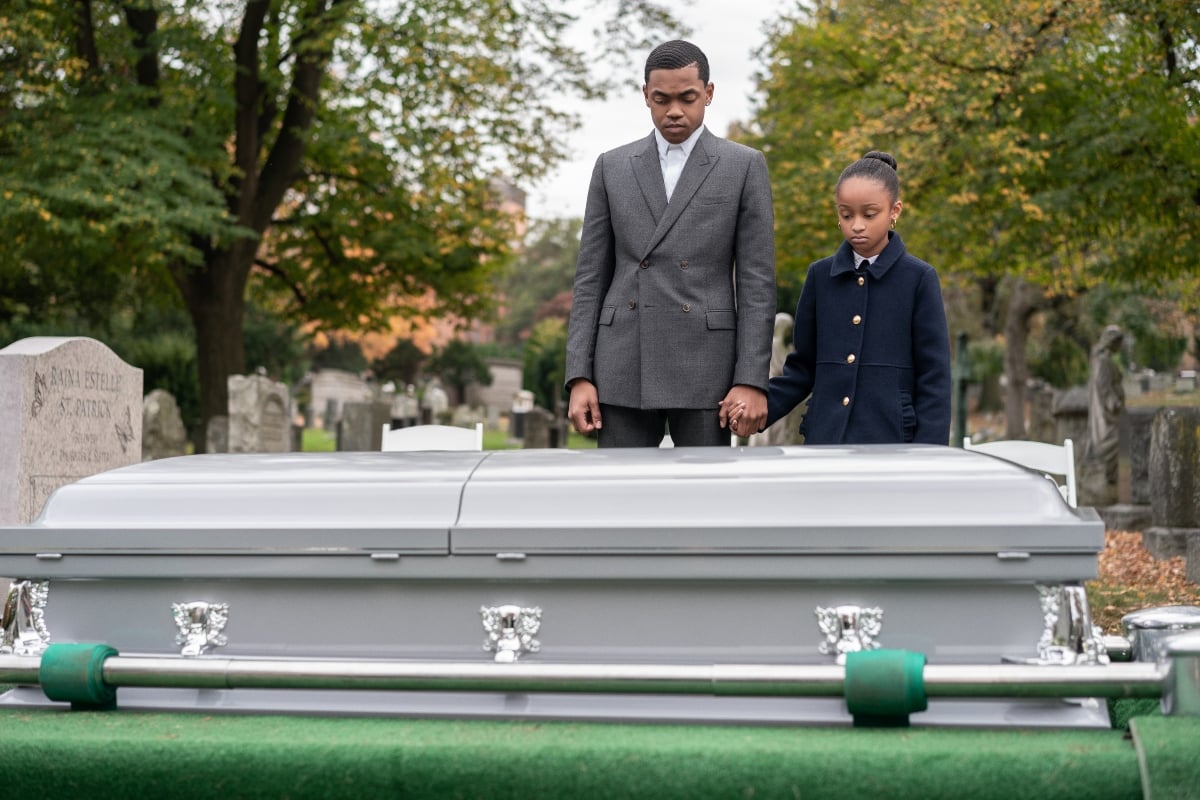 The last time we saw Ramona Garrity on 'Power'…
Let's scoot back in time for a moment to revisit Power's first chapter. Season 6 introduced Ramona as the smart, ambitious campaign manager for James' run as lieutenant governor. From the gate, she was flirty and had high expectations for him despite initially working with Tate.
In later episodes, Ramona became James' love interest and helped him spin his image into media and DNC gold. She was one of the last people to see him alive on the night he was murdered, and everything came crashing down in the moments after his death.
Remember, Ramona dissed Tate in favor of James but she came crawling back. "You should've never bet against me, boo," Tate told her.
In episode 14, Tate told reporters Ramona was the one who brought St. Patrick into his campaign and that she had an 'adulterous affair' with James. She confronted Tate at his place about the lie, slapped him, and stormed off.
'Power' showrunner/creator Courtney Kemp explains Ramona's absence
So, why wasn't Ramona at the funeral? The question's been floating around the web and Kemp caught wind of it. She did a short Q&A with fans on Instagram Live and spoke on the former DNC power woman's whereabouts.
"If you guys go back to [episode] 614, Rashad Tate makes sure that she's humiliated publicly at the end. And even though for all of us it's been a long time, in the actual storytelling, Ghost hasn't been dead that long," said Kemp. "Ramona has been publicly humiliated so she can't go anywhere in public."
Disgraced and angry, Ramona could very well be sitting somewhere plotting her revenge against Tate. If you replay that episode, you'll note they argued about the fact that she never slept with James.
One way Ramona can come back
Kemp wouldn't divulge whether the character will pop up for Power Book 2, but that doesn't mean it's the last we'll see of Ramona. Tate has his own spinoff coming in the Power universe after Tommy's takes off. Titled Power Book V: Influence, it will likely follow Tate's career from his beginnings in Queens to his latest gubernatorial campaign.
Ramona may show up as an aide to a new politician or to uncover Tate's shady past and present. We all know how he gets down when he's not wearing that suit.
As his brother pointed out, he is very lucky, but Ramona could ensure that his luck finally runs out. At the end of season 6, Tate made quite a few enemies and there are several people she could tag into her scheme.