'Power Book III: Raising Kanan': 3 Straight Facts About the Upcoming Series
Longtime Power fans are ready to flip the page to the next chapter in Courtney Kemp's growing franchise with Power Book III: Raising Kanan. This spinoff hits the reverse button and takes viewers back to Southside Jamaica, Queens in the 1990s and follows Kanan Stark's family.
In real life, that era was rife with drug trafficking that included dealers like Pappy Mason and Fat Cat, and Colombian cartels. Lots of violence, death, and pain reigned. Raising Kanan is no "based on a true story" portrayal, but fans can count on a specific type of grittiness in the show when it arrives on Starz on July 18. With that in mind, here are some key details about the series.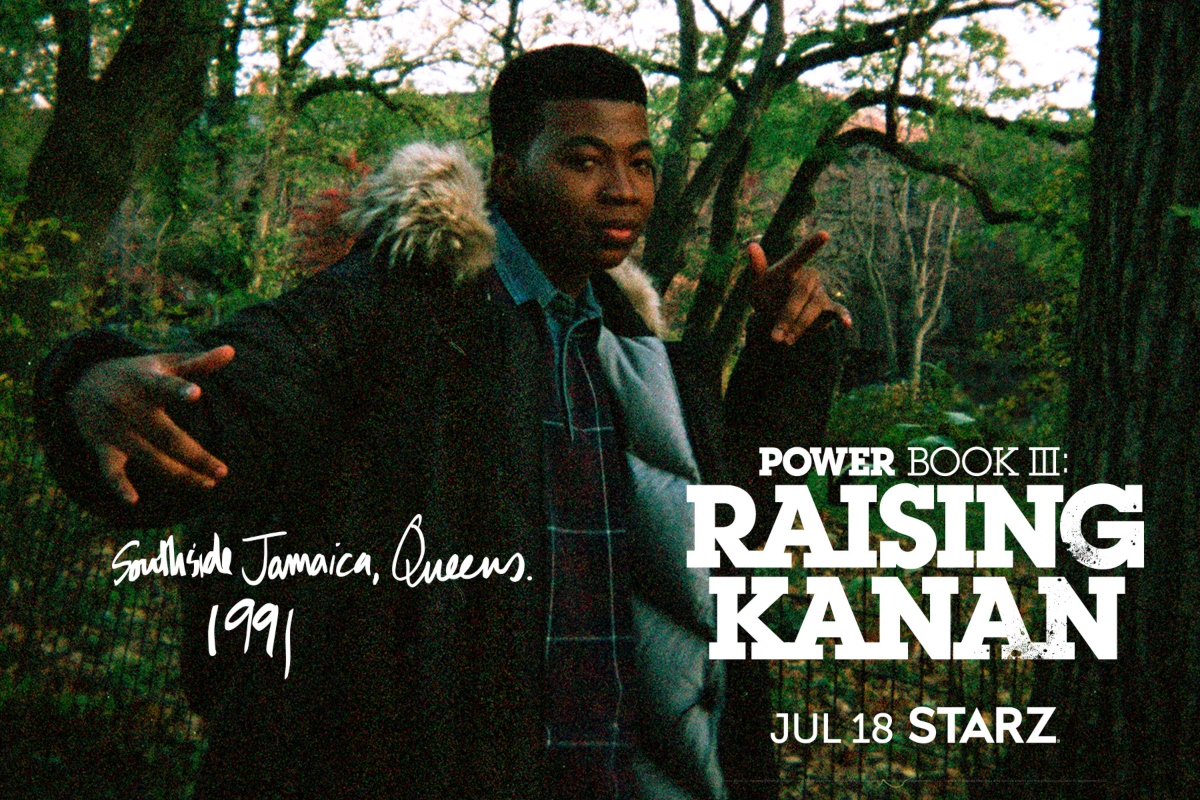 'Power Book III: Raising Kanan' is not a Kanan, Ghost, and Tommy prequel
After a post-credits scene in the Power series finale showed a glimpse of Tommy, Angela, and James as high school teenagers, fans hoped that shot offered a window into one of the spinoffs. Many thought it signaled that viewers would finally get to see how Tommy, Kanan, and Ghost came up in the drug game.
Not the case. During a Deadline panel in June 2020, showrunner/creator Courtney Kemp already explained that Power Book III: Raising Kanan would not be about the trio. The story kicks off with 15-year-old Kanan and follows his arc, and in the timeline, he doesn't connect with Ghost or Tommy until around age 19 or so.
"No, we're not going to explore them as teens. We may in the late seasons of Raising Kanan," Kemp said, noting their ages. Further, Kemp reiterated in an Instagram Live chat that she's not interested in exploring the Ghost and Tommy angle in a prequel. Why? Because everyone knows they made it out alive and into adulthood. She said there are no stakes.
RELATED: 'Power': Flashback Scene of Teenage Ghost, Tommy, and Angela Finally Explained
50 Cent described his role as having 'Goodfellas' vibes
While there are questions about whether Raising Kanan is autobiographical when it comes to 50 Cent's life, it's not true. There may be a few parallels that can be drawn from the rapper/mogul's past, but the show is based on the fictional character, Kanan Stark (played by Mekai Curtis). With that said, he will be narrating the story.
In a 2020 interview with Angie Martinez, Fif broke down how he fits into the spinoff.
"Think Goodfellas," he told Martinez. "My voiceover is present. But you see, like Ray Liotta's voiceover is there when you see the young version of Sonny." He was referring to Liotta serving as a narrator for his character Henry Hill (not Sonny Bunz) in the gangster film, Goodfellas.
Kanan's mom, uncles, and cousin Jukebox are in the series
Like other moms in the Power universe, Raquel "Raq" Thomas will teach her son about the drug game. Patina Miller steps into the role as Kanan Stark's mother, a woman who rakes in money for the family business. But she's not alone.
Viewers will also meet her brothers Marvin (London Brown) and Lou-Lou (Snowfall's Malcolm Mays). Lou-Lou is the youngest Thomas sibling and very close to Raq. Marvin is the eldest and according to Deadline, the hot-tempered muscle for their crew. He's also Jukebox's father.
In addition to young Kanan, young Jukebox appears in the series. Fans are familiar with the adult character played by Anika Noni Rose. That Jukebox became a corrupt cop who helped mend her cousin Kanan after the fire, kidnapped Tariq, and ended up dead at Kanan's hands. She also made a point to remind him about their tight childhood bond.
Power Book III: Raising Kanan season 1 drops on July 18 at 8 p.m. EST.