How 'Power Book II: Ghost' Brought Back Ghost in Episode 5
Ghost was infamously killed by his son Tariq in the sixth and final season of 'Power.' But there was a callback to the character in 'Power Book II: Ghost.'
Power Book II: Ghost finds Tariq St. Patrick dealing with the next stage in his life following the death of his father, Ghost. He follows in Ghost's footsteps to become a drug dealer and now, he's in line to be bigger than his dad ever was. But Ghost continues to haunt him from his grave. Here's how the Starz series incorporated him into the latest episode.
[Spoiler alert: This article contains spoilers for Power Book II: Ghost Season 2 Episode 5.]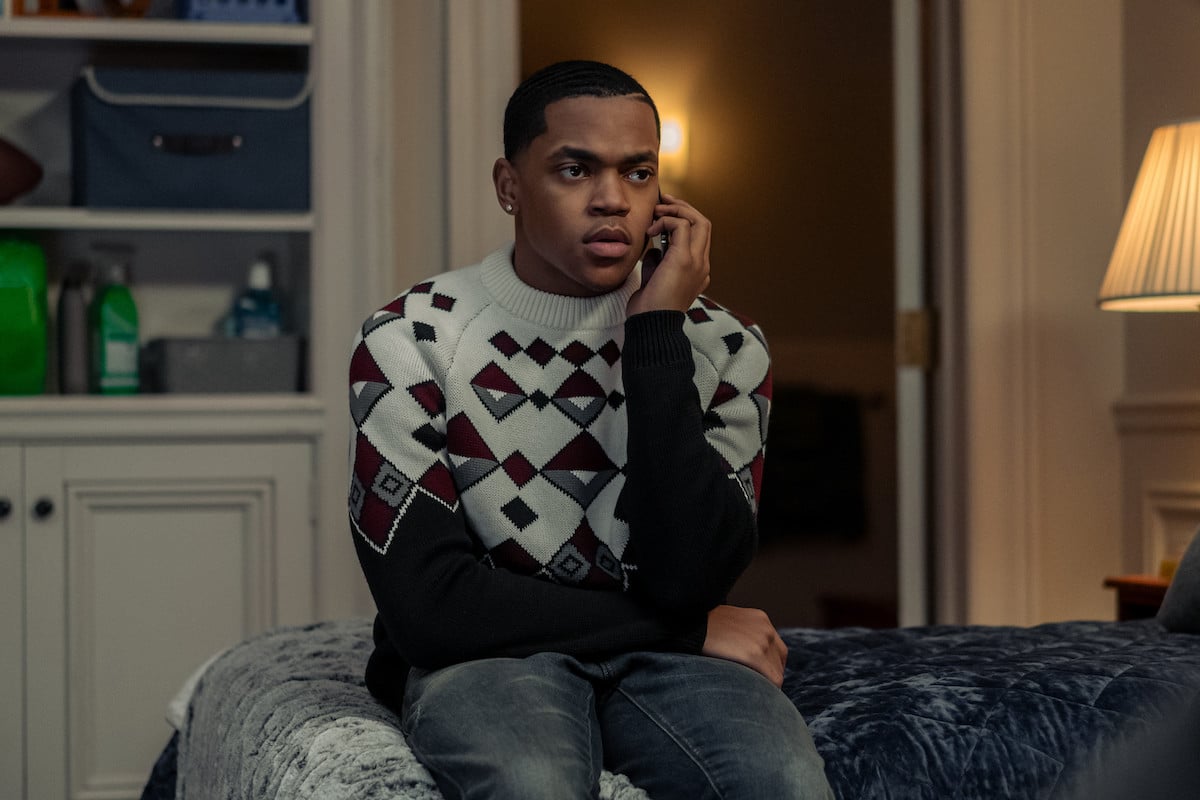 Tariq faces several challenges in 'Power Book II: Ghost'
Ghost was killed in the sixth and final season of Power, leaving behind a big inheritance for Tariq. But the catch is, in order to receive it, Tariq has to graduate from college. He decides to enroll at Stansfield University, where he also begins selling drugs to support himself and his family.
When his professor Jabari Reynolds learns about his dealings, he tries to blackmail Tariq into allowing him to write a book about him in exchange for his silence. Only, he winds up getting killed by Tariq and Cane Tejada in the Power Book II: Ghost Season 1 finale.
While Tariq is initially able to cover it up, framing Officer Danilo Ramirez, the plot quickly begins to unravel in the second season of Power Book II: Ghost.
Tariq is haunted and tormented by his father in 'Power Book II: Ghost' Season 2 Episode 5
Early on, police develop a theory that Ramirez was hired by Zeke Cross to kill Jabari over Carrie Milgram. However, that idea was debunked in the latest episode after new information about Ramirez surfaced.
After coming across Jabari's book, investigators begin working on a new theory that he was killed after discovering students were selling drugs on campus. The investigation eventually leads them to Tariq, who's arrested at the end of the episode on murder charges.
Back at police headquarters, Tariq gets a visit from his father's old friend Daniel Warren. Daniel produces a letter that Ghost apparently told him to give to Tariq in the event that police arrested him for homicide. In it, Ghost laughs at him for being in prison, saying it's exactly where Tariq deserves to be.
Fans writing on Reddit reacted to that scene with both shock and laughter. "nah cause I was deada** expecting advice from pops or like some heartfelt sh** cause of the mood in the show. but nah SH** HAD ME WEAK LMAOO," read one comment. "Bro, I laughed so hard I had to watch it twice," said another.
Many hoped Ghost would be back in a flashback, but it's unclear if that'll ever happen. When asked about the possibility of a Ghost cameo in Power Book II: Ghost, showrunner Courtney Kemp told TVLine she couldn't definitively say that viewers would "never see that character again." But she also wants to be sure the focus stays on Tariq.
What to expect next on the show
In any event, it seems obvious Tariq will get out of this situation. He just has to figure out how.
The trailer for Power Book II: Ghost Season 6 also shows Monet dealing with the aftermath of Lorenzo's prison release, which seems to have everyone on edge but their daughter Diana. He's out on a technicality, but it looks like more problems are ahead for him. Check out the show on Starz at 8 p.m. ET on Sundays.