'Power Book II: Ghost': Courtney Kemp Revealed the Most Shocking Character of Season 2
'Power Book II: Ghost' has a ton of character dealing with all types of things. Now, Courtney Kemp has revealed the most shocking character of season 2.
Power Book II: Ghost Season 2 is underway and already there is a lot going on. Tariq St. Patrick (Michael Rainey Jr.) is trying to keep his life as a drug dealer on the downlow, but the death of his professor is causing some major issues. Morover, while Monet (Mary J. Blige) is supposed to be keeping her family together, a new man named Mecca (Daniel Sunjata) is making things a bit more complicated for her.
However, Power Universe creator Courtney Kemp revealed that there is one character who shocked her above all else.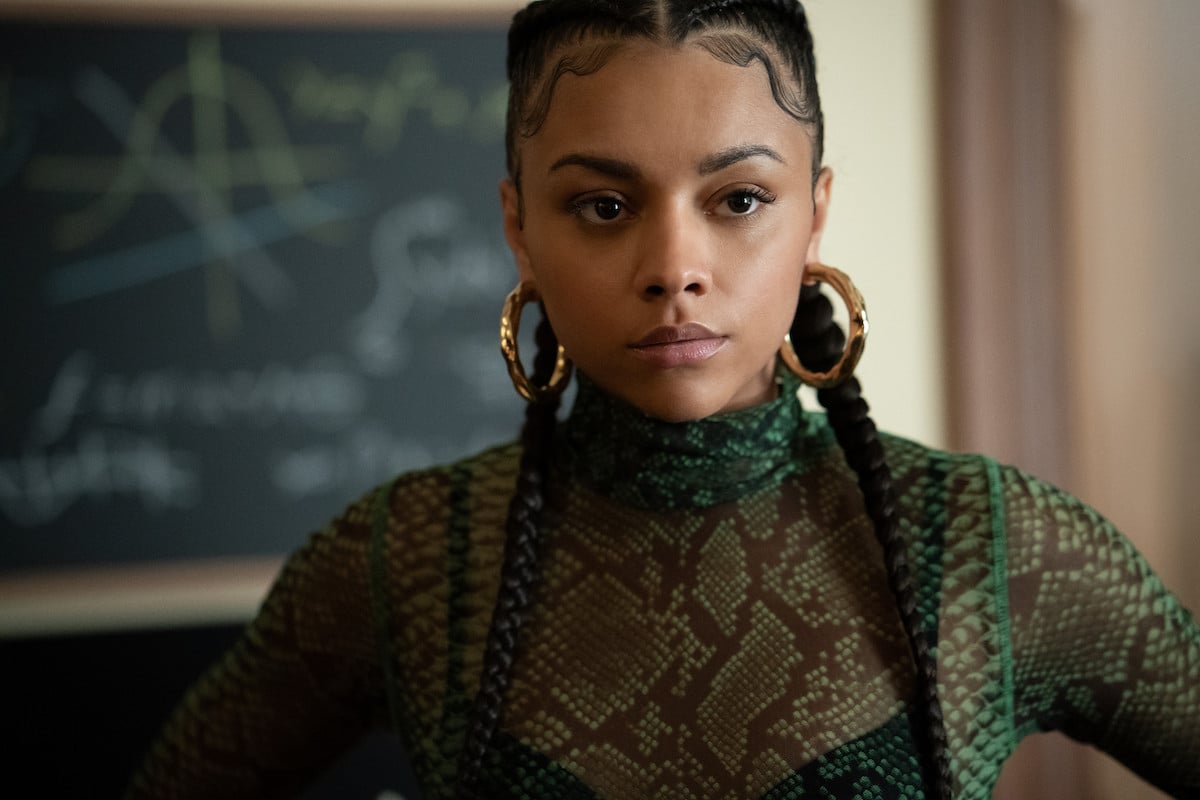 Courtney Kemp revealed the theme for 'Power Book II: Ghost' Season 2
Before season 2 even premiere, Power Universe creator Courtney Kemp warned fans they were in for a whirlwind.
"Where we had begun an encroachment of his drug life into his school life with the incidents that took place in episode 8 with the attempt on his life and the body in the pool, now his whole drug life is crashed into his campus life in a real way," Kemp told Entertainment Weekly. "And Tariq definitely feels like he's walking around like a ticking time bomb. His relationships are going to get more complicated, and while that's all happening, he's still got a love life."
Kemp also revealed that the theme of Power Book II: Ghost Season 2 is ethics and the various ethical dilemmas that Tariq and the characters confront.
Effie is the most shocking character of season 2
During an recent Instagram Live where talked about the ends and outs of the second season of Ghost, Kemp was asked which character surprised her the most this season. In a stunning response, she announced that Effie, Brayden and Tariq's former classmate was the one fans should brace themselves for.
Thus far, we know the Yale student is dealing the Tajadas product on her campus for Tariq. Moreover, Diana (LaToya Tonodeo) has just reached out to her for some much-needed guidance and insight. Kemp said on the live, "Effie is dope she is one of my favorite characters on the show." Effie's character description for season 2, reveals she's going to be in the mix a lot more. It says,
Effie Morales, a Yale student no stranger to drama. And her quest for financial freedom via drug dealing leads her to big competition — her former Choate classmates, Tariq and Brayden. But when Effie decides to join forces with Tariq and Brayden again, she will be forced to determine where her loyalties lie — with herself and herself only, or with people who have shown their true colors time and time again.  
Michael Rainey Jr. says 'Power Book II: Ghost' has been renewed for season 3
If Effie comes out of season 2 alive, it's likely she will play an even bigger role in season 3. In fact, Rainey has already hinted that Ghost will be returning for a third season. During a July 2021 Instagram Live, the 21-year-old actor responded to a troll who was trying to pit Power Book II: Ghost against Power Book III: Raising Kanan. "We are already renewed for season 3. So, what do you want me to do with that information," he said. "That is not useful. As soon as we are done with [season 2] two more months of break and we back filming season three, while y'all watching season 2. So, they can get renewed, but we are going to get renewed as well. Come on baby!"
Since season 2 is literally bursting with characters, we can expect the same for season 3, especially since Kemp has also hinted at a series of shocking deaths this season. We just hope that Effie is around to see how it all plays out.