'Power Book II: Ghost': Diana Tejada Is Going to Have a Lot Going on in Season 2
Diana Tejada (LaToya Tonodeo) is caught between the life she wants and the life she has on Power Book II: Ghost. Diana feels trapped as the only daughter of the criminal Tejada family, which is ruled by her ruthless mother, Monet Tejada (Mary J. Blige), and vicious father, Lorenzo Tejada (Berto Colon). For the Tejadas loyalty means everything.
Though her brothers, Cane (Woody McClain) and Drew (Lovell Adams-Gray) appear to have a bit more freedom than she does, Diana begins to see a way out through her family's allegiance with Tariq St. Patrick (Michael Rainey Jr.).
While Diana slowly began to find her voice in the first season of Power Book II: Ghost, in the upcoming second season, she's going to have a lot more going on.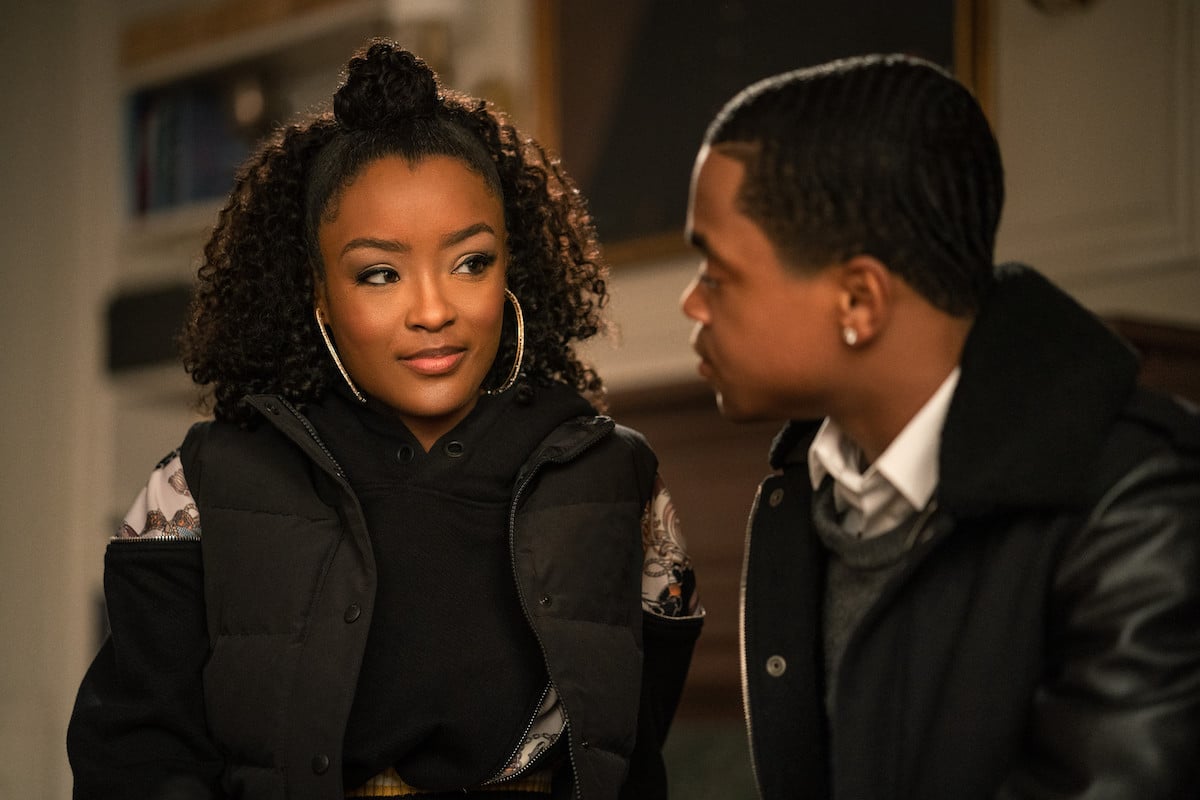 Does Tariq like Diana, Lauren or Effie in 'Power Book II: Ghost'?
Diana has found herself in a bit of a love triangle with Tariq, his university classmate Lauren (Paige Hurd), and his former high school classmate Effie (Alix Lapri). Diana and Effie are well aware of Tariq drug business but they both pose a threat to him in their own way.
Meanwhile, Tariq wants to keep Lauren in the dark indefinitely about his double life. Don't expect this love triangle to be resolved anytime soon. "His relationships are going to get more complicated, and while that's all happening he's still got a love life," Power creator Courtney A. Kemp told Entertainment Weekly.
Diana Tejada is going to have a lot going on in 'Power Book II: Ghost' Season 2
Unlike her parents or her older brother Cane, Diana doesn't appear to have a ruthless streak. As she's expressed to her family repeatedly, she truly wants to go to school. However, Monet and Lorenzo have told her she must remain with the family business.
Still, that hasn't stopped Diana from sneaking onto campus at Tariq's school and dreaming about the life that she really wants. "She wants to do her own thing. She wants to go to school," the actor told ABC Audio. "Her mom is like, 'No, this is what you need to do. I'm teaching you the game so that you can take over.' She definitely gets closer with Tyriq, but again, that is a little tricky because we are part of this family and we don't let any and everybody in. So, I feel like you'll get to see how close we allow him in, how close Diana will get to him."
At the end of the first season, we watched Tariq push Diana away, but somehow we don't think that's how their story will end.
LaToya Tonodeo was extremely nervous to join the 'Power' Universe
Though she is as thoughtful and commanding as Diana on Power Book II: Ghost, the 23-year-old actor was initially terrified to join the series since the franchise already had a massive following.
"Initially, I was extremely excited and also kind of nervous and scared because it's Power," Tonodeo told Decider. "All of these famous characters — now I get to be a part of the whole Power universe. But once I got into the groove of things and met everyone at the table read, they really welcomed each and every one of us like family. It was so warm and inviting, just a joy to be around. They are great. It makes going to work easy."
Now that Tonodeo has found her footing, we can't wait to see how Diana thrives in the second season of Ghost.
RELATED: 'Power Book II: Ghost': Fans Are Convinced Tariq Will Kill Monet and Lorenzo Tejada to Take Over Their Drug Empire