'Power Book II: Ghost': We May Learn More About Effie's Background in Season 2
Power Book II: Ghost Season 2 will debut on Nov. 21. The series chronicles the life of Tariq St. Patrick (Michael Rainey Jr.) in the aftermath of his father, James "Ghost" St. Patrick's (Omari Hardwick) death. In season 1, Tariq attempted to balance his life as a college student with his double life as a drug dealer.
Now in season 2, that all appear to be falling apart. With Tariq's two worlds colliding, more characters are coming into focus. It looks like we may be learning more about Effie (Alix Lapri) this season.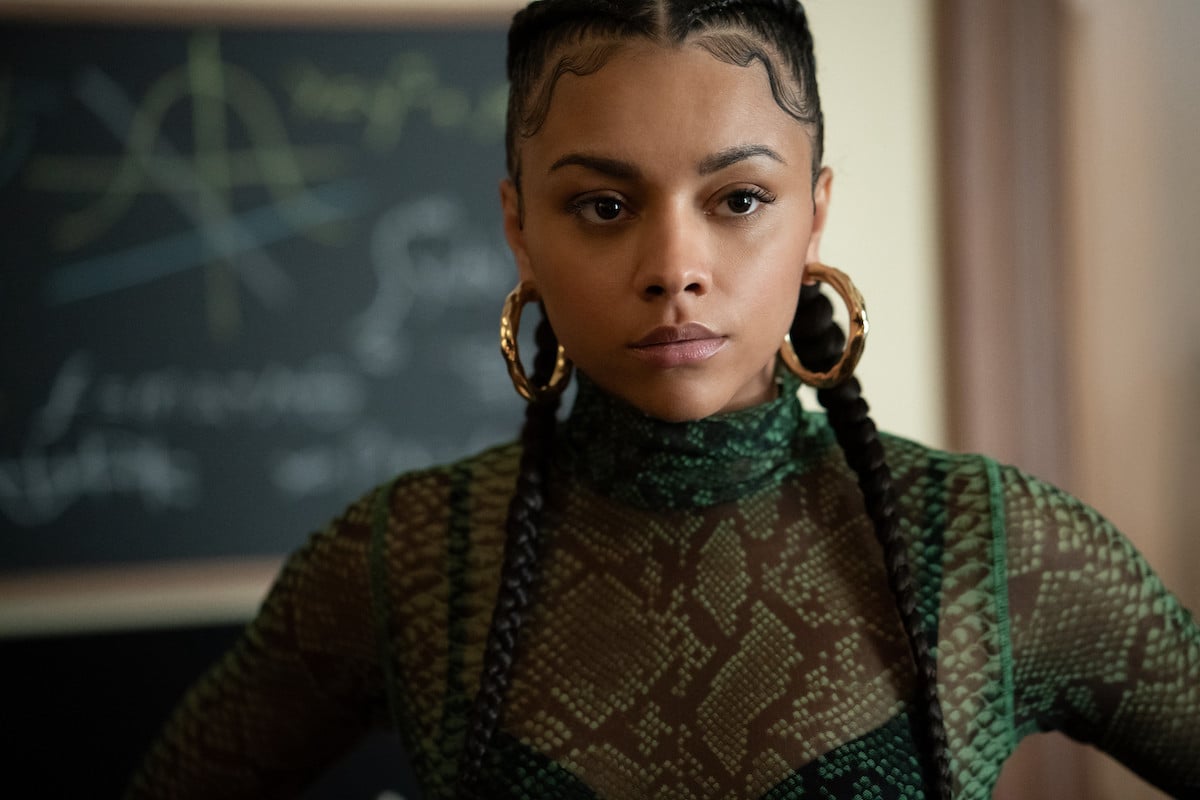 Who is Effie on 'Power Book II: Ghost'?
Fans first met Effie on the original Power series. A high school classmate of Tariq and Brayden's (Gianni Paolo), Effie joined the guys in selling drugs. While Tariq and Brayden were selling for fun, Effie was doing so as a means of financial freedom. She even sold out her partners, getting them expelled from the prestigious boarding school and taking over the drug game for herself.
Now, she's back in their lives. Though Effie is currently enrolled at Yale, she's found her way back into Tariq's life.
Will fans learn more about Effie's background in season 2?
Thus far, we know that Effie is from an impoverished background and she used her intellect to get into high school and college. Since Lapri has been upped to series regular, fans can expect to see more of her character. Her official character description reads,
Effie Morales, a Yale student no stranger to drama. And her quest for financial freedom via drug dealing leads her to big competition — her former Choate classmates, Tariq and Brayden. But when Effie decides to join forces with Tariq and Brayden again, she will be forced to determine where her loyalties lie — with herself and herself only, or with people who have shown their true colors time and time again.
Rainey is very intrigued by Lapri's character. In fact, he wants to see an Effie spinoff the most. "I want to see what world she comes from," he told Radio Times. "We have a little background on her but it would be cool to see where she comes from, her house, things like that."
Will Tariq and Effie end up together in 'Power Book II: Ghost'?
Though Tariq was trying to sort out his feelings with Lauren (Paige Hurd) and Diana (LeToya) when we last saw him, fans are convinced that Effie is actually the perfect match for him.
This seems especially obvious when you look at his father relationship with his mother Tasha (Nature Naughton), and his lover Angela (Lela Loren). Power Book II: Ghost fans believe that Effie's return means she will end up with Tariq when it's all over.
One Redditor believes that looking at Ghost's life will reveal the direction of Tariq's path. "Angela saw positive in Ghost which is a big part of the reason why he chose her over Tasha," they said via Express. "As far as we know right now, Lauren seems to be the only positive one over Effie and Diana. Effie is mainly the balance but Lauren just tends to be more on the positive side. Yes, we are only coming into season 2 but I can see this playing out. So basically I'm saying Effie will be the long-run relationship but Lauren will be the winner in the end."