'Power Book II: Ghost': Fans Are Convinced Tariq Will Kill Monet and Lorenzo Tejada to Take Over Their Drug Empire
'Power Book II: Ghost' is gearing up for Season 2. Now, fans are convinced that Tariq is so entangled with the Tejadas that he won't be free of them until he kills Monet and Lorenzo.
Power Book II: Ghost centers Tariq St. Patrick (Michael Rainey Jr.) as he becomes more entangled with the Tejada crime family following the murder of his father James "Ghost" St. Patrick (Omari Hardwick). In desperate need of money, Tariq decides to sell drugs on his college campus. To do so, he connects with Tejada matriarch Monet Tejada (Mary J. Blige) and her three children, Cane (Woody McClain), Diana (LaToya Tonodeo), and Drew (Lovell Adams-Gray).
As cold-hearted as Monet is, Tariq may be way in over his head with her vicious husband, Lorenzo (Berto Colon). Though Lorenzo is currently incarcerated finishing out the additional 15 years on his 25-year sentence, he's already threatened Tariq's life more than once.
Now, with the second season of Power Book II: Ghost approaching, fans are convinced Tariq will try and kill the Tejadas to take over their drug empire.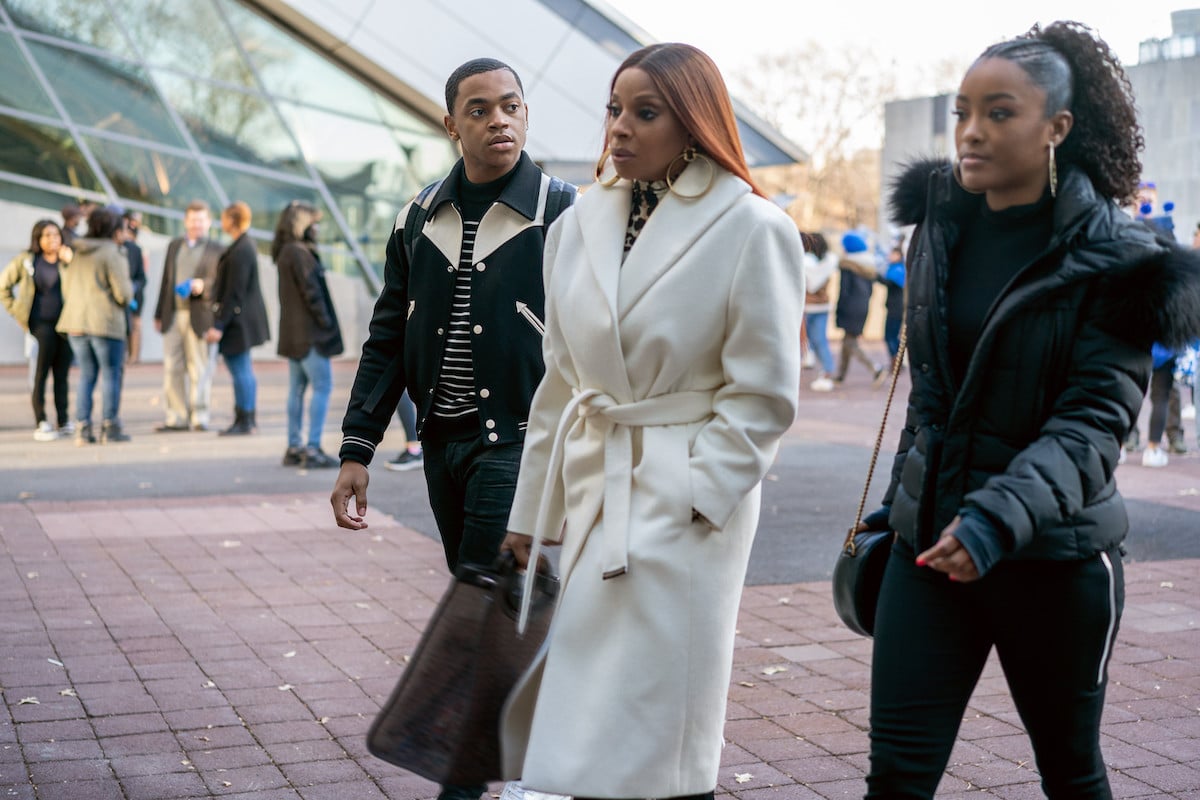 Monet and Lorenzo Tejada will have major beef in 'Power Book II: Ghost' Season 2
Though family and loyalty mean everything to the Tejadas, we saw the fracture in their family unit in the series's first season. Cane has been ousted from Monet's inner circle, and Lorzeno has become increasingly suspicious of how Monet is running the family business.
Starz just announced that Colon has been promoted to a series regular on the upcoming season and it's going to mean a great deal of trouble for Monet. The official Starz press release for the character reads:
The patriarch of the Tejada organization, Lorenzo has been calling the shots for the drug organization — even from inside. But as Monet continues to flex her independence — and a desire to protect her kids from the game– Lorenzo's need to control brings them into conflict. Lorenzo becomes intrigued by some secrets Monet has been keeping from him– and a conflict grows that threatens to split the Tejada family in two. 
Fans are convinced Tariq will kill Monet and Lorenzo Tejada
Tariq might look like an innocent college student but he's already proven himself to be a cold-blooded killer who is following in his father's footsteps. A Reddit user via Express is convinced that things will play out for him just how Ghost eliminated Breeze and Kanan to take over their business.
"As for Tariq, even though his dumba– choose to enter the game through will and manipulation, I feel that he will want out the game towards the end of Power and he will have to take out Monet and Lorenzo Tejada to do that, since they basically own him and he's their main money maker right now," they speculated.
Lorenzo may kill Monet in 'Power Book II: Ghost' Season 2
In the first season of Power Book II: Ghost, fans learned that Monet was carrying on an affair with a dirty NYPD officer. Disgusted by his mother's actions, Cane killed the officer, but now that he's on the outs with Monet, he can hold her secret over her head. Since the officer also worked for Lorenzo, it would be an even bigger nightmare if he found out.
A new character that is set to appear on the series might also raise Lorenzo's eyebrows. Chicago Med star Jeff Hephner has been cast as NYPD detective Kevin Whitman on Ghost. According to TV Line, Kevin is "a by-the-book New York Police Department detective who is on a mission to find the murderer of a GTG crew member. This one mission will lead him on a journey filled with murder, drug dealers, and the one woman who has the ability to turn his white hat black."
If Monet strikes up something with Detective Whitman and Lorenzo finds out it could be disastrous.