'Power Book II: Ghost': Fans Had 1 Major Complaint About Season 1
'Power Book II: Ghost' debuted to rave reviews. Fans loved watching Tariq St. Patrick navigate life in the aftermath of his father's death. However, there was one major complaint about season 1.
Power Book II: Ghost satisfied Power Universe fans in ways that they never expected. The drama series focuses on Tariq St. Patrick (Michael Rainey Jr.), in the aftermath of his father,  James "Ghost" St. Patrick's (Omari Hardwick) death. With his mother, Tasha St. Patrick (Naturi Naughton) on trial for his father's murder, Tariq teams up with queenpin, Monet Tejada, and the Tejada crime family to begin selling drugs to earn money for her defense.
However, Tariq soon learns that separating his two lives, one as a burgeoning drug dealer and the other as a student at the prestigious Stansfield University is easier said than done. As Tariq works tirelessly to earn the money for his mother's defense while juggling school — per the conditions of his inheritance, things become increasingly more dangerous for him.
As much as fans have adored, Power Book II: Ghost, there was one aspect of the first season that no one was a fan of.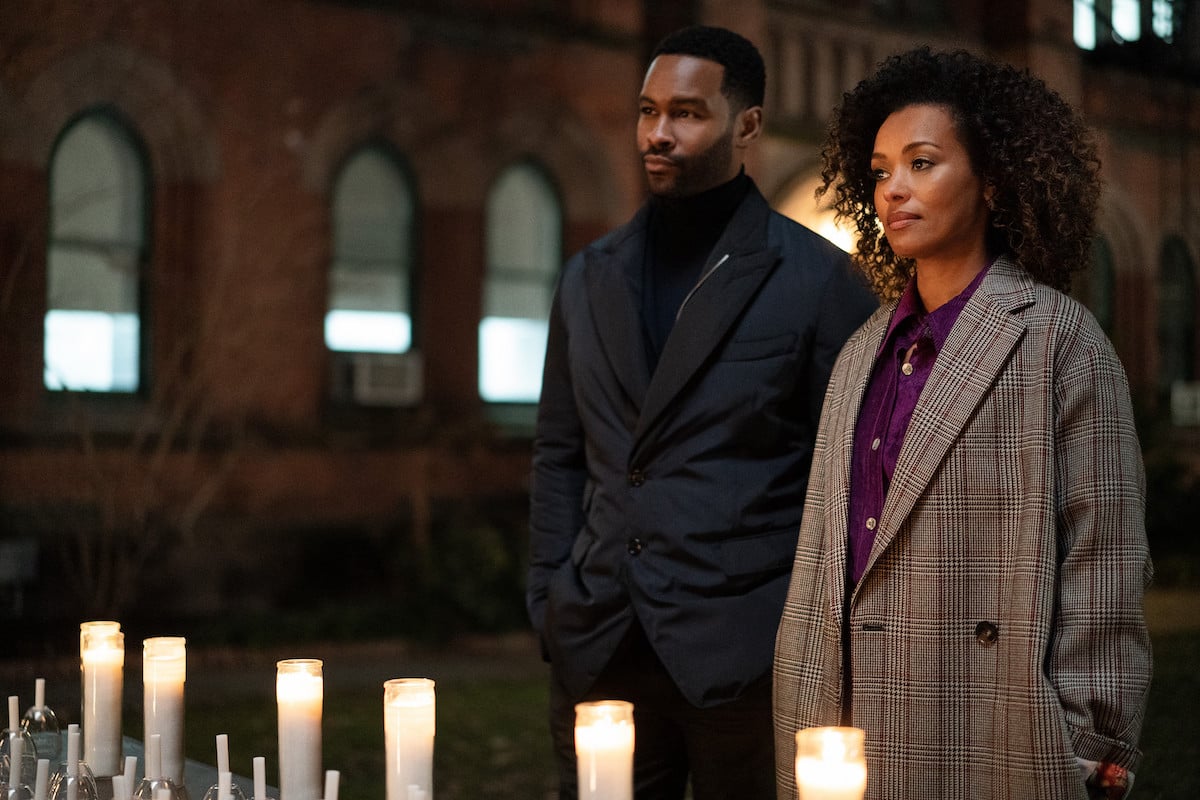 What will 'Power Book II: Ghost' Season 2 be about?
Now that Tariq's work with the Tejada family has begun to impede on his role at school, the stakes are about to get incredibly high for him when the series returns for season two.
"Where we had begun an encroachment of his drug life into his school life with the incidents that took place in episode 8 with the attempt on his life and the body in the pool, now his whole drug life is crashed into his campus life in a real way," Power creator Courtney A. Kemp told Entertainment Weekly. "And Tariq definitely feels like he's walking around as a ticking time bomb. His relationships are going to get more complicated, and while that's all happening, he's still got a love life."
'Power Book II: Ghost' fans had a major complaint about Season 1
As much as fans are loving Tariq's transformation into Ghost, no one seemed to be a fan of the romance and sexcapades between his two professors. In the first season, fans watched professors, Jabari Reynolds (Justin Marcel McManus) and Carrie Milgram's (Melanie Liburd) toxic romance play out.
The pair had a history, which only got more complicated when Professor Milgram began sleeping with Ezekiel "Zeke" Cross (Daniel Bellomy), a basketball star who just happens to be Monet's nephew. No one appeared to be fans of the couple's steamy-yet-manipulative sex scenes.
"What is the end goal with the two professors? Really feeling like they are wasting screen time," one Redditor said via The Sun. Another added, "Horrible writing and acting as usual from Power. It's pretty much a series staple at this point. Along with over-gratuitous sex scenes. Hilarious."
When will 'Power Book II: Ghost' Season 2 premiere?
Now that Jabari is dead, that has eliminated the major complaint that fans had about season one of the drama series. However, the death of the professor is going to cause a lot of chaos when Power Book II: Ghost returns for its second season. Yet, Starz has not yet announced when that will be.
"The truth is, COVID 'f-ed' up our first season in terms of how we were going to originally release it," Shane Johnson who plays Cooper Saxe in the Power Universe told Tea with Tia on Instagram Live. "We did five and five, and that was never the design. But because of COVID we got shut down for, like, five or six months."
Rainey also got on Instagram recently to explain that he knew nothing about the release date. Still, since we know the second season is currently filming and if we consider when the first season debuted it's likely the show will return in late 2021.