'Power Book II: Ghost': Fans Think Lorenzo Is Just Like Kanan
Lorenzo has been released from jail on 'Power Book II: Ghost' but is he just like Kanan?
Power Book II: Ghost Season 2 has put a major spotlight on the Tejada family. Tejada matriarch Monet Tejada (Mary J. Blige) and her three children, Cane (Woody McClain), Diana (LaToya Tonodeo), and Dru (Lovell Adams-Gray) have been running their drug organization for more than a decade. Now that patriarch Lorenzo (Berto Colon) has been released, things have shifted drastically.
In fact, fans are convinced that Lorenzo is just like another infamous Power Universe character.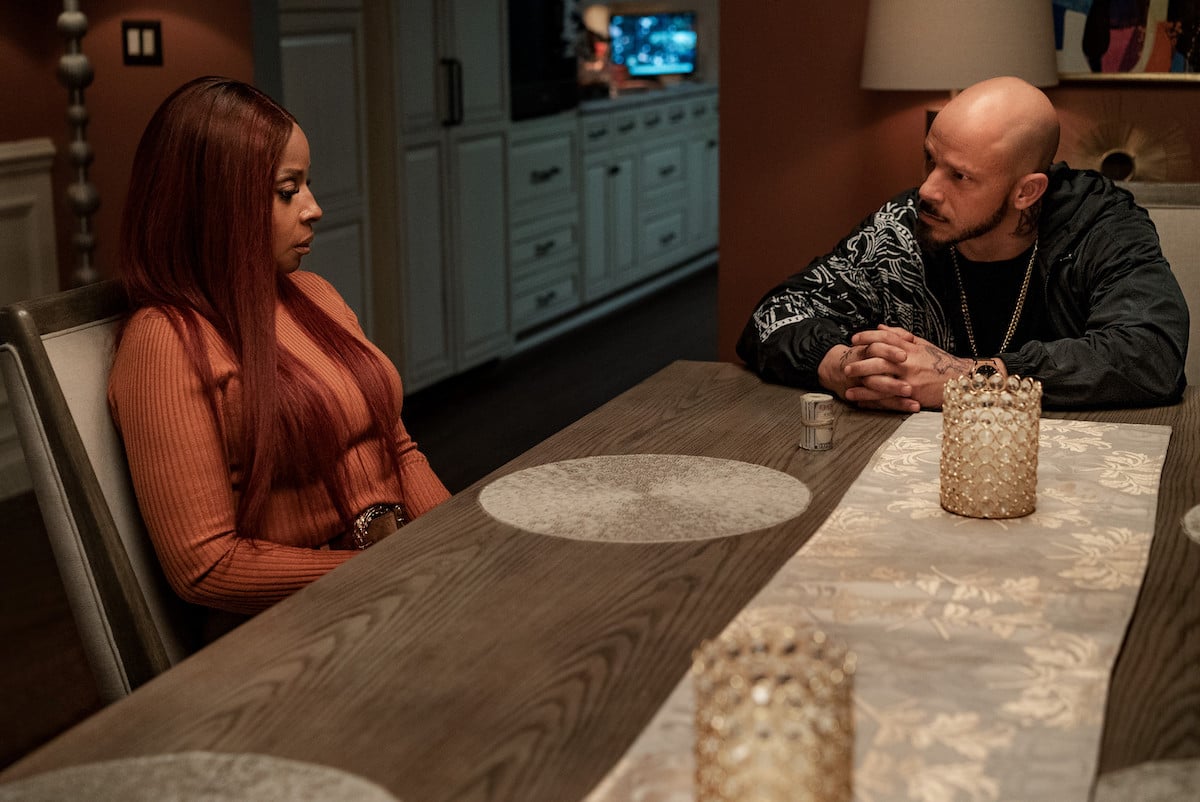 Everything has changed on 'Power Book II: Ghost' now that Lorenzo has been released from jail
With Monet being forced to let go of the reigns of the family business (at least outwardly), Lorenzo keeping Dru close, and everything in between, so much has shifted since Lorenzo has come home from prison.
"I think if we want to call episode 5 a triple-hander [with] Cane, Monet, and Tariq — episode 6 has a lot of double-hander things because something horrible happens to Tariq and Monet is stuck with her husband being home, which is really a big shift," Power Universe creator Courtney Kemp explained via Instagram Live. "If you guys remember, Lorenzo has a very specific way of doing things and he likes to tell people what to do, so … there's going to be a lot of fun with what happens to the family with Lorenzo being out. That's going to be a really big deal."
So far, Lorenzo's release has torn the Tejadas apart.
Fans think that Lorenzo is just like Kanan
Now that fans have seen Lorenzo in action following his release from prison, they are aligning him with another infamous Power Universe character Kanan Stark (Curtis "50 Cent" Jackson). Though Lorenzo appears to be more level-headed than Kanan, there are certainly some parallels.
"After watching the new episode I really think Lorenzo is like a Kanan level player who's going to be a force," a Redditor explained via Express. "He just came off a 10-year bid like Kanan and has that street knowledge but also that prison viscousness. He's also like Kanan in that he's fresh out and immediately wants to get the product and money flowing, the only difference is Lorenzo has way more of a support system with a family and everyone in place."
Will Lorenzo kill Monet on 'Power Book II: Ghost'?
Since he's been out of prison, Lorenzo has been so focused on regaining his business and grooming Dru. Since he's so distracted, he can't see unhappy Monet is that he's home. He's also missing the fact that Cane is at his breaking point. Also, since Monet's lover Meccca (Daniel Sunjata), is determined to know their son Zeke (Daniel Bellomy) we don't think those secrets will be buried for long. In fact, there is some concern that Lorenzo and Monet will come to blows.
Lorenzo could even plot to kill his wife. "Lorenzo has been calling the shots for the drug organization — even from inside," the press release about his character reads. "But as Monet continues to flex her independence — and a desire to protect her kids from the game– Lorenzo's need to control brings them into conflict. Lorenzo becomes intrigued by some secrets Monet has been keeping from him."
The drug kingpin's obsession with loyalty and family is about to be put to the test in a major way.