'Power Book II: Ghost': Inside Monet and Mecca's Shocking Secret
'Power Book II: Ghost' Season 2 is digging up Monet's past and her history with Mecca. Now, a shocking secret between the pair has just been revealed.
While Tariq St. Patrick (Michael Rainey Jr.) is the focal point of Power Book II: Ghost, Monet Tejada (Mary J. Blige) and Mecca (Daniel Sunjata) are also getting some considerable screen time this season. Frustrated with her life as her husband Lorenzo (Berto Colon) remains in prison, Monet is leaning on her nephew Zeke's (Daniel Bellomy) NBA prospects to free her family.
However, a rekindled romance with Mecca is causing more problems for Monet and digging up more secrets than anyone would have ever thought.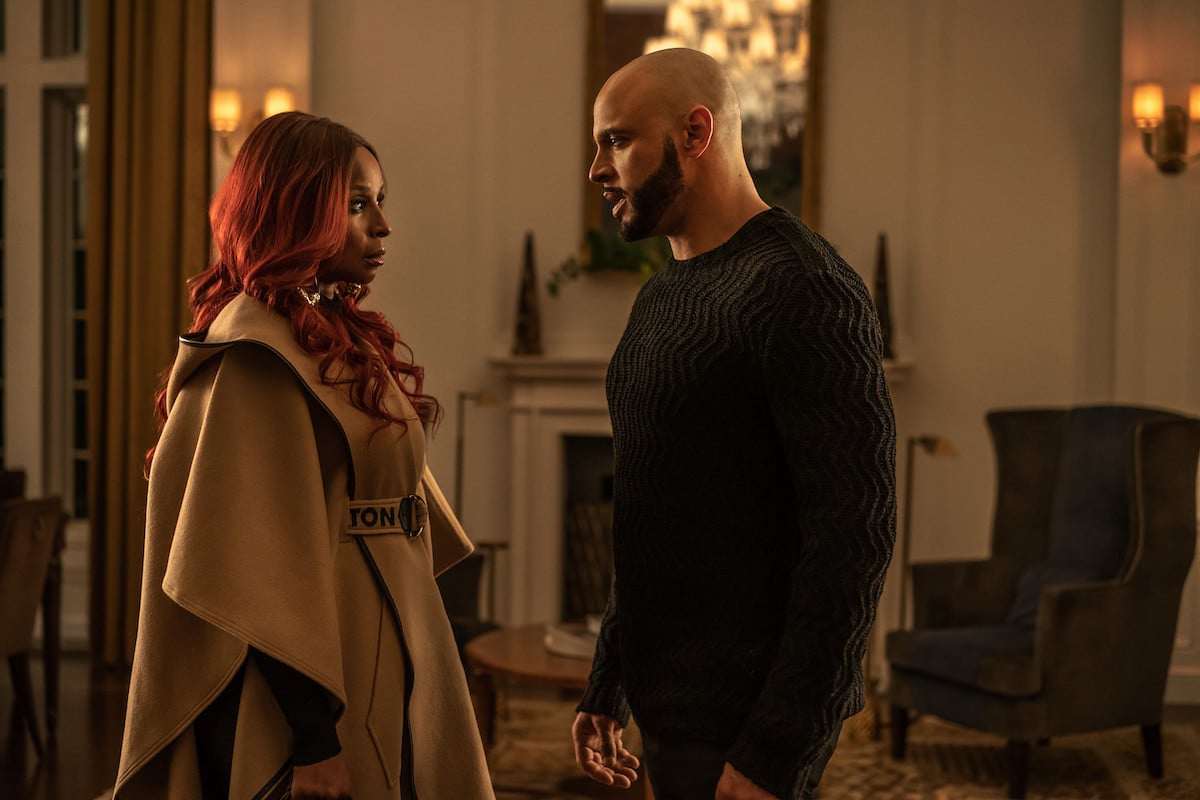 Mecca and Monet have an intense relationship in 'Power Book II: Ghost'
In the second episode of Ghost Season 2, fans learned that Mecca and Monet had a long history together. However, Sunjata has hinted that things are even deeper than that. "In brief, Mecca is introduced in the very first episode," he told TV Fanatic. "His place is revealed as the episodes unfold, but I can say he comes in with an agenda. He's pretty much willing to do anything that he has to do in order to produce the desired outcome and gets a little messy."
Now, more of Mecca and Monet's past has been revealed and a stunning secret has been exposed.
Monet and Mecca's shocking secret has been revealed
Fans were stunned following the premiere of episode 204, "Gettin' These Ends." Though he had nothing to do with the death of Professor Jabari Reynolds (Justin McManus), Zeke has made himself look very guilty. Though Lorenzo refused to allow Monet to mortgage their house to pay for Zeke's defense, Mecca swooped in at the last moment and we learned that he and Monet are actually Zeke's parents.
Though Monet has kept this a secret from everyone, including Zeke, it makes sense that she coddles him and babies him, unlike her other three children. Though Mecca seemingly accepted the fact that Monet had their son and didn't tell him, we don't think Zeke or the rest of the Tejadas will be so forgiving.
In fact, we only think this is going to hurt Monet in the long run.
Will Lorenzo kill Monet in 'Power Book II: Ghost' Season 2?
Since Lorenzo knows nothing bout Zeke being Monet's biological son, nor does he know anything about her romance with Mecca, we think he's going to be enraged when he uncovers the truth. In fact, since it appears that Davis MacLean (Method Man) and Saxe (Shane Johnson), might be able to get Lorenzo out of jail, things could get very dangerous for Monet.
Some fans are even convinced the Tejada patriarch may try and kill his wife. The official Starz press release for the character reads:
The patriarch of the Tejada organization, Lorenzo has been calling the shots for the drug organization — even from inside. But as Monet continues to flex her independence — and a desire to protect her kids from the game– Lorenzo's need to control brings them into conflict. Lorenzo becomes intrigued by some secrets Monet has been keeping from him– and a conflict grows that threatens to split the Tejada family in two.