'Power Book II: Ghost': LaToya Tonodeo Revealed Her Favorite Thing About Working With Mary J. Blige
Power Book II: Ghost debuted to rave reviews. The drama series picked up right after the events of Power and chronicled the life of Tariq St. Patrick (Michael Rainey Jr.) as he tries to balance his life as a college student and a drug dealer.
Desperate to earn money for his mother's attorney, Tariq links up with the criminal Tejada family. Led by matriarch Monet Tejada (Mary J. Blige), Tariq also gets involved with the Tejada siblings, Cane (Woody McClain), Diana (LaToya Tonodeo), and Drew (Lovell Adams-Gray).
Now, Tonodeo is revealing her favorite part about working with Blige on the show.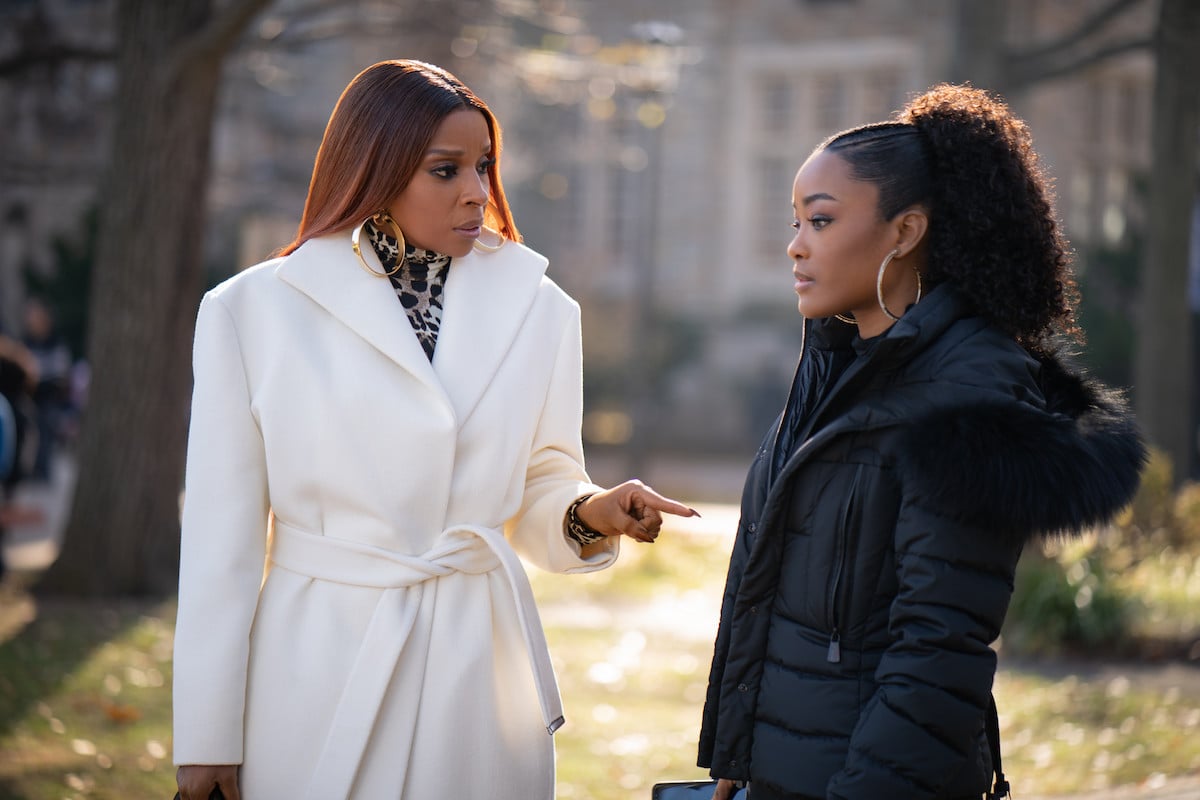 LaToya Tonodeo portrays Diana Tejada on 'Power Book II: Ghost'
In Power Book II: Ghost Diana is caught between her desires to be her own woman and her parents' empire. The relationship between Diana and her mother has slowly begun to fracture on the show. "She wants to do her own thing. She wants to go to school," the actor told ABC Audio. "Her mom is like, 'No, this is what you need to do. I'm teaching you the game so that you can take over.'"
It also doesn't help that Diana has developed romantic feelings for Tariq despite being warned by her mother and brothers. "She definitely gets closer with Tyriq, but again, that is a little tricky because we are part of this family and we don't let any and everybody in," Tonodeo says. "So, I feel like you'll get to see how close we allow him in, how close Diana will get to him."
LaToya Tonodeo explained her favorite thing about working with Mary J. Blige on 'Power Book II: Ghost'
In the series, Blige is very ruthless and cold-blooded as Monet, but Tonodeo says that's the exact opposite of who the singer is in real life. In fact, the actor says she sees the legendary singer as more of a sister than a mother figure.
"She is just so relaxed, so cool, so humble, so chill," Tonodeo told Decider. "If I ask her a question about something, she will really listen to me and give me advice. I was telling her, "Oh, I'm so nervous." She's like, "Just relax, baby!" She's so far from what people would probably deem what an icon should be like. "Oh, an icon should act like a diva!" Oh heck no. She is literally like a sister. I love being around her. And then being able to play her daughter is just a true joy. I'm on one of my favorite shows, and now I'm playing her daughter: what are the odds? All of this coming down in one, that's a huge blessing."
When will 'Power Book II: Ghost' Season 2 premiere?
Fans are desperate to see what will happen with Diana and the rest of the characters on Power Book II: Ghost. However, Starz has not yet announced a premiere date. Filming was delayed amid quarantine and the coronavirus (COVID-19) pandemic for Season 1, but new episodes are already underway.
"The truth is, COVID 'f-ed' up our first season in terms of how we were going to originally release it," Shane Johnson who plays Cooper Saxe in the Power Universe told Tea with Tia on Instagram Live. "We did five and five, and that was never the design. But because of COVID we got shut down for, like, five or six months."
RELATED: 'Power Book II: Ghost': Fans Are Convinced Tariq Will Kill Monet and Lorenzo Tejada to Take Over Their Drug Empire