'Power Book II: Ghost': There Is 1 Major Difference Between Tariq and His Father
Power Book II: Ghost has only aired for one season, however, it already has the pace and energy as its predecessor Power. Ghost follows the life of Tariq St. Patrick (Michael Rainey Jr.) after the death of his father, James "Ghost" St. Patrick. In order to honor the terms of his father's will to receive his inherence, Tariq must complete college. However, he's much more than your typical college student. In addition to school, the 18-year-old is also focused on getting his mother, Tasha St. Patrick (Naturi Naughton) released from prison.
With little access to cash, Tariq steps into his father's shoes and begins selling drugs for the diabolical drug queenpin, Monet Tejada (Mary J. Blige). Though Tariq grew to hate his father, eventually turning his gun on Ghost and killing him, it appears that the father and son have way more in common than we thought.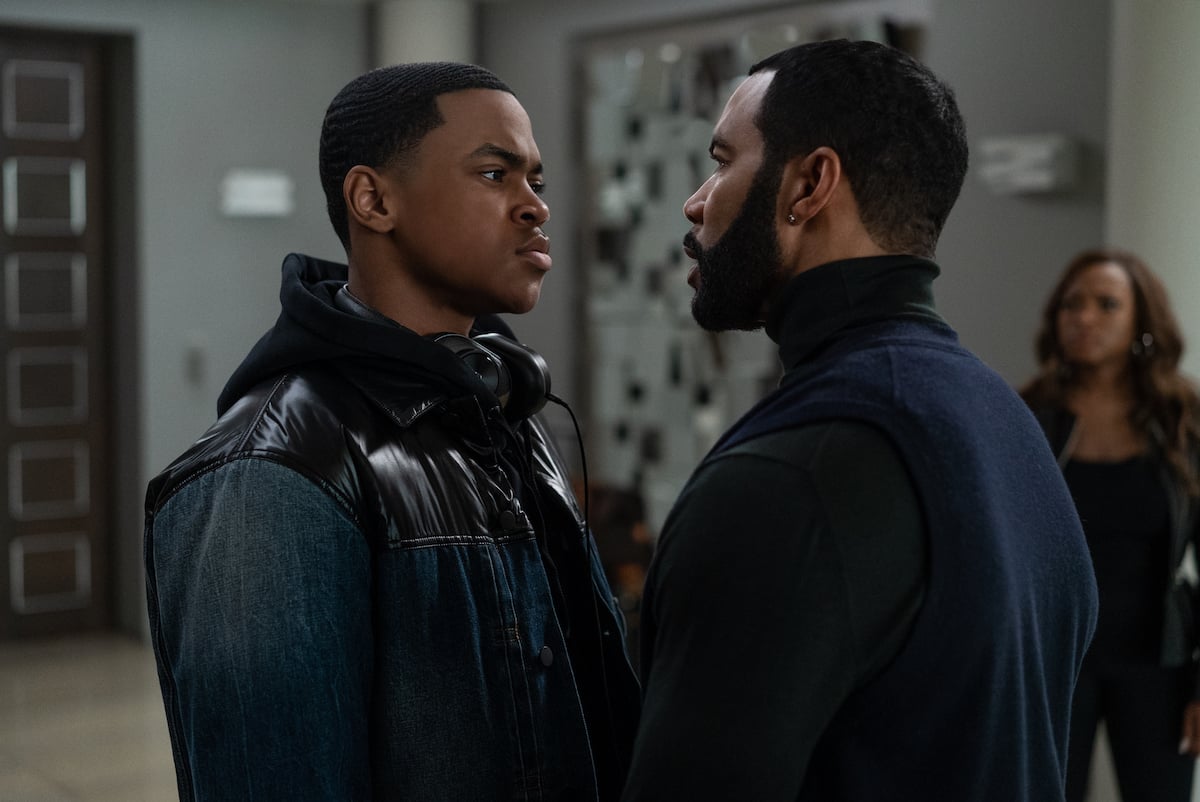 What is the release date for 'Power Book II: Ghost'?
The first season of Power Book II: Ghost came to a thundering conclusion. Tariq was able to get Tasha released from jail, but not without a lot of collateral in his wake. He's now deeper into Monet's inner circle, which has made him an enemy of her estranged son Cane (Woody McClain). Moreover, Tariq killed his college adviser Jabari Reynolds (Justin Marcel McManus), after the professor discovered that he'd been selling drugs.
At present, the second season of Power Book II: Ghost is filming in New York City. Though Starz network has not yet announced a release date, we suspect that the new season will air in the fall of 2021.
Power creator Courtney A. Kemp says things are only going to get more explosive for Tariq in the second season. "Where we had begun an encroachment of his drug life into his school life with the incidents that took place in episode 8 with the attempt on his life and the body in the pool, now his whole drug life is crashed into his campus life in a real way," she told Entertainment Weekly. "And Tariq definitely feels like he's walking around as a ticking time bomb. His relationships are going to get more complicated, and while that's all happening he's still got a love life."
Who Is Tariq's real father on 'Power'?
Though he grew up privileged in a Tribeca penthouse with his parents, younger sister Yasmine and twin sister, Raina (Donshea Hopkins), Tariq's world came crashing down when he discovered his father's double life as a drug kingpin in Power. Angry and confused, Tariq began lashing out getting involved with the wrong people, and eventually causing Raina's death.
In the end, his hatred for his father consumed him and he killed Ghost in cold blood. However, in Power Book II: Ghost it's become increasingly clear how similar Tariq is to Ghost. Still, that hasn't stopped some Power Universe fans from questioning Tariq's parentage.
There is still a pressing rumor that Tariq and Raina's real father was Ghost's former friend Kanan Stark (Curtis "50 Cent" Jackson). However, there is also evidence to suggest that theory doesn't quite hold up.
There is one major difference between Tariq and Ghost in 'Power Book II: Ghost'
Following Ghost's death, Tariq is reluctantly beginning to realize how much he has in common with his father. From their book smarts to their conniving nature, they are nearly one and the same. However, Kemp says there is one major difference between the men.
"I think that where Ghost and Tariq really differ is that Tariq makes his mistakes in defense of others," Kemp told Entertainment Weekly. "Whereas Ghost was very strategic about his choices and therefore had a coldness, Tariq commits a lot of manslaughter in his defense of others, right? It's not as clean and as adult and as cold as some of Ghost's choices. Ghost's choices are about himself a lot of time and Tariq makes choices about others."