'Power Book II: Ghost': Mary J. Blige Explained Why People Hated Tariq at First
Mary J. Blige stars as Monet Tejada in 'Power Book II: Ghost.' Though Michael Rainey Jr. stars as Tariq St. Patrick on the show, she revealed why people hated the character of Tariq at first.
Power Book II: Ghost is the first of the Power Universe spinoffs. The series follows Tariq St. Patrick (Michael Rainey Jr.) as he juggles his life as a college student and a burgeoning drug dealer following in his father James "Ghost" St. Patrick's (Omari Hardwick) footsteps. Fans were shocked when they learned that Tariq was getting his own spinoff since he wasn't exactly a fan-favorite character on Power.
Now, Mary J. Blige who portrays Monet Tejada on Power Book II: Ghost explains why people hated Tariq at first.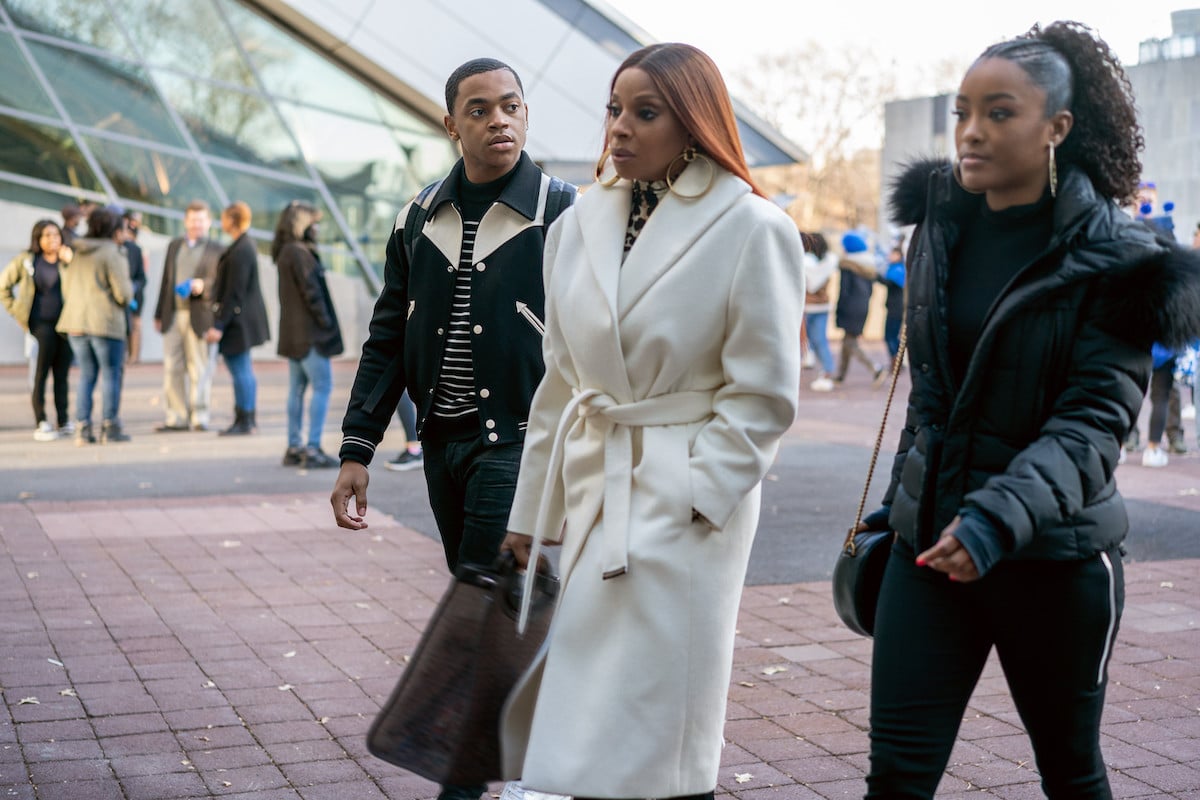 Who is Mary J. Blige's character on 'Power Book II: Ghost'?
In Power Book II: Ghost, the legendary singer stars as Monet Tejada, the head of the Tejada crime family who is trying to keep her family and her organization in line amid her husband Lorenzo's (Berto Colon) imprisonment. "Monet is very black-hearted, and if you get in her way, it can be really bad for you," Blige told the LA Times. "It's going to be her way or no way. When the new money starts rolling in, she turns into an even bigger monster."
In the first season of Ghost, we watched her get close to Tariq while pushing her eldest son, Cane (Woody McClain) out of her inner circle. Tariq's ability to get Monet to trust him has been in his favor.
Mary J. Blige explained why fans hated the character Tariq on 'Power'
Though people are rooting for Tariq now, that hasn't always been the case. In fact, in Power, his downward spiral and poor decision-making led to his twin sister Raina's (Donshea Hopkins) death. Blige explains how she viewed the character.
"People hated him in the first season but he has transitioned into this thing where women around me are talking about how much they love him and how they feel sorry for Tariq and how he's grown into a man," she explained via Express.
What will happen to Tariq in 'Power Book II: Ghost'?
Tariq has been through a lot both on Power and on Power Book II: Ghost. Though fans were not at all sympathetic toward him when Ghost first began, now that we've followed Tariq for an entire season, many people have changed their tune. In fact, once Season 2 of Power Book II: Ghost begins, fans are expecting to see Tariq in a bit over his head.
"We're talking about different kinds of power," series creator Courtney A. Kemp told USA Today. "The power of a mother's love and the power of a son's devotion; the power of the state; the power of the federal government to regulate our behavior; the power of the ivory tower of academia; the power of sex and sexuality; the power of family."
In Season 2, Tariq will be grappling with ethics. "I think it might be more about an ethical dilemma," Kemp told Deadline via Express. "For example, you know, is there such a thing as real greater good, right? Is there a greater good?"