'Power Book II: Ghost': Mary J. Blige Gave Some Insight Into Monet and Cane's Tumultuous Relationship
Power Book II: Ghost centers on 18-year-old Tariq St. Patrick (Michael Rainey Jr.), who following his father's murder is tasked with holding his family together emotionally and financially. With his mother in prison and his inheritance out of reach until he completes his degree, Tariq links with the Tejada crime family to begin selling their drugs on the campus of his university.
Though this is initially supposed to be a business relationship, Tariq finds himself pulled into the Tejadas' twisted world. With her husband, Lorenzo (Berto Colon), in prison on a 25-year sentence, Monet Tejada (Mary J. Blige) has taken over the family business. She rules it, Tariq and her three children, Diana (LaToya Tonodeo), Drew (Lovell Adams-Gray) and, Cane (Woody McClain) with an iron fist. However, her relationship with Cane is especially tumultuous.
At the end of the first season of Power Book II: Ghost, we watched Monet and Cane's relationship shatter. Now, Blige is giving fans some insight into their mother/son dynamic.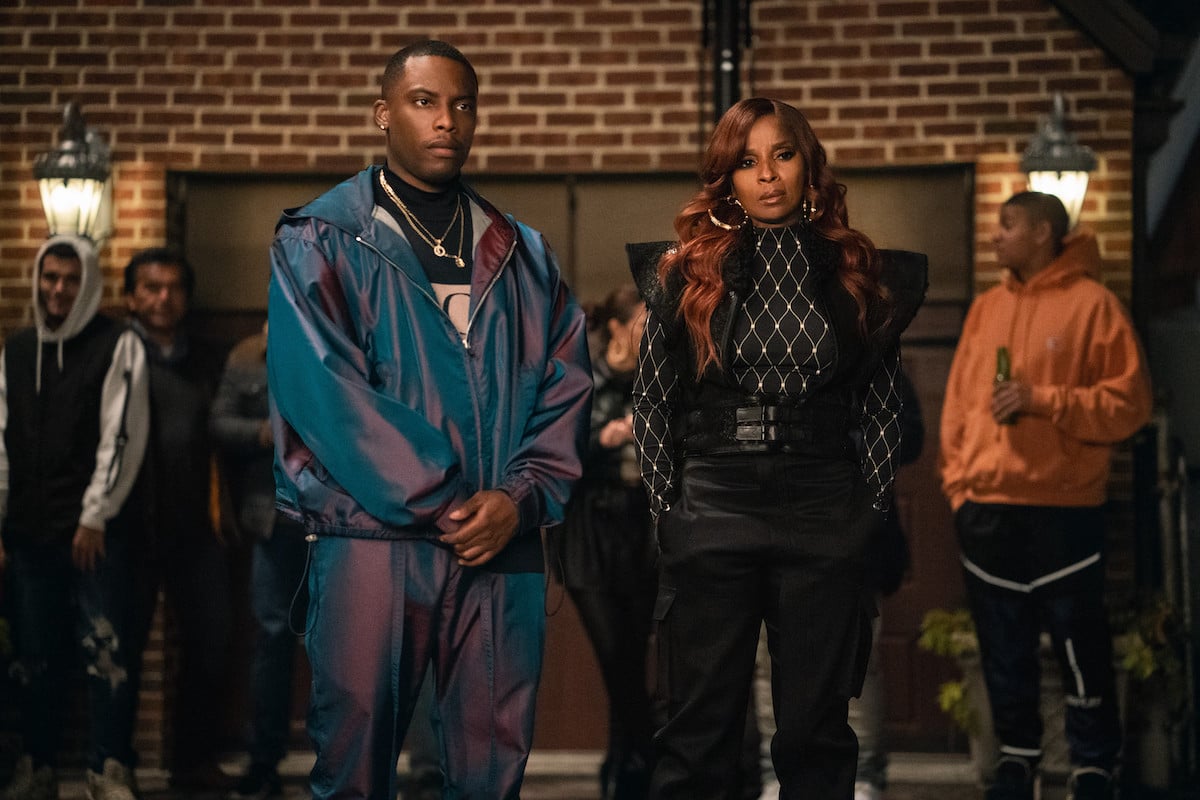 Who are Monet and Cane Tejada on 'Power Book II: Ghost'?
A ruthless queenpin, who loves to stunt in fur coats and stilettos, Monet is not one to be trifled with. She's suspicious of anyone she doesn't know, and she's not afraid to pull a trigger. "She's a queenpin, drug dealer, boss, and she's a mama bear, she's protecting her children but she's also dark-hearted and ruthless," Blige said during a press conference via Express. "If you don't listen to her, anybody can get it, her kids, her husband, anybody could get it. "So she's really a dark person with a heart – she's a power seeker so that's it. If anybody gets in her way with their power, that's it, they're going down."
The apple doesn't fall too far from the tree when it comes to Cane. Vicious and menacing, he often acts as his mother's muscle, killing and beating people with a quickness. "When it comes to Cane, he's all about family," McClain told Complex. "His thing is family first."
However, we know that things never work when there are too many cooks in the kitchen.
Mary J. Blige has some insight about Monet and Cane's relationship on 'Power Book II: Ghost'
In the first season of Power Book II: Ghost, we watched Cane and Monet's relationship crash and burn. Frustrated with being undervalued and suspicious of Tariq, Cane defies his mother's orders, getting him booted from the family business and inner circle.
Though it seemed beyond harsh, Blige just gave fans some insight into why Monet has disowned her eldest son. "Cane is off the chain, he's real savage," Blige told USA Today. "Monet's not afraid of him, but everybody else is. She's a savage, too."
What is the release date for 'Power Book II: Ghost' Season 2?
Now that Cane is out for revenge, we have a feeling that the second season of Power Book II: Ghost will be a blood bath. The series has been filming in New York City since Janayr 2021. However, Starz has not announced a release date.
"The truth is, COVID 'f-ed' up our first season in terms of how we were going to originally release it," Shane Johnson who plays Cooper Saxe in the Power Universe told Tea with Tia on Instagram Live. "We did five and five, and that was never the design. But because of COVID we got shut down for, like, five or six months."
It seems most likely that the show will debut in late 2021.
RELATED: 'Power Book II: Ghost': What Is Cane's Real Name on the Show and How Did He Get His Nickname?