'Power Book II: Ghost': Mary J. Blige Revealed Why Monet Tejada Is so Heartless
On "Power Book II: Ghost" Mary J. Blige portrays the ruthless queenpin Monet Tejada. Now the singer/actor has revealed the reason Monet is so heartless to everyone, including her children.
Power Book II: Ghost follows Tariq St. Patrick (Michael Rainey Jr.), the teenage son of murdered drug kingpin, James "Ghost" St. Patrick (Omari Hardwick). On a quest to earn money for his mother Tasha's (Naturi Naugton) criminal defense, Tariq begins selling drugs for the Tejada crime family, putting him in direct line with matriarch Monet Tejada (Mary J. Blige).
In the first season of the series, Monet showed us all that she's not one to play with. Now Blige is explaining the origins behind her character's vindictive nature.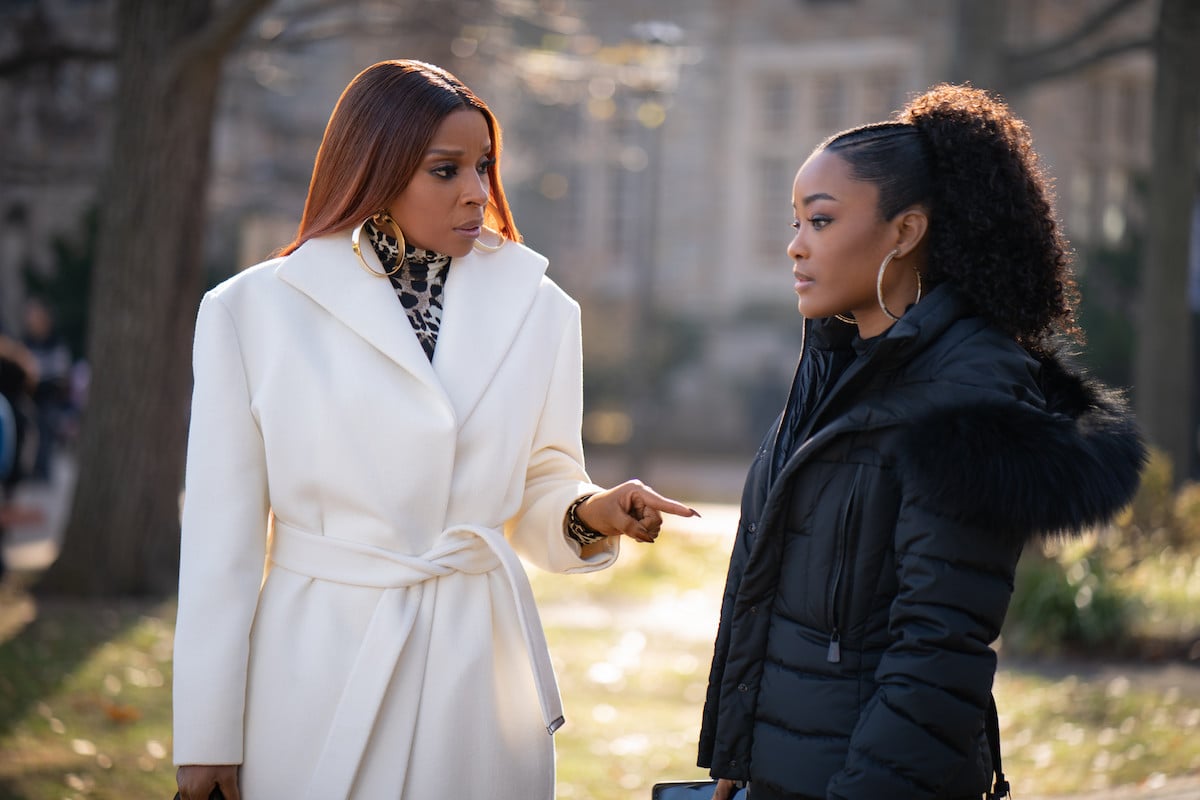 Who is Mary J. Blige's character Monet Tejada on 'Power Book II: Ghost'?
Blige has some acting experience in films like Mudbound and on shows like The Umbrella Academy prior to joining the Power Universe. But fans had never seen her in a role like Monet Tejada before. The matriarch of the Tejada crime family, Monet has become the queenpin in charge now that her husband in jail.
Vicious and violent, she has a stronghold on her children, Cane (Woody McClain), Diana (LaToya Tonodeo), and Drew (Lovell Adams-Gray). Now with Tariq working for her, she has her boot on his neck as well. "Monet is very black-hearted, and if you get in her way, it can be really bad for you," Blige told the LA Times. "It's going to be her way or no way. When the new money starts rolling in, she turns into an even bigger monster."
Mary J. Blige revealed why Monet Tejada is so heartless on 'Power Book II: Ghost'
At the end of the first season of Power Book II: Ghost we watched Monet disown Cane for disobeying her orders. It was a cruel act that is going to leave her hot-headed eldest son spiraling further out of control. Now, Blige is giving fans additional insight into her character's heartlessness.
"She's a queenpin, drug dealer, boss, and she's a mama bear, she's protecting her children but she's also dark-hearted and ruthless," Blige said during a press conference via Express. "If you don't listen to her, anybody can get it, her kids, her husband, anybody could get it. "So she's really a dark person with a heart – she's a power seeker so that's it. If anybody gets in her way with their power, that's it, they're going down."
Now that it's likely Monet is going to butt heads with her husband Lorenzo (Berto Colon) in Season 2, we're anxious to see how ruthless she can get.
Mary J. Blige says her mom inspired her 'Power Book II: Ghost' character Monet Tejada
It was easy for Blige to step into Monet's Louis Vuitton high-heeled boots and fur coats because she grew up around women like her. Blige was raised in a Yonkers, New York housing project where she witnessed some very challenging things in her childhood.
However, she also watched the women around her make something out of nothing. In fact, the My Life singer says her mother was a huge inspiration for the character of Monet.
"Everyone woman I know is a Monet, a hustler, my mum's a hustler, a single-parent mum raising all of her children by herself in a hood, male-dominated," she said via Express. "I was completely inspired by everything I grew up around and it was easy to find that real character, to make this character come to life."