'Power Book II: Ghost': Mecca Has 1 Major Weakness
A new villain has made his presence known on  Power Book II: Ghost. With Cane (Woody McClain) ousted from his family's inner circle, he turns to Mecca (Daniel Sunjata), a new character with a very dark agenda. Though he is new to Cane, Meeca knows a lot more about Monet Tejada (Mary J. Blige) than fans might have expected.
Also, though Mecca appears big and bad, he may have one major weakness.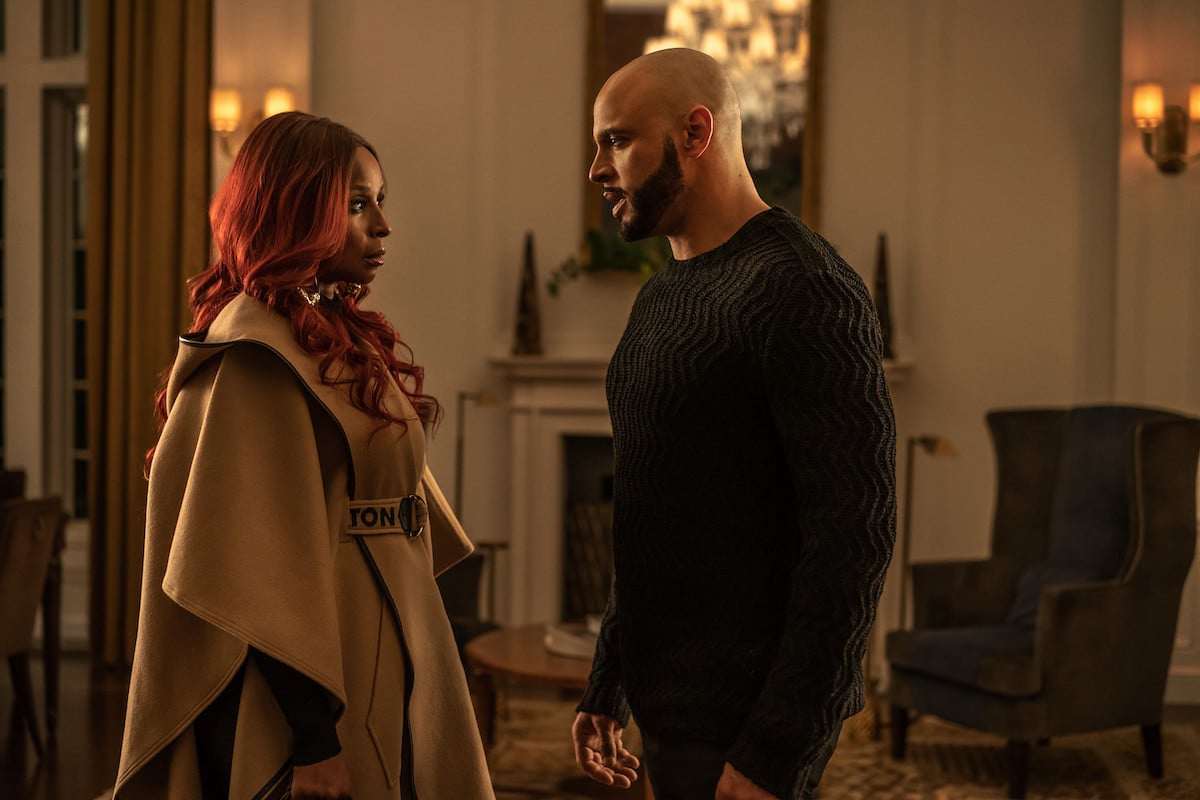 Who is Mecca on 'Power Book II: Ghost'?
If fans thought Cane was a lot to deal with in the first season of Power Book II: Ghost, Mecca is in a league of his own. Thus far, we know that he is a drug distributor that Cane tries to impress in order to get back in with his family. However, at the end of episode 202, we also learned that Mecca and Monet have a past. In fact, Monet calls Mecca by another name, Dante.
"He is calculated, manipulative, and dangerous," Deadline reports. "Mecca conveniently reemerges in New York at the exact moment the Tejadas need to fill the void of a new product supplier. But when his mysterious past starts to become exposed, it reveals the drug business might not be his only end game with this family."
As sinister as Mecca appears to be, he does appear to have one major weakness.
Mecca has one major weakness
Monet certainly has a connection with Mecca. The pair have a secret meeting spot, Junoir's Cheesecake in Brooklyn, and a special song, New Edition's, "Can You Stand The Rain." However, while Monet will probably use Mecca to her advantage, she might be a major weakness for him.
"Mecca is just head over heels over Nene — that's what he calls her," Blige tells TVLine. "Like, that's his girl. He gets sloppy when it comes to her." She added,  "He's in love with Monet. Monet is like, 'I remember. I like you still.' But he's in love with Monet."
With Lorenzo Tejada (Berto Colon) getting increasingly suspicious of what Monet is doing on the outside while he's in prison, this inevitable love triangle will certainly cause chaos.
Daniel Sunjata revealed Mecca's dark agenda for 'Power Book II: Ghost' Season 2
When it comes to Mecca's intentions and linking up with Cane, Sunjata says he has some things under his sleeve.
"In brief, Mecca is introduced in the very first episode," he told TV Fanatic. "His place is revealed as the episodes unfold, but I can say he comes in with an agenda. He's pretty much willing to do anything that he has to do in order to produce the desired outcome and gets a little messy."
When it came to becoming a part of the Power Universe, Sunjata was thrilled to get the call. "Watched every episode of every season, and they didn't take anything to draw me in. As soon as I got the offer, I was like, couldn't get to New York fast enough," he revealed. "I mean, I'm a huge fan."