'Power Book II: Ghost' Michael Rainey Jr. Just Gave a Major Hint About Tariq's Love Life for Season 2
Power Book II: Ghost follows Tariq St. Patrick (Michael Rainey Jr.) in the months following his father, James "Ghost" St. Patrick's (Omari Hardwick) death. His father's death forces more responsibility on Tariq as he juggles life as a college student while providing for his family by selling drugs.
Still, despite having so little free time, Tariq's love life is also extremely chaotic. Now Rainey is hinting at what to expect from Tariq's love triangle in season two of Power Book II: Ghost.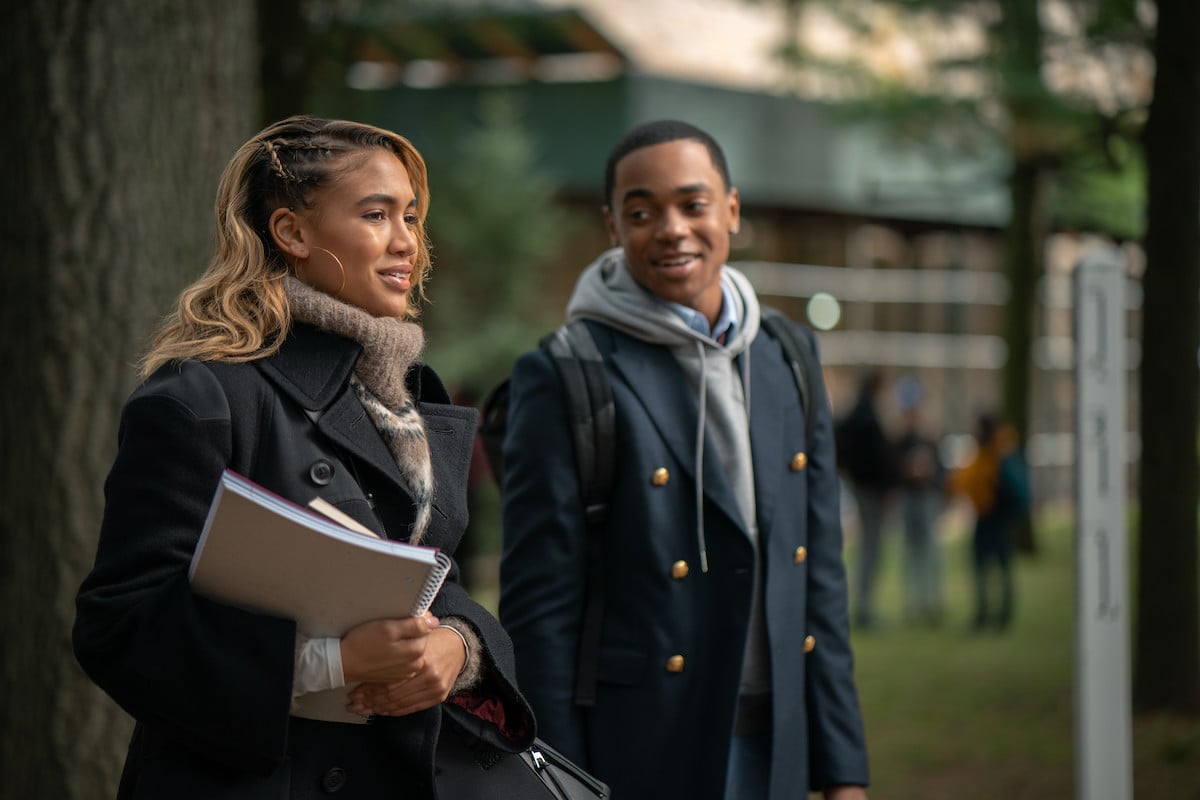 Tariq's love life is super complicated on 'Power Book II: Ghost'
Between his intense course work at an ivy league university to his work as a burgeoning drug kingpin, Tariq is rather busy, but that hasn't stopped his love life from being incredibly complicated. Since arriving on campus, Tariq has been intrigued by Lauren (Paige Hurd), a fellow student who knows nothing about his double life.
However, we've also seen sparks flying between Tariq and Diana Tejada (LaToya Tonodeo), the only daughter of queenpin Monet Tejada (Mary J. Blige) who has been warned to stay away from Tariq. Then there is Effie (Alix Lapri), a former high school classmate of Tariq's who unexpectedly waltzes back into his life.
In Season 2, Tariq is going to decide how to navigate all three relationships.
Michael Rainey Jr. updated fans on Tariq's love life in 'Power Book II: Ghost' Season 2
When it comes to trying to explain his character's love life, Rainey is embracing Effie, Lauren, and Diana for Tariq. "Effie, Diana, or Lauren?" Rainey pondered on a recent Instagram Live. "All three, Tariq got share the Love." We highly doubt with all of these women crossing paths that things are going to be smooth selling for Tariq especially as he juggles his life as a student and his life and a drug dealer for the Tejada crime family.
In fact, Power creator Courtney Kemp has explained that things are only going to get more complicated for the college student in season two.
"Where we had begun an encroachment of his drug life into his school life with the incidents that took place in episode 8 with the attempt on his life and the body in the pool, now his whole drug life is crashed into his campus life in a real way," Kemp told Entertainment Weekly. "And Tariq definitely feels like he's walking around as a ticking time bomb. His relationships are going to get more complicated, and while that's all happening, he's still got a love life."
'Power Book II: Ghost' fans believe Tariq will end up with Effie
Will Rainey might think his character can juggle all of the women in his life, Power Book II: Ghost fans are convinced Tariq will end up with Effie. One Redditor looked to the original Power for clues.
 "Angela saw positive in Ghost which is a big part of the reason why he chose her over Tasha," they said via Express. "As far as we know right now, Lauren seems to be the only positive one over Effie and Diana. Effie is mainly the balance but Lauren just tends to be more on the positive side. Yes, we are only coming into season 2 but I can see this playing out. So basically I'm saying Effie will be the long-run relationship but Lauren will be the winner in the end."