'Power Book II: Ghost': Monet and Mecca's Relationship Is Super Intense
Power Book II: Ghost has just launched its second season. This season, fans are getting to learn a lot more about the Tejada crime family. Though Tariq St. Patrick (Michael Rainey Jr.) has found himself engaged with the Tejadas in season 1, he didn't know much about them.
Now, more of Monet (Mary J. Blige), Cane (Woody McClain), Diana (LaToya Tonodeo), and Dru (Lovell Adams-Gray)'s motivations and backstories will be revealed. Additionally, the Tejadas' new drug distributor Mecca (Daniel Sunjata) will also shed more light on Monet's past. In fact, Monet and Mecca's relationship is more intense than fans might think.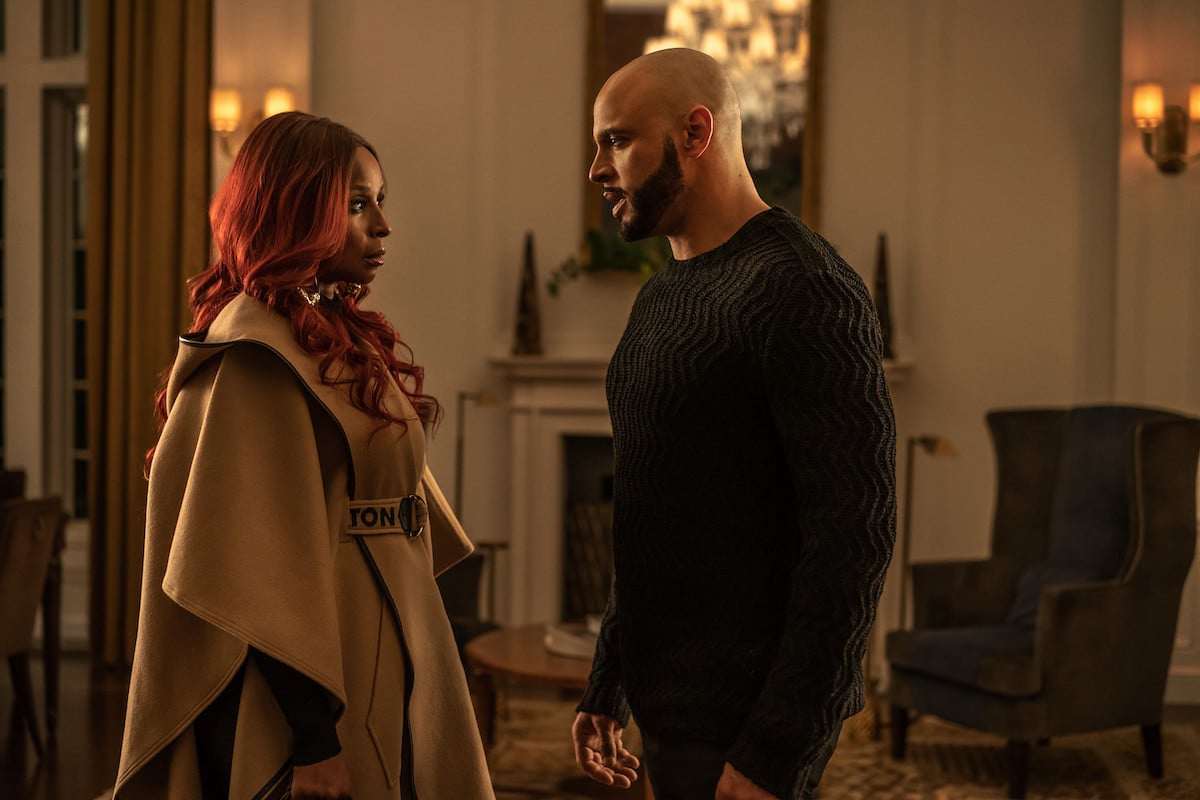 Monet is going to have a lot of tension with Lorenzo in 'Power Book II: Ghost'
In the Power Book II: Ghost Season 2 premiere, Monet and Lorenzo (Berto Colon) celebrated their wedding anniversary. It was a less than romantic display since the kingpin is currently incarcerated. Unable to fake the funk, Monet, expressed her frustrations to her husband and the couple appeared to be more distant than ever.
Since we will be seeing a lot more of Lorenzo this season now that Colon is a series regular, we're going to see a lot more tension between the couple. "Lorenzo has been calling the shots for the drug organization — even from inside," the Starz press release reads. "But as Monet continues to flex her independence — and a desire to protect her kids from the game– Lorenzo's need to control brings them into conflict. Lorenzo becomes intrigued by some secrets Monet has been keeping from him."
It also looks like Monet is going to find love with Mecca.
Monet and Mecca's relationship is super intense
When Sunjata was cast in the role of Mecca, fans knew that he would become the Tejadas new distributor. However, it was also later revealed that he and Monet would find themselves in bed together. "Monet finds herself in bed with Mecca, a man who wants to show her a whole new world, potentially at the cost of destroying her old one, forcing Monet to lean on Tariq, who must decide what he really wants and what he's going to sacrifice to get it," the Starz press release reads via TV Line.
However, this relationship isn't new as fans first assumed, Mecca and Monet have quite the history. At the end of episode 202, Monet arrives at Junior's Cheesecake in Brooklyn. Mecca is waiting for her there, but she doesn't call him Mecca, instead, she calls him Dante.
He's waiting with a raspberry swirl cheesecake and New Edition's "Can You Stand the Rain," apparently it's a long-held signal.
Monet's backstory will be revealed in 'Power Book II: Ghost' Season 2
It looks like we're going to be learning much more about this relationship and Monet's backstory, in general, this season. During an Instagram Live, Power Universe creator Courtney Kemp explained that fans will learn more about the Tejada family in season 2. She also explained Monet's backstory will be explored, and we'll learn more about her journey from Brooklyn to where she is today.