'Power Book II: Ghost': Fans Believe Monet and Ghost Have a Secret Daughter
'Power Book II: Ghost' fans have long believed that Ghost and Monet have a secret daughter, but now we know the truth after 'Power' creator Courtney A. Kemp's revelation.
Power Book II: Ghost is picking up where the original Starz drama left off. While Power followed James "Ghost" St. Patrick (Omari Hardwick), a vicious drug kingpin, trying to hide his double life and present himself as a family man and business owner, Ghost follows his college-aged son Tariq (Micheal Rainey Jr.) who is now following in his father's footsteps.
Though Tariq hated the choices that his father made which destroyed their family, the young drug dealer is also menacing and calculating just like his father. In Power Book II: Ghost fans watched him juggle his college studies along with his role in the drug world as he became increasingly close to queenpin, Monet Stewart Tejada (Mary J. Blige) while working to get his mother Tasha St. Patrick (Naturi Naughton) out of prison.
As Monet has taken Tariq under her wing as a son, some fans believe that she and Ghost may also have a secret daughter.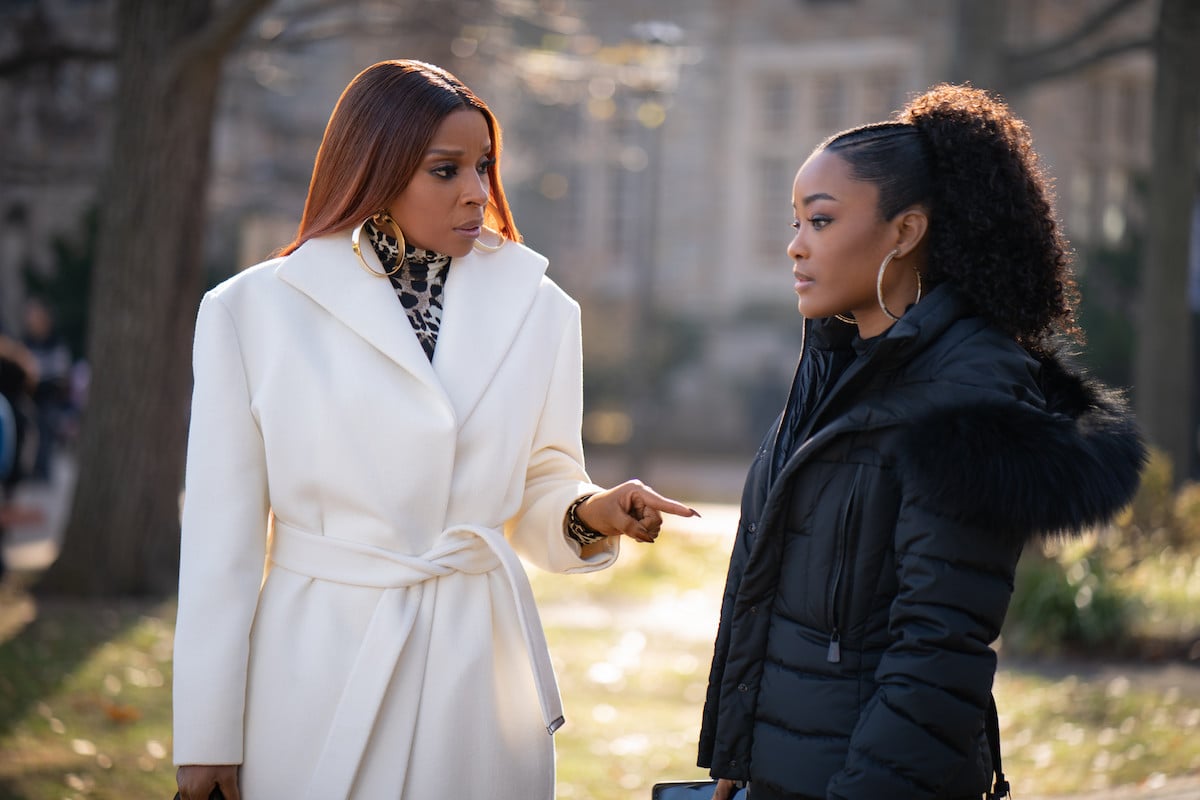 Monet and Ghost share several similarities in the 'Power' Universe
Though she drapes herself in fur and rocks stilettos, Monet is just as vicious and deadly as Ghost and his business partner/ best friend, Tommy (Joseph Sikora). "She's as smart, savvy, and strategic as Ghost ever was, but her learning doesn't come from books," Power creator Courtney A. Kemp told Entertainment Weekly. "We always said Ghost was a bookish kid who read all the time. This woman's acumen comes from the street."
While Ghost had a soft spot for his family, Tommy, and his lover Angela Valdez (Lela Loren), as a woman in the drug game, Monet doesn't have that luxury.
"Monet is very black-hearted, and if you get in her way, it can be really bad for you," Blige told the LA Times. "It's going to be her way or no way. When the new money starts rolling in, she turns into an even bigger monster."
'Power Book II: Ghost' fans are convinced Ghost and Monet have a secret daughter
As she runs the Tejada drug empire since her husband Lorenzo (Berto Colon) is in jail, Monet is very cutthroat. She has her three adult children, Cane (Woody McClain), Diana (LaToya Tonodeo), and Drew (Lovell Adams-Gray) under her wing. She keeps them in line and she forces them to do her bidding, despite their desires to do their own thing.
"It was easy to put this character into play, because I know what Power is about," Blige told the LA Times. "I grew up in the inner city, in the projects. I've seen what it really is, and Courtney and 50 have been so brilliant in showing it. I saw Ghost in front of my building growing up. I hung out with Monet. I knew Tasha."
When Power Book II: Ghost first premiered and Starz debuted a photo of Blige as Monet and Tonodeo as Diana, fans were immediately convinced that Diana was Monet and Ghost secret daughter, but that isn't the case.
"Does Ghost have a secret daughter by the [Mary J. Blige] character?," Power creator Courtney A. Kemp quipped on an Instagram Live. "No he does not, I can just tell you that. He does not."
What's next for Mary J. Blige's character Monet in 'Power Book II: Ghost' Season 2?
While Diana might not be Monet and Ghost's secret daughter, she's getting increasingly wrapped up in Tariq and his life at Stansfield University, which is something Monet won't tolerate. "In the second season, Tariq's journey with the Tejada family will get even more complicated — and more dangerous — as he begins to understand the man he's going to become," Kemp told TVLine.