'Power Book II: Ghost': Monet Tejada Is Coming up Against an Unexpected Nemesis in Season 2
Power Book II: Ghost is one of the most beloved drama series on TV. The show chronicles the life of Tariq St. Patrick (Michael Rainey Jr.), a college student following in the footsteps of his late father, drug kingpin James "Ghost" St. Patrick (Omari Hardwick).
Tariq finds himself entangled with the criminally-minded Tejada family and their matriarch Monet Tejada (Mary J. Blige). Though Monet is formidable in her own right, in the second season of Power Book II: Ghost it appears that she will be up against a menacing nemesis of her own.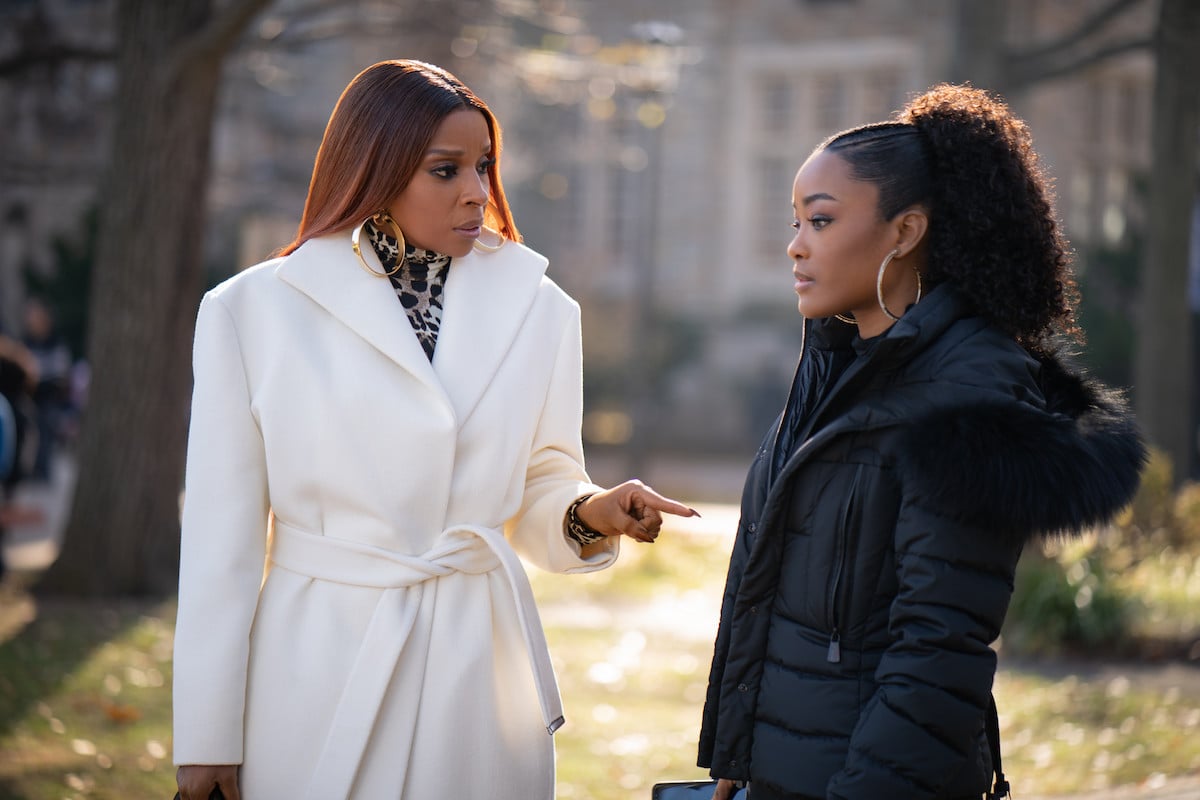 Who is Mary J. Blige's character Monet Tejada on 'Power Book II: Ghost'?
With her husband in prison, Monet has become the head of the Tejada family. To say that she's diabolical would be an understatement. "Monet is very black-hearted, and if you get in her way, it can be really bad for you," Blige told the LA Times. "It's going to be her way or no way. When the new money starts rolling in, she turns into an even bigger monster."
The Grammy Award-winning singer added that she based her character off of the women she saw around her growing up in a Yonkers housing project. "It was easy to put this character into play, because I know what Power is about," she explained. "I grew up in the inner city, in the projects. I've seen what it really is, and Courtney and 50 have been so brilliant in showing it. I saw Ghost in front of my building growing up. I hung out with Monet. I knew Tasha."
Monet Tejada may be up against her husband, Lorenzo Tejada in 'Power Book II: Ghost' Season 2
In season 1 of Ghost, we watched Monet rule her three children, Cane (Woody McClain), Diana (LaToya Tonodeo), and Drew (Lovell Adams-Gray), with an iron fist. However, as she began to wield more power, her husband Lorenzo (Berto Colon) became increasingly jealous.
Now, Berto Colon has been upped to a series regular, which means he and Monet will undoubtedly begin to clash. The official Starz press release for the character reads:
The patriarch of the Tejada organization, Lorenzo has been calling the shots for the drug organization — even from inside. But as Monet continues to flex her independence — and a desire to protect her kids from the game– Lorenzo's need to control brings them into conflict. Lorenzo becomes intrigued by some secrets Monet has been keeping from him– and a conflict grows that threatens to split the Tejada family in two.
Monet and Lorenzo pitted against each other is going to be bone chilling.
Monet Tejada may have a new love interest in the second season of 'Power Book II: Ghost'
In addition to Lorenzo undermining her from prison, it appears that Monet may have some other issues on the horizon. Chicago Med star Jeff Hephner has been cast as Kevin Whitman on Ghost. According to TV Line, Kevin is "a by-the-book New York Police Department detective who is on a mission to find the murderer of a GTG crew member. This one mission will lead him on a journey filled with murder, drug dealers, and the one woman who has the ability to turn his white hat black."
After her son Cane murdered her lover, Officer Ramirez (Danilo Ramirez), Monet is going to need an inside man in law enforcement and some protection on the streets. It appears that Detective Whitman will be that for her. However, now that Lorenzo has his eyes on her, things could get more than a little complicated for the queenpin.
RELATED: 'Power Book II: Ghost': Mary J. Blige Explained Why People Hated Tariq at First