'Power Book II: Ghost': Season 2 Will Change Everything for Saxe
Shane Johnson's Cooper Saxe has been a major character since season 1 of 'Power.' Now that he is working in the criminal defense field. Everything will change for Saxe.
Power Book II: Ghost Season 2 has recently premiered on Staz and things are already heating up. Tariq St. Patrick (Michael Rainey Jr.) is still trying to juggle his life as a college student and a drug dealer. However, amid the death of his professor Jabari Reynolds (Justin McManus), he may have backed himself into a corner.
Now with Monet Tejada (Mary J. Blige) becoming increasingly suspicious of him, and with his school life and life on the street threatening to implode, he will have to turn to the last person he would have thought, former prosecutor Cooper Saxe (Shane Jonhson).
In fact, Ghost Season 2 could change everything for the character.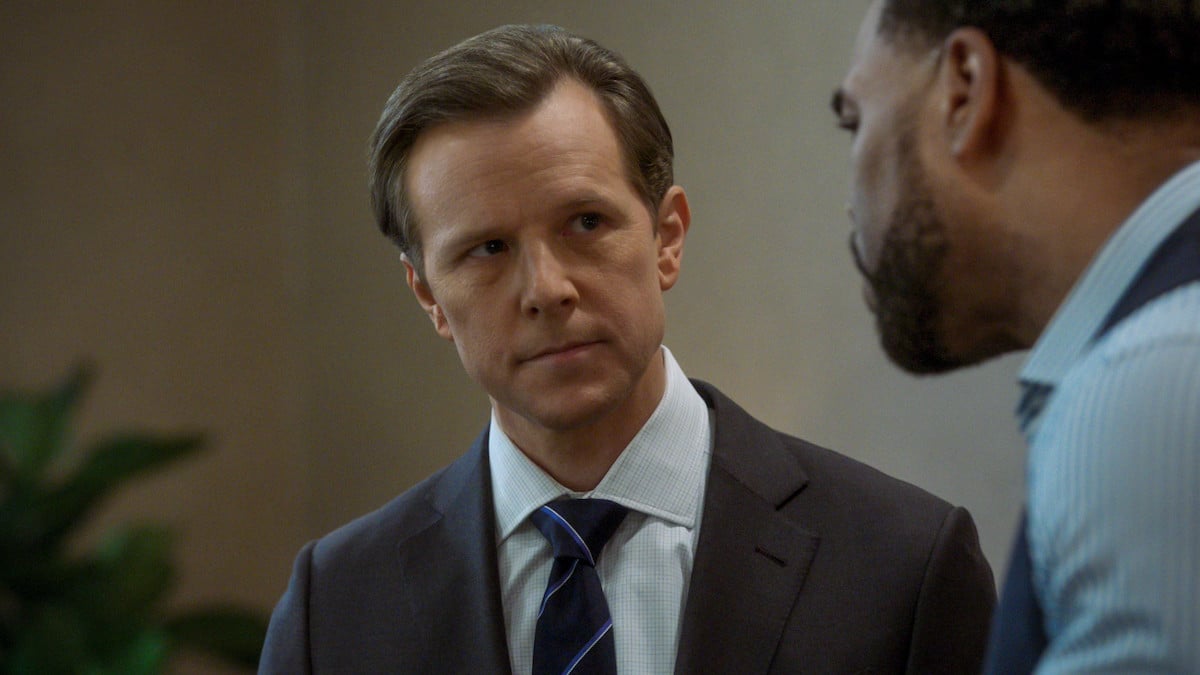 Tariq has been forced to turn to Saxe for help in 'Power Book II: Ghost' Season 2
Saxe has been a staple character in the Power Universe since Power Season 1. A former U.S. attorney for the FBI, Saxe has failed time and time again to get the St. Patricks to pay for their crimes. His most recent loss cost him his job and now he's working for criminal defense attorney Davis MacLean (Clifford "Method Man" Smith). It appears that Tariq might have to turn to Saxe in order to get out of his latest debacle.
"He turns to those wielding power and influence: Davis MacLean and his new partner, Cooper Saxe, as well as Rashad Tate," the Starz press release reads via TV Line. "All of these options come with a steep price."
'Ghost' Season 2 will change everything for Saxe
"I have been trying to take Tariq down, not necessarily Tariq, but a St. Patrick," Johnson told HollywoodLife. "I don't care which one. I'll take any one of them. I might even go after the little sister next, Yasmine. I'll take her. I'm trying to take a St. Patrick down, right? And now I find myself in a position where I might actually have to be protecting him. And so it's kind of like flipping the script and really questioning of my ethics and what I'm willing to do. I think one of the themes of this season is: what are you willing to do to get what you really want most in life? And then, are you willing to live with the consequences of those decisions because nothing comes for free, right? The aspirations that we have, Larenz and I [with] both our characters, there's no way that there aren't bodies along the side of the road. And can you sleep at night with yourself after knowing that you're responsible?"
'Power Book II: Ghost' Season 2 is about to get even more complicated
Even before season 2 started, Power Universe creator Courtney Kemp hinted at what fans could expect from the new season. "Tariq definitely feels like he's walking around as a ticking time bomb," told Entertainment Weekly. "His relationships are going to get more complicated, and while that's all happening he's still got a love life."