'Power Book II: Ghost': Tariq and Diana's Relationship Is Going to Cause Drama in Season 3
Diana Tejada (LaToya Tonodeo) has proven that she's no wallflower on Power Book II: Ghost. She's proven that she's ready to have a real role in her family business and she's not afraid to expose her family if she doesn't get her way. Diana's also acted on her connection with Tariq St. Patrick (Michael Rainey Jr.)
However, the bond that Diana has built with Tariq is bound to cause some major drama in season 3.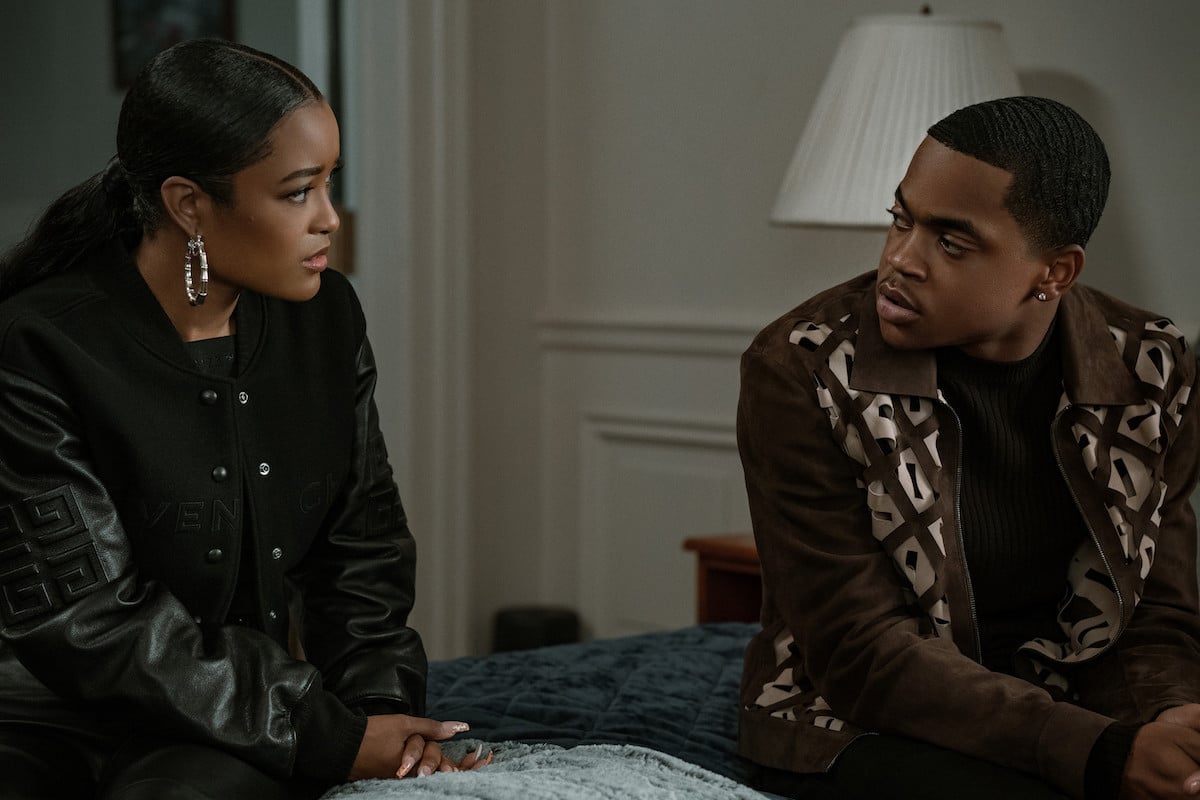 Diana exposed her entire family in 'Power Book II: Ghost' Season 2
In the first season of Ghost, Diana was relegated to the sidelines. Her mother, Monet (Mary J. Blige) kept her on a tight leash and she was prevented from going to school, dating, or doing anything a 19-year-old young woman should be allowed to do.
Determined to live life on her own terms in season 2, Diana struck up a sexual relationship with Tariq and convinced her father Lorenzo (Berto Colon) to let her go to school.
During a nuclear dinner in episode 208, "Drug Related" Diana revealed her family members' deepest darkest secrets. She revealed that Cane had sugared the family's cocaine supply so they would be forced to use him as their drug supplier. She also explained that Dru still hasn't gotten rid of his meddlesome boyfriend.
However, when she exposed Monet's dark secret, she stunned everyone in the family including her father. She explained that Monet was carrying on an affair and that she was actually Zeke's (Daniel Bellomy) mother not his aunt. Now it looks like Diana's relationship with Tariq will cause more drama in season 3.
Tariq and Diana's relationship will cause major drama in season 3
As we know, Diana's family knows about her losing her virginity to Tariq. However, Tariq's other lover Effie (Alix Lapri) who warned Diana against the drug dealer is in the dark. This is going to cause some major drama in season 3. "Will Tariq give Diana the cold shoulder next seen?" Kemp pondered during a recent Instagram Live. "It's going to be very interesting to see how Tariq and Diana cross, especially given that they did sleep together, there are going to be a lot of people who are going to be interested in the fact that they slept together. I wonder how Effie is going to feel about that? That's going to be very interesting."
Does Diana remind Tariq of Tasha?
While Tariq and Effie clearly understand each other, his connection with Diana is still very real. In a recent Instagram Live, Kemp explained that Diana reminds Tariq of his mother, Tasha (Naturi Naughton). Since Tasha is currently in witness protection and Tariq is desperately missing his mother, his connection with Diana could become even stronger in season 3.